Loading Slideshow
"Seeing Mexicans with shirts that say "I just look illegal" is priceless"
Sergio Romo may have closed the 2012 World Series with a winning fastball down the middle, but the true winner of the San Francisco Giant's victory parade was his "I just look illegal" shirt.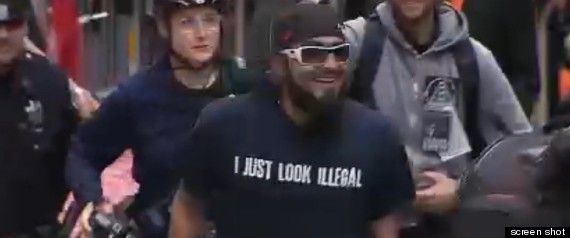 On Wednesday, the Mexican-American relief pitcher for the Giants energetically bounced in and out of cars during the celebratory procession while the Twitterverse went wild about the political statement printed across his chest. (Check out the twitter reactions above)
You cannot tell who looks "illegal." No human being is illegal. Thank u, @sergioromo54. #GoGiants @defineamerican twitter.com/joseiswriting/…

— Jose Antonio Vargas (@joseiswriting) October 31, 2012
Romo was born and raised in the border town of Brawley, California, according to the Los Angeles Times. His father, Frank Romo, is the son of Mexican migrant farmworkers who moved between home and Northern California. Despite the popularity of the fashion choice, there were some who questioned whether it was the right moment to make such a political statement.
#SFGparade: Was @sergioromo54's 'Illegal' T-Shirt Appropriate? patch.com/A-zjD7 Should politics & sports mix? #JustCurious #SFGiants

— Claudia Cruz (@cruznews) October 31, 2012
What do you think of Romo's t-shirt? Let us know in the comments.
Related on HuffPost: