Holy skintight outfit, Batman!
Kim Kardashian rawr-ed up to Miami Beach's Club LIV last night in the gold Lamborghini with boyfriend Kanye West, but few probably noticed the pair's transportation: the curvy reality star was poured into a snug and shiny Catwoman costume to complement the rapper's Batman getup. Kablow, indeed!
"Can't wait for you to see my costume," she tweeted on the way. "Even cars to go with our theme!"
The two weren't the only comic book characters at the club's dual bash, during which Kim celebrated her 32nd birthday and DJ Laidback Luke threw his "Super You And Me" costume party. Sister Kourtney Kardashian went as Batgirl, her partner Scott Disick was Robin, and pal Jonathan Cheban dressed up as The Riddler (story continues below):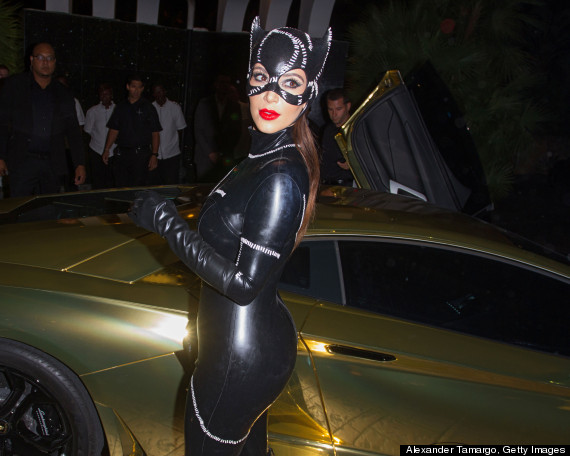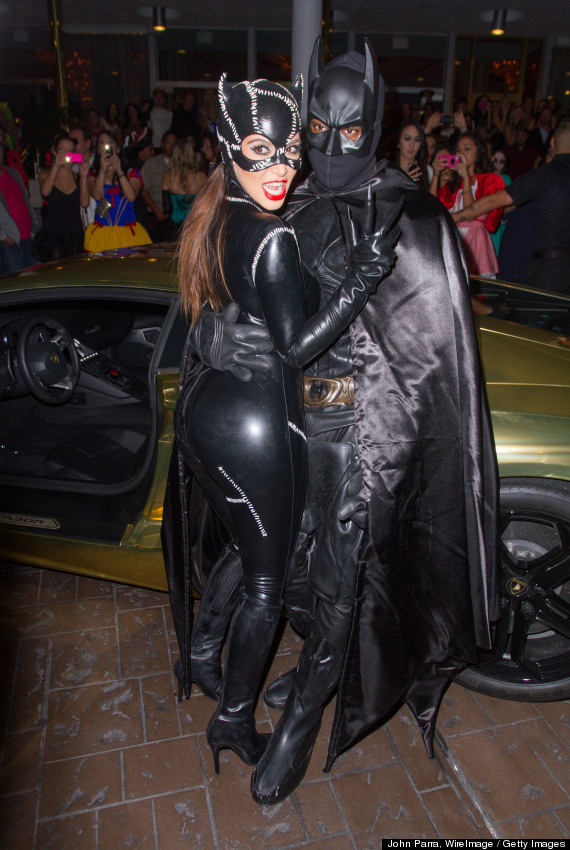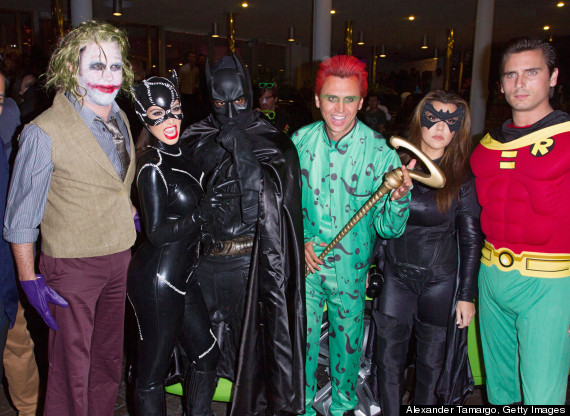 In true more-is-more Kardashian family fashion fashion, the purr-fectly tight costume wasn't Kim's first this Halloween season: she made a splash in New York City over the weekend in a custom-made mermaid outfit.
Check out more stars in Halloween costumes:
Celebrities In Halloween Costumes 2012
Katy Perry as Jane Lane and Shannon Woodward as Daria.

"HAPPY HALLOWEEN!! Me and Mariska starting the night!! #boo," the "Smash" star tweeted Wednesday.

Darren Criss is a boy scout and probably a big fan of "Moonrise Kingdom."

We never thought we'd say it, but the "Jersey Shore" star and her fiancé positively geeked it out.

No sleight of hand here. Christina Milian is the Queen of Hearts.

George Clooney's girlfriend is "Black Swan."

Pop starlet Miley Cyrus' mum and sister Tish Cyrus and Brandi Cyrus are all dressed up for Halloween as they head to the Roosevelt hotel for a party in Hollywood.

Jeremy Piven as Che Guevara at the Playboy Mansion Halloween Party in Beverly Hills, California on October 27th, 2012.

Sacha Baron Cohen donned a bizarre monkey-cow costume.

P. Diddy rocked out at the Playboy Mansion Halloween Party in Beverly Hills, California on October 27th, 2012.

Brandon Davis at the Playboy Mansion Halloween Party in Beverly Hills, California on October 27th, 2012.

One Direction singer Liam Payne does his best Batman in London.

Lucy Hale as a unicorn.

In this Image released by Mattel, actress Shenae Grimes, from the series "90210", left, has a fitting of her Monster High Frankie Stein Halloween costume created by "Project Runway" alum Chris March, Wednesday, Oct. 17, 2012, in El Segundo, Calif. Grimes will be attending "Glee" cast member Matthew Morrison's 3rd Annual Halloween Bash, dressed as Frankie Stein, daughter of Frankenstein, from the popular Monster High franchise. This year, the popular Halloween party will be sponsored by Monster High. (AP Photo/Mattel, Rene Macura)

Heidi Klum gets fitted for her 13th annual Halloween party at finale sponsored by HobNob Wines, Svedka Vodka And Smartwater on September 3, 2012 in New York City.

Sarah Hyland as Spinelli from "Recess."

Actress/model Stacy Keibler arrives at Hyde Bellagio at the Bellagio to host a Halloween masquerade party on October 27, 2012 in Las Vegas, Nevada.

Kim Kardashian attends 2nd Annual Midori Green Halloween Party at Avenue on October 27, 2012 in New York City dressed as a mermaid.

Nicole Scherzinger as a vampire.

Kim Kardashian as a leopard.

Holly Madison as Sleeping Beauty.

Fergie as Lindsay Lohan.

Christina Milian as Sulley.

Fergie & Josh Duhamel as Angelyne & Dennis Woodruff.

Christina Aguilera as ???

Paris Hilton as Alice.

Kris Jenner as Wonder Woman.

Ashley Benson as Tweedle Dee (or Dumb).

Hugh Hefner as a vampire.

Holly Madison as the Cheshire Cat.

The Incredibles

Hilary Duff in a Día de los Muertos costume.

Kim Kardashian as Kris Jenner.

Fergie as a sexy cat.

Bonnie & Clyde

Julie Bowen as a scary Bo Peep.

Genevieve Jones & Nicky Hilton as a KISS member and a leopard.

Adam Lambert as a vampire.

As Prince.

Bella Thorne as a vampire bride.

Liam Payne as Batman.

Shanae Grimes as a skeleton.

Scott Disick as Patrick Bateman.

Nicole Richie and friends as Wilderness Girls from "Troop Beverly Hill."