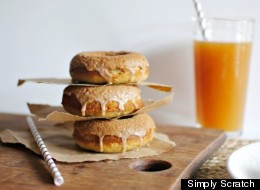 We're very appreciative of food bloggers. They brought us the bacon weave. They also taught us how to make the most beautiful cookie in the world. They continually wow us with their recipe creativity and breathtaking food photography (where do they learn how to do that??).
Thanks to food bloggers we can go through the day knowing, with certainty, that we never have to eat another boring meal again because food bloggers have given us so many great recipes to choose form. We featured 10 great ones in October that we couldn't get enough of, and this month, these 10 caught our eye (and stomachs).
Want to read more from HuffPost Taste? Follow us on Twitter, Facebook, Pinterest and Tumblr.
Simply Scratch makes you never want to leave the kitchen. Here's what Laurie of Simply Scratch has to say about her blog: I have always loved to cook and bake, and believe cooking from scratch shouldn't be hard. On my blog I love to share easy and delicious recipes I've developed and/or discovered while walking the reader through step-by-step. I try to focus on fresh ingredients with a simple and attainable approach so cooking can be fearless, fun and delicious!

No recipes is about a sincere love of food. Marc, the creator, lives by the cooking philosophy that with some basic techniques, and a little confidence and inspiration, anyone can learn to cook delicious wholesome meals without recipes.

Naomi of Bakers Royale creates one gorgeous recipe after another. With Bakers Royale, you don't know if you want to frame her photos or cook her recipes. Her recipes are a mix of everyday to refined desserts and on occasion there's an over top creation like this Smores Eclair.

What first struck us of The Year In Food was the stunning food photography, but the recipes have made us keep coming back for more. We're can't wait to see her upcoming coobook, "VIBRANT: A Celebration of Color and Food."

Two Peas and their Pod is a husband and wife duo that never ceases to crank out awesome recipes. Here's what Maria of Two Peas and their Pod says about their blog: We are known for our sweet and savory recipes-especially our vegetarian and cookie recipes. We came out with our first e-book this year, Cookie Cravings. We are coming out with a holiday edition of Cookie Cravings in November. Our blog is somewhat unique because we are a husband and wife team...and now we have a little kitchen helper, our little pea, Caleb.

A food blogger that can make a pie look this good will always be part of our top 10. The Faux Martha never disappoints.

What we love about Recipe Girl is that you can find any recipe you want on the site. Lori, the creator of the beautiful food blog, first cookbook "The Recipe Girl Cookbook" will be published April 2013. Her 11-year-old son is also a food blogger, and can be found at Recipe Boy.

Jamie at My Baking Addiction knows desserts (as the blog's name would suggest). If you have a sweet tooth, her collection of recipes is worth checking out.

We love Nick of Macheesmo's unique perspective when it comes to cooking. His recipes are creative -- like the pumpkin grilled cheese pictured -- and they always look great.

Not only does Jana of Cherry Tea Cakes wow us with her fun recipes, but we're fond of the fact that her blog operates as a non profit. Any proceeds she makes from her food blog is donated to local D.C. food banks.