The Suomi NPP satellite captured views of the blackouts caused by superstorm Sandy at around 2 a.m. Nov. 1. NASA's Earth Observatory website has a comparison of before and after photos. The reference image was taken on Aug. 31.

In these photos, illuminated swaths of uptown Manhattan, Brooklyn and Philadelphia stand in stark contrast to the darkened areas of the Jersey Shore, lower Manhattan, Coney Island, the Rockaways and outlying suburbs of New York City.
SCROLL FOR BEFORE AND AFTER PHOTOS
An estimated 8 million people lost power because of the storm, according to Our Amazing Planet.
Sandy became a tropical storm in the Caribbean on Oct. 22 and roared northward on a path of destruction. LiveScience has a detailed infographic outlining Sandy's lifespan. Earlier this week, NASA also a released a time lapse of Sandy from start to finish made of images taken from some of its observatories.
The Suomi National Polar-orbiting Partnership (NPP) is a joint project of NASA, NOAA and the Department of Defense. Images were taken with the observatory's Visible Infrared Imaging Radiometer Suite (VIIRS). An additional comparison of the affected areas in New York, New Jersey and Pennsylvania taken from Suomi NPP can be viewed at NASA's website.
BEFORE: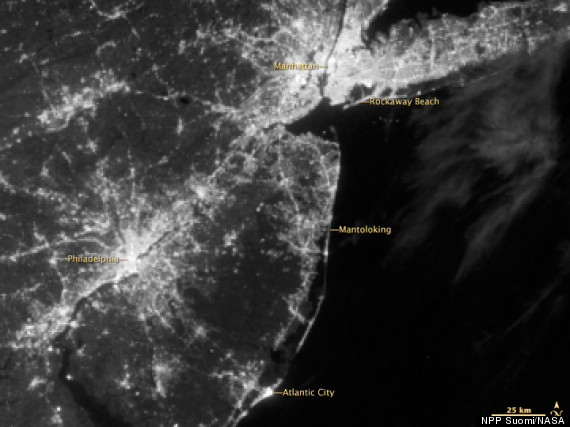 AFTER: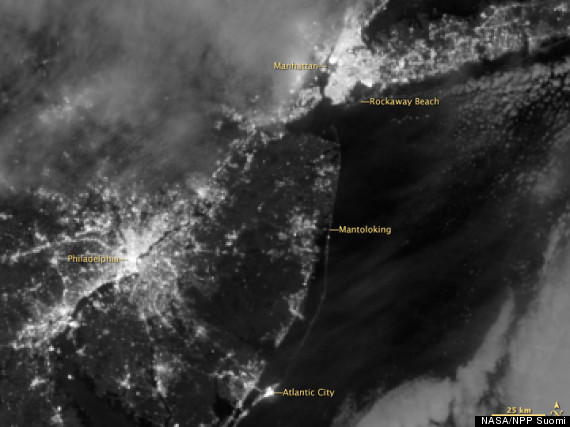 Live Updates
:
The owners of New Jersey's NJ Skateshop are desperately trying to collect winter clothes for neighbors without heat and members of their community who were left homeless by Hurricane Sandy, as a Nor'easter is forecast to hit the stricken area next week.
Co-owner Chris Nieratko reports two of the shop's four stores have electricity and have been stocked with power strips to allow residents to charge their phones and "pretend things were normal if only for a while." But many are ill-equipped to handle the incoming storm, he writes, and are already struggling: "Seeing your children cold and hungry is a feeling I never want any of you to experience."
Nieratko is asking for shipments of any winter clothing to the store's New Brunswick location, from which they will distribute to people in need:
I have no TV so I don't know what you're hearing on the news, but let me tell you, it's bad. Very bad..we've opened to the door to anyone with children. For days we ran generators sparingly because there was no gas...

There's another storm coming. Temperatures are dropping. Things are getting colder and even scarier. I am writing to you to ask for your help in clothing the displaced, homeless, under-dressed skaters in our community and their families...If you have anything warm (socks, sweatshirts, jackets, beanies, gloves, shoes, tees, ANYTHING) doesn't matter if it's 5 seasons ago...there are many in need from very young to very big XXL. Anything you can spare to help people stay warm will be appreciated.

Please send whatever you're able to (and there's no box too small) to our New Brunswick shop:

NJ TWO 29-B Easton Ave

New Brunswick, NJ 08901

Label the box HURRICANE RELIEF