Ferrero Rocher Recipes Are Perfectly Decadent (PHOTOS)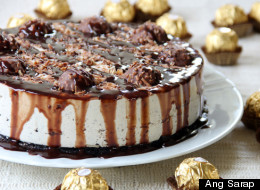 We all get a lot of crappy gifts during the holiday season. From cheap perfumes to dollar-store candles, gift giving has gotten pretty grim. But the gift we never mind receiving is Ferrero Rocher chocolate. This crunchy and creamy chocolate-hazelnut candy, though available year round, makes a bold appearance this time of year -- and we like it.
We know that Ferrero Rocher -- a Nutella lover's chocolate of choice -- is decadant enough as it is, though we couldn't help but up the ante. We found cupcakes, cheesecakes and tarts that use feature this hazelnut chocolate.
Want to read more from HuffPost Taste? Follow us on Twitter, Facebook, Pinterest and Tumblr.
Get the Ferrero Rocher Cheesecake recipe by The Fig Tree

Get the Ferrero Rocher-Stuffed Chocolate Cupcakes with Nutella Buttercream recipe by Bakerita

Get the Ferrero Rocher Cheesecake recipe by Ang Sarap

Get the Soft-Centred Chocolate Tortini With Ferrero Rocher Crumble recipe by The Other Crumb

Get the Ferrero Rocher Cupcakes recipe by Willow Bird Baking

Get the Ferrero Rocher Tart recipe by Trissalicious