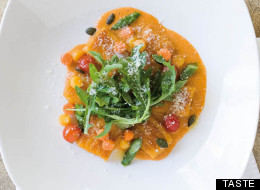 The best thing about November, aside from Thanksgiving of course, is that we can finally enjoy a plethora of butternut squash recipes. We're not yet sick of this naturally-sweet winter squash, rather it's just what we need to comfort us through this newly cold weather. Just like we also need pumpkin spice lattes all of the sudden.
While there are many great ways to cook butternut squash, we think it really shines in a comforting pasta dish.
Get the Butternut Squash Gnocchi with Fresh Tomato Coulis recipe
Want to read more from HuffPost Taste? Follow us on Twitter, Facebook, Pinterest and Tumblr.
We know you want more squash, check out these recipes.
Get the Recipe for Nutty Sweet Potato, Arugula and Goat Cheese Salad

Butternut squash and spinach make a great combination in this cheesy and hearty lasagna. Homemade tomato sauce and bechamel sauce alternate between the layers of pasta and filling. It's a dish to be savored by vegetarians and meat-eaters alike. Get the Recipe for Roasted Squash and Spinach Lasagna

Chunks of sweet butternut squash add lots of color and flavor to this turkey soup. The recipe can be made with strips of turkey cutlets simmered in the broth or leftover roasted turkey. Get the Recipe for Turkey and Squash Soup

What feels more like fall than roasted butternut squash glazed with butter, maple syrup and a touch of nutmeg? Make this simple side whenever you crave the warm embrace of seasonal flavors. Get the Recipe for Butternut Squash Wedges with Maple Butter

This gratin is just as creamy and homey as the classic version except it's better because it's made with millet, a healthy whole grain. Cubes of roasted butternut squash stud the creamy baked dish. Get the Recipe for Butternut Squash and Millet Gratin

Squash pie is the ideal dessert for fall. It's sweet, creamy and always welcome when served with a dollop of whipped cream. Get the Recipe for Butternut Squash Pie

This Thai-inspired autumnal curry features cubes of butternut squash and fried cubes of tofu. Its coconut milk broth is perfect spooned over Jasmin rice. Get the Recipe for Tofu and Butternut Squash Curry

Roasted cubes of butternut squash find a happy home among frilly frisee and peppery arugula in this salad. Hazelnuts add a pleasant crunch and hazelnut oil in the vinaigrette punctuates the salad with a nutty punch. Get the Recipe for Butternut Squash Salad with Hazelnuts

Instead of traditional sweet flan, try this savory version, which makes a wonderful side dish for dinner. Parmesan cheese, sage and nutmeg round out the flavors. Get the Recipe for Butternut Squash Flan

Crumbled sausage and pasta is a typical pairing in Italian home cooking. Give it some fall flair with the addition of sauteed butternut squash. Get the Recipe for Farfalle with Spicy Sausage and Butternut Squash

Polenta is a comforting dish all on its own, but when you stir in mashed, roasted butternut squash, you take it new levels of comfort. Enjoy the polenta as soon as you make it, but it's better once it's been baked in the oven with additional cheese. Get the Recipe for Baked Butternut Squash and Cheese Polenta

Mashed potatoes are no longer boring when you make this recipe. Add roasted butternut squash to the mix for a seasonal upgrade that's sweeter, creamier and more flavorful. Get the Recipe for Mashed Potatoes with Butternut Squash

For a fresh spin on the classic, try adding fresh ginger to butternut squash soup. A drizzle of vinegar is a unique finishing touch, especially for those who want to counterbalance the vegetable's natural sweetness. Get the Recipe for Gingered Butternut Squash Soup with Balsamic Drizzle

This take on a popular Chilean stew features butternut squash, corn and kidney beans. A portion of the stew is pureed to create a thicker texture. Serve with a drizzle of paprika oil. Get the Recipe for Bean, Corn and Squash Stew

Store-bought wonton wrappers offer up a shortcut to create dishes like egg rolls as well as raviloli. Use them to make these steamed and pan-fried parcels of mashed butternut squash. They're the perfect finger food at any fall party. Get the Recipe for Butternut Squash and Sage Wontons

This chili recipe is packed with beta-carotene with all orange vegetables, such as peppers, carrots and butternut squash, of course. Feel free to use frozen cubed butternut squash for a shortcut. Serve with shredded cheese. Get the Recipe for Orange Turkey and Butternut Chili

Not just a side dish, butternut squash can be elevated to create an elegant dinner. To make this recipe, stuff roasted butternut squash halves with a mixture of rice and shrimp simmered in coconut milk. Get the Recipe for Spiced, Roasted Butternut Squash with Shrimp-and-Rice Filling

This nutritious and filling pasta meal includes braised butternut squash, Swiss chard and seared tofu. Make this recipe easily on a weeknight and save on time by using pre-cut butternut squash. Get the Recipe for Penne with Braised Squash and Greens

Add a gourmet touch to the classic butternut squash soup with a garnish of toasted pecans, banana and maple syrup. It makes all the difference in presentation. Get the Recipe for Roasted Squash Soup with Maple-Glazed Banana

This is a side dish that's meant for a hearty dinner. Roasted squash is simple on its own, but dressing it with crispy, salty cracklings is a delicious way to accentuate the sweet flavors. Get the Recipe for Roasted Butternut Squash with Cracklings

Marcela Valladolid prepares a simple recipe for butternut squash.