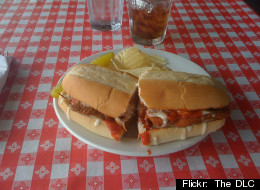 We know that the Italian food we find in the U.S. is not the same as what you'd find in Italy. We put more sauce and more cheese than necessary on everything (meaning we make it better). Without this American spin on Italian classics some of our favorite foods wouldn't exist. What would an eggplant parmesan sub sandwich be if it wasn't dripping with tomato sauce and covered in a blanket of melted mozzarella cheese?
We've got so many classic dishes like eggplant parm, it's hard to choose a favorite. But sometimes you just have to pick, like now, in this deathmatch. Which Italian-American dish is your favorite? Place your vote below. (Please note, we did not forget about pizza but intentionally left it out of this deathmatch -- it stands in a category of its own.)
Here's how the Italian-American Cuisine Deathmatch voting will go down:
Round One voting opens today (November 5th) -- vote right now!
Wednesday, November 6th at 12:00am Eastern, Round Two begins.

Thursday, November 7th at 12:00am Eastern, you'll be able to vote in Round Three.
Friday morning, November 8th, we'll announce the winner.

Check out these Italian recipes perfect for a feast.
Italian Christmas Eve Feast
Take your fish to the next level with acqua pazza or "crazy water," a white wine broth that includes onion, tomato and potato. In this recipe, the fish is oven-braised in the broth. The dish makes a wonderful meal-in-one. The recipe can be doubled or tripled for entertaining so that everyone gets an entire fish. Get the Fish in Acqua Pazza recipe

A simple fish soup makes a perfect first course. This recipe begins with sauteing onion, garlic and fennel, creating a sweet flavor base for the soup. Meaty fish like salmon or yellowfin works best in the recipe because it stands up to the tomato broth. Serve with baguette and mayonnaise. Get the All-in-One Fish Soup recipe

In Campania, this dish is traditionally made with ditalini, but this recipe replaces the pasta with cannellini beans for a unique twist. The creamy beans absorb the wonderful flavors in the clam stew. Feel free to make this recipe with manilla clams, cockles or mussels. Get the Clams and Beans recipe

Risotto is a classic primo (first course) in Italy. This recipe puts a holiday spin on the dish by including shrimp and crabmeat. Saffron turns the rice a beautiful yellow color and mascarpone cheese, stirred in near the end, adds luscious creaminess. Risotto does require a little elbow grease to make (all that stirring!) but this recipe is worth it. Get the Creamy Seafood Risotto recipe

Baccala (salt cod) is a classic "Feast of the Seven Fishes" ingredient used to make this salad. It's important to soak the cod beforehand to remove all the salt. Then it gets simmered in milk until tender and flaky. The salad includes celery, bell pepper, parsley and a simple dressing of lemon juice and olive oil. Serve it as an antipasti. Get the Poached Baccala Salad recipe

Meaty fish, like mahi-mahi or yellowtail, is ideal for braising. In this recipe, a tomato-based sauce tenderizes the fish, which cooks in just 5 minutes. Serve with steamed potatoes and arugula. You'll want to make this recipe again and again. Get the Braised Fish with Tomato and Herbs recipe

Don't shun sardines! They make a great addition to this pasta dish, which works as a primo. Red pepper flakes and dill add spice and a nice citrusy note. A bit of pasta water and Parmesan cheese creates the thin broth. Serve topped with toasted breadcrumbs for a homey crunch. Get the Chiocciole with Sardines and Breadcrumbs recipe

Serve these mussels on the half shell as a party appetizer. After steaming, each mussel is topped with salsa verde (made of garlic, capers, lemon zest and herbs) and then set on the grill or under the broiler until hot. Make the sauce easily in the food processor in advance. Feel free to use a combination of your favorite herbs, like parsley, basil, mint or tarragon. Get the Grilled Mussels with Salsa Verde recipe

You'll find all the bright flavors of the Mediterranean in this simple dish. Parsley, lemon zest and capers awaken canned tuna, turning a humble ingredient into the star of the dish. Make sure to use canned tuna packed in olive oil for the best results in flavor and texture. Get the Farfalle with Tuna, Lemon and Capers recipe

Fried calamari is a classic Italian dish that everyone loves. After frying the squid, sprinkle with chile-garlic salt, a seasoning that you can make yourself in a mortar and pestle or food processor. This recipe would work well as an appetizer at your holiday feast. Get the Fried Calamari with Chile-Garlic Salt and Lemon recipe

Baking fish in sealed packets is a foolproof way of getting perfectly cooked fish every time. Not only does the fish stay moist, it gets infused with the wonderful flavors of the ingredients in the packet, in this case fennel, lemon and olives. There are different methods for sealing the packets, but for the holidays, crimp together the edges of the parchment, then twist the ends like a candy wrapper. The packets make a great presentation at the dinner table. Get the Fish Al Cartoccio recipe

You only need one swordfish steak to make this pasta recipe, which surprisingly stretches the fish to serve four. The spicy sauce is packed with flavor from garlic, jalapeno and anchovies, which melt into the sauce (those who don't like anchovies won't even notice!). A sprinkling of fresh herbs before serving is all you need to finish it off. Get the Penne Rigate with Spicy Braised Swordfish recipe

Lots of garlic, parsley, saffron and white wine go into flavoring this dish of mussels. The cooking broth is so tasty, you won't want to let it go to waste. Combine it with a can of crushed tomatoes and turn it into a simple sauce. Serve the dish over pasta or just mop up all the sauce with a big chunk of crusty bread. Get the Italian Mussels and Pasta recipe

This lobster dish will make a very elegant main course at your holiday feast. To keep the lobster meat moist and flavorful, coat the flesh side with a layer of the breadcrumb mixture before baking. Now to do that, you'll first need to cut open the live lobsters -- a small feat of bravery to get good food on the table. Get the Roast Lobster with Breadcrumbs recipe

Cod is one of those versatile fish that works well in a number of recipes. Here, a creamy tomato sauce takes the mild-flavored fish to the next level. The same broth that the cod is cooked in becomes the serving sauce after the cream is swirled in. Serve over farro or rice. Get the Cod with Tomato-Cream Sauce recipe

Everyone knows and loves the classic linguine with clam sauce. This recipe adheres to tradition with a flavorful buttery sauce, spiked with garlic, red pepper flakes and oregano. Toss with parsley before serving and drizzle with additional olive oil. Get the Quick Linguine and White Clam Sauce recipe

Mussels, scallops and clams form a flavorful trifecta in this take on the classic Italian seafood stew. The white wine broth includes copious amounts of garlic, hot chiles and cherry tomatoes. Make sure to serve the stew with lots of toasted garlic bread so that everyone has enough to dip into the broth. Get the Shellfish in Brodetto recipe

Peas add bursts of sweet flavor to this version of the classic shrimp scampi. The dish is served over cappellini (angel hair pasta), which easily picks up the thin, buttery white wine sauce. Just before serving, toss the pasta with parsley and lemon zest to add bright flavor. Get the Shrimp and Pea Scampi recipe

The seared scallops in this pasta dish would make a great appetizer just on their own, but they're even better when paired with pasta and a lemony, briny sauce. When shopping for the ingredients, look for dry scallops -- they offer much better flavor and texture than wet-packed scallops, which you should avoid. Get the Scallop Piccata on Angel Hair recipe

Though not classically italian, cioppino was invented by Italian-American fisherman in San Francisco to use up the catches of the day. This recipe includes clams, mussels, shrimp and scallops in a tomato-and-white-wine broth. This recipe feeds a crowd and can be prepared quickly when you use jarred pasta sauce. Get the Fresh and Spicy Cioppino recipe

Calamari and tomato sauce make the perfect match. This easy appetizer comes together in just minutes. Once the squid is sauteed, just add the tomato sauce, simmer for a few minutes, and you're ready to serve. Add some crusty bread so that everyone can dip in. Get the Pan-Seared Calamari with Spicy Red Sauce recipe

Giada prepares a traditional Southern Italian specialty.