Piece Of Cardboard Garners More Than $300,000 In Bids On eBay
Lots of people have paid ridiculous amounts of money for bizarre things discovered on the Internet. Take William Shatner's kidney stone, for example, which sold for $25,000 on eBay in 2006. Or an Illinois-shaped cornflake, which was snapped up for more than $1,300.
But a rectangular piece of used cardboard selling for more than $300,000? That seems beyond the point of reason -- even for the wacky world of Internet commerce.
Nevertheless, on Tuesday, that's exactly what we discovered after a user on the social news site Reddit published a post entitled "A piece of cardboard on eBay has started a huge bidding war."
And what a bidding war it was!
By early Tuesday evening, the piece of cardboard -- said to be "shaped a bit like an iPhone 5" -- was selling for about $244,000, and according to CNET, that amount rose to more than $300,000. The item, which was being sold from London, garnered more than 100 bids.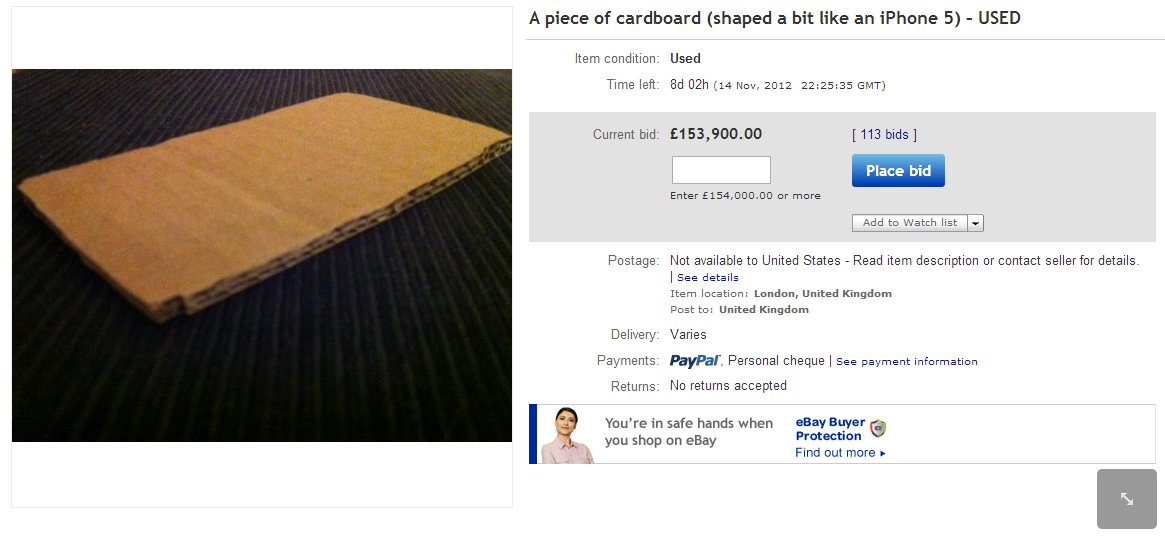 (ebay screenshot credit: Marques Brownlee)
The weird sale sparked a flurry of humorous banter on Reddit, where users joked about buying the paper product for themselves.
"I was about to bid but then I saw that it was used," user "LURKM0AR" wrote. That comment was the most popular on the page.
As Mashable notes, the cardboard was being sold for charity.
"All money raised from this auction will go towards a challenge (trekking along the Great Wall of China)," the auction description said. "I am undertaking for the Charity Dig Deep which is a UK registered charity that helps communities in Kenya improve access to clean water, sanitation and renewable energy."
But before you get out that checkbook, be warned: It seems the original auction has been taken down by eBay.
CNET writes that "the shenanigans were completely orchestrated by [the image-based bulletin board] 4chan, which has since disappeared like a thief in the night, leaving just a lonely screenshot or two as evidence."
If you're hellbent on buying a piece of cardboard for yourself, however, you may be in luck.
It seems that other eBay users were inspired by the success of the original auction. As of Wednesday morning, there were at least three listings for a piece of cardboard on eBay. Two different pieces of cardboard were posted by one user apparently located in Canada; while the other was put on the site by a user in the U.K.: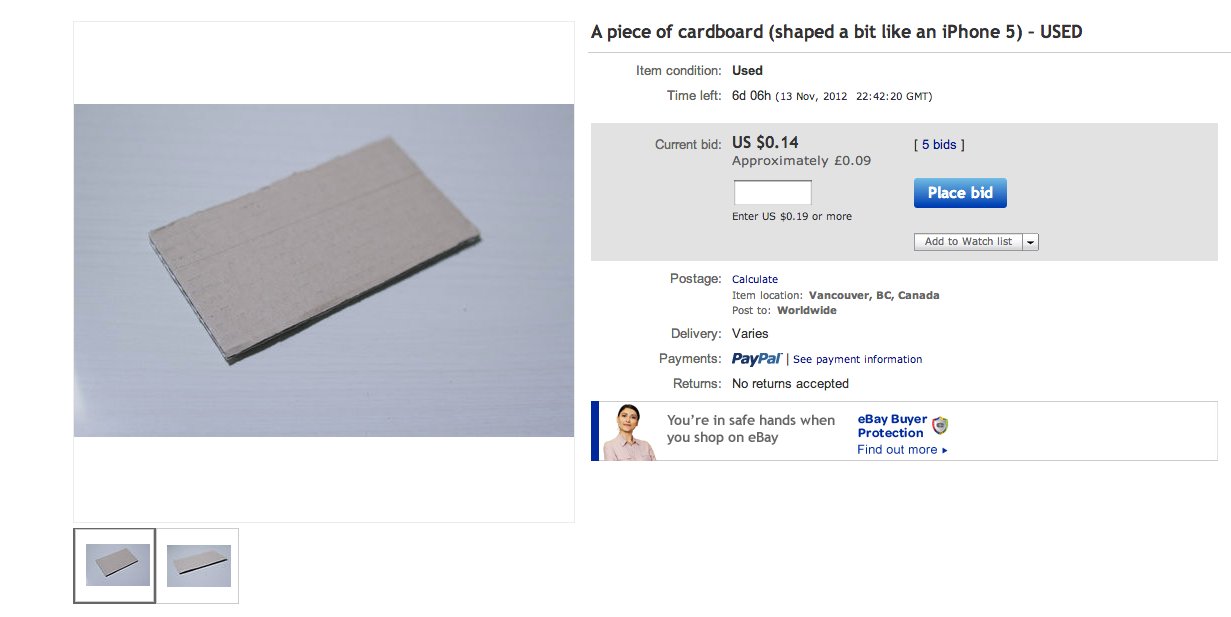 The bidding war has already begun, though the price is still under $1 for each.
This is not the first time that outlandish products have garnered lots of interest on eBay. A "slightly used soul" and a "Ghost In A Jar," for instance, were bid on for significant amounts of money before being taken down by eBay.
Update Nov. 8, 10.45 a.m.: In an email to The Huffington Post, Julia McGill, who claims to have listed the original auction on eBay, said that the piece of cardboard is back on sale on the site.
"It has now been relisted after contact with eBay head office who have promised not to remove the item again," wrote McGill, who added that she hopes to "raise as much for the charity" as possible. The current bid for the item is about $80.
Click through this slideshow too view some of the weirdest items ever sold on eBay:
Weirdest Things Sold On eBay
For one reason or another, Diana Duyser of south Florida held onto a grilled cheese sandwich resembling the Virgin Mary for over 10 years. But in 2004, Duyser got some bread for her bread, selling the holy cheese sandwich to online casino GoldenPalace.com for $28,000.

After suffering backaches on the set of "Boston Legal" in 2006, actor William Shatner had to undergo an operation to have a kidney stone removed. The actor, envisioning a bizarre charitable opportunity, retrieved the kidney stone from his doctors along with the surgical stint and string used to permit passage of the stone. GoldenPalace.com once again swooped in for another high-profile purchase, paying $25,000 in the auction. All of the money from the sale was donated to Habitat for Humanity.

In 2008, the McIntire sisters of Virginia sold a piece of Corn Flakes cereal shaped like the state of Illinois for $1,350 to Monty Kerr, owner of trivia website TriviaMania.com. Kerr bought the corn flake for his traveling museum of pop culture and Americana-related items.

After the purchase of the Virgin Mary grilled cheese, the stakes got even cheesier -- and perhaps more sacrilegious -- when GoldenPalace.com purchased a Doritos chip resembling the Pope's Mitre, or tall hat, for $1,209 in 2005. The chip was sold by the Chadwick family of Salem, Mass., who saw their beloved chip live on forever in the form of merchandise and worship on PopeHatChip.com.

N'Sync was all the rage in 2000. Enough so that 19-year-old fan Kathy Summers paid $1,025 for band member Justin Timberlake's half-eaten French toast. The bread in question was left over from a pre-interview breakfast Timberlake ate at New York's Z100 radio station in March 2000.

In 2004, Navy Petty Officer Mike Evans made the startling discovery of a seriously oversized Cheeto in a bag he had bought for his 3-year-old son. Evans's eBay auction for the Cheeto went viral, with pranksters bidding millions, eventually causing eBay to shut the auction down. But the Cheeto had one serious buyer: the town of Algona, Iowa, and its 5,970 residents. Algona residents raised $180 to bid on the Cheeto, but Evans eventually gave it to the town for free. Frito-Lay, the creator of Cheetos, added a $1,000 pledge to the local food bank.

The remains of a sandwich Britney Spears nibbled on in 2006 were purchased by GoldenPalace.com for over $500. But Brit's sandwich wasn't the best part of the purchase -- the website also received the unfinished corndog of the pop singer's now ex-husband, Kevin Federline. What a steal.

For some very brave (or foolish) people, putting up your skin on eBay for advertisement tattoos can prove to be lucrative. One such person was Long Island man Joe Tamargo, who in 2005 auctioned off tattoo space on his skin for $510. The winning website was SaveMartha.com, a site that was dedicated to keeping Martha Stewart out of prison following her indictment for securities fraud. The site is no longer online. Tamargo would go on to launch the now defunct website LivingAdSpace.com, where he auctioned off space on his body for temporary or permanent advertisement tattoos.

Some resort to desperate measures in order to be able to pay for college. In 2010, an 18-year-old Hungarian teen incited a bidding war on eBay for her virginity. Only known as "Miss Spring," the teen said she wanted to pay off her family's debts and pursue her dreams of going to school to become a doctor. The winning bidder was a British man who shelled out £200,000.