We've known for quite some time that Cory Booker, the mayor of Newark, New Jersey, is awesome. Remember when he charged into a burning house and rescued his neighbors? How about when he welcomed victims of Hurricane Sandy into his own home? Let's not forget his other Sandy-related acts of kindness.
We're particular fans of Booker's constant Twitter presence, which manages at times to be informative and hilarious. We have to file this Tweet under the latter: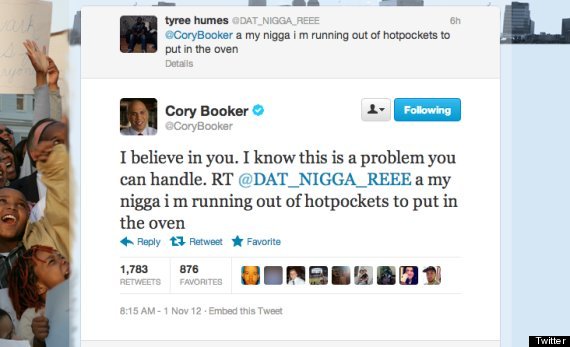 But then a magical thing happened! Read on:
@CoryBooker

Cory Booker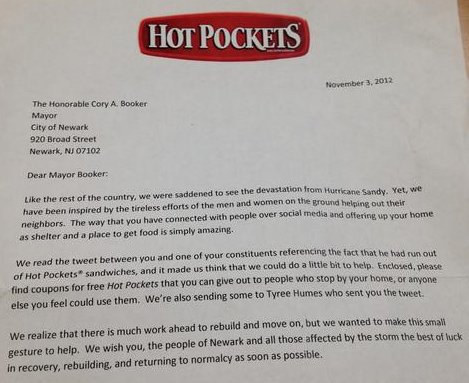 Cory Booker, you're OK with us. He also tweeted back at the constituent who sent the original tweet, saying "thx 2 ur tweet + @HotPockets generosity Newarkers now have plenty of hot pockets to put in the oven."
Also on HuffPost:
Loading Slideshow
"Top Chef" Dinner

On Monday night, <a href="http://www.bravotv.com/blogs/the-dish/top-chef-stars-cook-for-sandy-relief">"Top Chef" stars Angelo Sosa, Jennifer Carroll, Dale Talde and Kevin Sbraga</a> hosted a four-course dinner for $100 will all proceeds going to the Red Cross. "The devastation from this storm is heart-wrenching and we are passionate about helping those affected in the Tri-State area and beyond," said Sosa. "We are trying to do our part by helping with relief efforts the best way we know how, through food and community support."

Otto Pizza

<a href="http://ny.eater.com/archives/2012/11/bostons_otto_to_deliver_5000_slices_of_pizza_to_the_rockaways_today.php">Boston's Otto Pizza recently delivered 5,000 slices to hungry New Yorkers</a> last weekend, as well as water and other essentials. "We heard and saw that New Yorkers were in dire straits, and hungry to boot," said co-owner Anthony Allen. "We can't rebuild houses but we can, at least, feed a few thousand people some hot pizza. That's why we're doing it: because we can."

Shake Shack is offering a special shake inspired by New York City's famous black-and-white cookies, and will <a href="http://www.shakeshack.com/wp-content/uploads/2012/11/ss_rally-shake.pdf">donate $2 of each one sold to the American Red Cross</a> between November 4th and 11th.

All of Chop't locations are offering a <a href="http://choptsalad.com/">free drink or snack to people who can prove they donated to the Red Cross</a> through November 9.

Dine Out Williamsburg

On Thursday, November 8, restaurants participating in Dine Out Williamsburg For Sandy Relief will donate 10 to 20 percent of their night's gross sales to the Red Cross. Restauants include Dumont Burger, Forcella, Maison Premiere, Marlow & Sons, Nitehawk Cinemas, Pies 'n' Thighs, The Meatball Shop and a slew of other well-known Williamsburg eateries.

Momofuku

Last week, David Chang announced that the <a href="http://momofuku.tumblr.com/post/34793853849/sandy">Momofuku restaurants would host three events to benefit the Red Cross</a>. A Noodle Bar pop-up, a special lunch and dinner with cocktails at Má Pêche and a six-course dinner for $495 with Café Boulud.

Food Trucks and JetBlue

<a href="http://ny.eater.com/archives/2012/11/food_trucks_descend_on_lower_manhattan_to_feed_folks.php">A fleet of prominent New York City food trucks</a> were dispatched by the NYC Food Truck Association and JetBlue last week to the Rockaways and blacked-out areas of Manhattan, where they served free food to needy New Yorkers.

Fourth Wall Restaurants

Fourth Wall Restaurants donated $10,000 of its profits from Tuesday night's dinner to the Red Cross. Its properties include Smith & Wollensky,Maloney & Porcelli, Park Avenue Autumn, Post House and Quality Meats.

Seersucker

On Monday, Seersucker in Brooklyn whipped up <a href="http://dinersjournal.blogs.nytimes.com/2012/11/05/pork-sliders-for-sandy-relief-and-other-fundraising-events/">1,000 roast pork sliders on mini Martin's potato rolls with green tomato barbecue sauce</a> from a 175-pound heritage Berkshire pig, donating all the money to help relief efforts in Red Hook.

On Thursday, <a href="https://www.facebook.com/events/443800112323062/">The Queens Kickshaw will hold an all-day benefit</a> with 100% of its profits going to Hurricane Sandy relief efforts. Reads its web site: "Whether you're a lover of coffee, cheese, beer, cider kombucha, or wine, come by to show your support for fellow New Yorkers in need."

Ken Oringer At Mike's City Diner

On Wednesday, chef and restauranteur <a href="https://sandyreliefbostonpopup.eventbrite.com/">Ken Oringer will host a pop-up dinner at Mike's City Diner</a> for Sandy relief. Tickets for the event cost $500 a head, with all proceeds going to charity. The 52 lucky (and charitable) folks who snag tickets will be treated to a feast of white truffles, oysters, foie gras, duck and lobster -- all for a good cause.

George Mendes At Aldea

On Wednesday, chef George Mendes will join forces with downtown chefs Andrew Carmellini, Marco Canora, and Seamus Mullen at <a href="http://www.aldearestaurant.com/">Aldea</a> for a $300-a-head, five-course dinner with wine pairings to benefit Sandy relief. Three quarters of all proceeds going to NYC Food Flood, which sends food trucks to hungry communities still without power.

Other Places To Eat Out

<a href="http://ny.eater.com/archives/2012/11/where_to_eat_out_for_sandy_relief_and_where_to_donate.php">Eater has a great roundup</a> of other restaurants doing good, as does <a href="http://newyork.grubstreet.com/2012/11/new-york-city-sandy-benefits-list.html">Grub Street</a>. Check out both lists to eat out for a good cause.