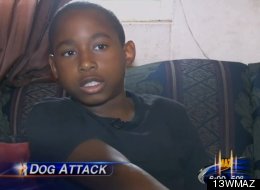 "It hurt me to my soul," says Willie Carr as he describes the deep wounds his 11-year-old son, Maleik, endured in a pit bull attack on Monday morning. Maleik sustained the injuries when he rushed to save his sister from a dog attack in Dublin, Georgia.
Maleik and his 5-year-old sister, Jalia, started Monday as they do most other school days -- with a walk through their backyard to the school bus. But this morning was different.
According to WMAZ, the chain link fence that typically keeps a safe distance between them and their neighbor's two unleashed pit bulls was marked by a massive hole. And as the two walked past, both dogs slipped through and proceeded to attack Jalia.
"So I ran over there and started kicking [the dogs] away from her," Maleik told CNN, offering the camera a view of his legs, covered in stitches and puncture wounds, as proof. Maleik told his little sister to run to safety.
While the dogs bit into his legs, Maleik quickly picked Jalia's toy chair and used it to fend off the violent canines. He then hopped over another fence to safety (this one intact), where his older sister picked him up and hustled him to the hospital.
Maleik's legs took on the brunt of the dog's anger with a total of 23 bites. His hands also suffered four bites. He is now recovering after emergency surgery, his father, Willie, wrote on Facebook.
Click through the slideshow below to read even more incredibly inspiring stories of heroism.
After a bus driver responsible for 15 middle-school children suffered a medical emergency and lost consciousness, Jeremy Wuitschick grabbed control of the steering wheel and guided the vehicle to safety, KOMO News reports. Read the full story here.

When Patricia Drauch found her 14-month-old son, Stanley, floating in the pool in the backyard, her worst fears were relieved, News 8 reports. The family dog, Bear, was balancing the little boy on his back to help keep his head above water. Read the full story here.

When Amanat Singh, 9, and her brother, Abhay Singh, 11, realized the popping sounds they heard outside of their Wisconsin temple belonged to a gun, not fireworks, they quickly raced inside to warn the worshippers, allowing some enough time to take cover, ABC News reports. Read the full story here.

When Cynthia Almendarez's baby nephew was having trouble breathing, the 10-year-old calmly called 911 and translated the dispatcher's life-saving CPR instructions into Spanish so that her mother could save the 2-year-old's life, NBC reports. Read the full story here.

After a car plunged down a 10-foot embankment and flipped over, as many as 10 bystanders jumped into the icy Utah river to help save three children, the Associated Press reports. Read the full story here.