McDonald's Sales Drop For First Time Since 2003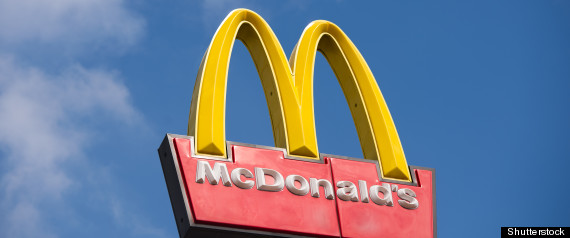 NEW YORK — McDonald's Corp. is having a tough time stomaching the competition.
The world's biggest hamburger chain said Thursday that a key sales figure fell for the first time in nearly a decade in October, as it faced the double whammy of a challenging economy abroad and intensifying competition at home. The company, based in Oak Brook, Ill., says global revenue at restaurants open at least 13 months fell 1.8 percent for the month. The last time it dropped was in March 2003.
The figure is a key metric because it strips out the impact of newly opened and closed locations. It's a snapshot of money spent on food at both company-owned and franchised restaurants and does not reflect corporate revenue.
McDonald's says the figure fell in each of the three regions it reports. In both the U.S. and Europe, it fell 2.2 percent. In the region encompassing Asia, the Middle East and Africa, it dropped 2.4 percent. CEO Don Thompson cited the "pervasive challenges of today's global marketplace" for the declines.
Canada, which is not included in the monthly sales figures, was positive for the month.
After years of outperforming its rivals, McDonald's has been hitting some road bumps recently, with longtime rivals such as Burger King and Wendy's Co. reviving their brands with improved menus and new TV ad campaigns. Taco Bell, owned by Yum Brands Inc., is also enjoying growth with the help of new offerings such as it Doritos Locos Tacos and higher-end Cantina Bell bowls and burritos.
Additionally, people are increasingly flocking to restaurants such as Chipotle Mexican Grill Inc. and Panera Bread Co., which offer better-quality food for a little more money. The broader fast-food landscape has been undergoing changes over the past several years too, with the rise of chains such as Subway and Starbucks.
On Thursday, McDonald's said it would remain focused on underscoring its value message.
In the U.S., for example, the company is refocusing on the Dollar Menu, which was introduced about a decade ago. The move comes after an attempt to shift customers to an "Extra Value Menu," which charges slightly higher prices, fell flat.
The Extra Value Menu was intended to give McDonald's greater pricing flexibility, rather than being boxed in by the $1 price. With the Dollar Menu, the company has had to swap out many items over the years as costs for ingredients have climbed. When the Dollar Menu was first introduced, for example, the flagship offering was the Big `N Tasty, made with a quarter-pound beef patty. But earlier this year, McDonald's even took its small fries off the Dollar Menu.
In October, McDonald's said that marketing for its Dollar Menu in the U.S. was offset by "modest consumer demand" and heightened competition. Moving forward, the company said it would continue its everyday value marketing.
Andy Barish, a Jefferies analyst, noted that the disappointing results were despite a Monopoly promotion and the launch of its Cheddar Bacon Onion sandwiches. Barish also said McDonald's could face a tough fourth quarter given the challenging economic climate – even with the periodic appearance of its popular McRib sandwich scheduled for later this month.
In Europe, where McDonald's gets 40 percent of its business, McDonald's said it would offer new meal combinations at various price ranges amid ongoing economic uncertainty, and continue remodeling restaurants. The company said positive results in the United Kingdom were offset by declines across many other regions.
In Asia, the company said it plans to differentiate itself with menu offerings tailored to local tastes.
The company noted that the results were hurt by a calendar shift, with this year's October having one less Saturday and Sunday and one more Tuesday and Wednesday. Restaurants typically rake in more sales on weekends.
McDonald's shares fell $1.73, or 2 percent, to close at $85.13 Thursday. The company, which has more than 34,000 locations worldwide, had warned last month that sales were trending negative for the month.
Also on HuffPost:
Loading Slideshow
10. Sonic

America's Drive-In rounds out the top 10 with U.S. revenues of $3.6 billion.

9. KFC

KFC, the biggest chicken vendor in America, comes in ninth with revenues of $4.7 billion, though there were 107 fewer outposts in August 2011 than there were the year before.

8. Pizza Hut

<a href="http://www.huffingtonpost.com/2011/07/27/pizza-hut-ads_n_911106.html" target="_hplink">Good ads</a> equal big revenues for the biggest pizza chain in America. Pizza Hut took in a solid $5.4 billion in 2010.

7. Dunkin Donuts

America runs on Dunkin' to the tune of $6 billion a year -- that's almost $20 for each and every person in the country.

6. Taco Bell

2010 U.S. revenues of $6.9 billion make Taco Bell the biggest Mexican restaurant chain in the country.

5. Starbucks

Starbucks may have had a few hiccups <a href="http://www.huffingtonpost.com/2011/07/13/starbucks-bistro-boxes_n_897768.html" target="_hplink">when it comes to introducing food</a>. But its success in beverages has propelled American's biggest coffee purveyor into fifth place among fast food chains, with 2010 revenues of $7.6 billion.

4. Wendy's

Wendy's fries may be <a href="http://www.slashfood.com/2011/04/20/wendys-fries-vs-mcdonalds-fries-taste-test/" target="_hplink">number one</a>, but its revenues aren't there quite yet.

3. Burger King

Number two burger chain Burger King was sold for $3.26 billion to 3G Capital in 2009. 2010 revenues of $8.6 billion make that sound like a deal to us! (We know, we know, there's a difference between revenues and profits...)

2. Subway

Subway has the most outlets of any fast food brand; it expanded that total by 816 in the past year alone. But because each store is relatively small, revenues, at $10 billion, pale in comparison with those at the number one chain.

1. McDonald's

With revenues standing at a whopping $32.4 billion in 2010, the Golden Arches aren't being dethroned any time soon. What's surprising about its success is that per store sales at McDonald's are bigger than those even cult-ish brands with fewer outlets. With $2.4 million <em>per store</em>, they're second only to Chick Fil-A, which fans travel miles to visit.
Copyright 2013 The Local Paper. All rights reserved. This material may not be published, broadcast, rewritten or redistributed.