Pop-up businesses seem to be springing up everywhere in Detroit in recent months. One of the most anticipated of these may be a new east side satellite of the popular southwest Detroit coffee shop Cafe Con Leche, currently open for business in Detroit's Lafayette Park neighborhood until the first week of December. Like the original, the offshoot cafe offers a selection of beverages with a decidedly Latin flavor like Cuban coffee, Spanish hot chocolate and mate, an Argentinean tea.
The Huffington Post spoke about the new business with proprietor (and HuffPost blogger) Jordi Carbonell, an immigrant from Barcelona who opened the shop five years ago with his wife, southwest Detroit native Melissa Fernandez. A week into the enterprise he shared his thoughts about the neighborhood, architecture and future prospects of the pop-up cafe.
Tell us about the your new east side shop.
The name of the venture is called Cafe Con Leche del Este. We have an opportunity to do a pop-up business in a second place [to] try the market [to see] if a second coffee shop can work for us [and] for the neighborhood.
To do this pop-up, it was a collaboration with different organizations from the neighborhood like the Detroit Economic Growth Corporation, the design group RogueHAA, the owners of the Lafayette Shopping Plaza and the Jefferson East Business Association (JEBA). It was amazing. In like two months we started talking and tried to move everything and we set up everything.
The reception of the neighbors has been pretty amazing. They're really excited. That area had a coffee shop seven years ago, Paris Cafe, that closed. It was over there 14 years. And it looks like for this seven years it was a topic of conversation between them: "Why don't we have another coffee shop?"
How did the pop-up come about?
Customers come in here. They live in the area. They started asking me about checking out Lafayette Park. They know the owners of the hotel. Detroit Economic Growth Corporation found out about that. They are involved with the neighborhood and they came to ask me: "Eh, we heard you are interested over there, we can help you." They [are] helping businesses do pop-ups in other areas of Detroit like Indian Village, University District -- 7 Mile and Livernois. I wasn't really interested because some customer asked me about that. It was a combination of people.
Cafe Con Leche used to be located across I-75 on Bagley, but it didn't seem that you got a lot of foot traffic. How does the new location compare to that?
It's different. You had to create the flow of the people, the flow of traffic. It wasn't really a route for people. In Lafayette Park it's already full of people passing [by]. There is already interest from downtown, people coming from the Grosse Pointe area, and it already [has] neighbors living just a few feet from the location.
How does it compare to your current location on Vernor and Scotten?
We tried to be in concordance with the architecture of the buildings. The architect of the building was Mies van der Rohe, one of the famous architects. Even the menu and the layout we tried to do in concordance with the architect's style. If I'm going to stay, it's going to look like something more that Mies would like. More minimalist. The one coffee shop we have right now we're trying to do more bodega or Latin warehouse.
I'm trying to adapt to the needs over there. I found that the neighborhoods are different, maybe in backgrounds and ethnicities, but the needs are the same. They needed space for networking, space to communicate or relate to the community. It was needed here more than what I was thinking when I [started] it. In a week or so over there, it was the same needs. Detroit needs these kind of places.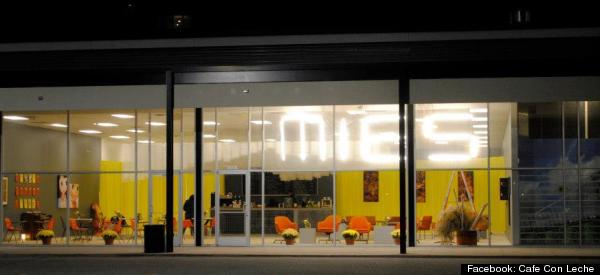 Cafe Con Leche del Este.
What kind of help did you get with the pop-up?
It wasn't just fundraising. It was a lot of volunteer work, people putting in free hours to help. If I want to open a second location, I know different financial groups that already want to support me. You have to knock on a lot of doors [to do that]. In this case, I know they already wanted to offer me financial help.
What do you think of the pop-up model?
That collaboration between the organizations was pretty neat and nice. It was a lot to me really talking about [how] this kind of pop-up can help. No other cities are doing that -- to try before you open a business. you want to see that in New York, Chicago, Barcelona? I don't think so. So, really, I have an opportunity. When I grew up you never heard that.
How do you feel about opening a permanent shop in Lafayette Park?
A week ago I was thinking, "Ah, It's only a month." I don't want to move myself, but after a week there's a lot of people involved or connected and they really want a coffee shop and they're going to try and keep me over there -- in a good way, not going to put a chain on me. Five years in business, I'm still learning to run a business. Now I'm going to run two businesses? People who've been in business for years tell me to be careful. it's not the same running two businesses [as] one business. I'm still thinking, but I'm still going to have to think it [over] pretty well.
Cafe Con Leche del Este is located at 1561 Lafayette in Detroit. It's open Monday through Friday 8 a.m. to 2 p.m. and Saturdays and Sundays 9 a.m. to 3 p.m. The pop-up runs through Dec. 2.
Also on HuffPost:
Loading Slideshow
Hatch Detroit 2012: Meet The 10 Semifinalists

They Submitted. They Rocked. They Conquered. Hatch Detroit named <a href="http://www.huffingtonpost.com/2012/08/30/comerica-hatch-detroit-contest-2012-semifinalists_n_1843271.html">10 semifinalist entrepreneurs</a> who will compete for the hearts and minds of Detroiters this fall. The winner will take home $50,000 and the support to build the business of their dreams. Find out a little more about the 2012 Hatch Detroit class through the slideshow, featuring quotes from their business proposals. <a href="http://hatchdetroit.com/vote/">Vote for your favorite </a>Hatch Detroit contestant every day, and make sure to explore every budding Detroit entrepreneur through our Hatch Q&As.

Tashmoo Biergarten

"Tashmoo Biergarten is a European style outdoor beer garden that opened in the fall of 2011 as five sequential pop-up events in the West Village neighborhood of Detroit, MI. The next phase of Tashmoo Biergarten is to purchase property with enough space for the beer garden and a building to house a tasting room and the necessary facilities."

Whip Hand Cosmetics

"Whip Hand Cosmetics offers luxury, artisan, professional makeup artist quality cosmetics made in Detroit With Attitude. The brand's products include more than 100 color cosmetics for the eyes, lips and cheeks, as well as a line of skin care and prep products. Whip Hand Cosmetics: The Art of Control."

La Feria

"La Feria will be a small authentic Spanish Tapas restaurant in the style of those commonly seen in the south of Spain. The food and menu will follow the Tapas tradition of a number of plates that are small portions of various Spanish dishes, accompanied by wine or beer. "

Detroit River Sports

"Our mission is to create a whole new dynamic on the Detroit River, built around sports and recreation activity. Detroit River Sports will be a hub for all human or nature-powered, sports on the River. By offering rentals, lessons, tours, and retail we will provide amenity to those already familiar with the pleasures of waterfront recreation, and expose the uninitiated, creating new River enthusiasts within the city. By providing new ways to experience the City and its River, interest in the Detroit Riverfront as a whole will grow."

Detroit Vegan Soul

<blockquote></blockquote>"Detroit Vegan Soul is a newly created meal delivery & catering company that with the help of Hatch Detroit will open a café in one of Detroit's historic neighborhoods. We want good, healthy food to be accessible to everyone. Our mission is to help people live healthier lives by providing great-tasting, high-quality, nutritious vegan food that appeals to everyone, while at the same time doing our part to support a sustainable earth."<blockquote></blockquote>

Vividbraille Studio Boutique

"Vividbraille fuses high end fashion and design with USA manufacturing in a retail setting. The studio boutique offers its customers some of the finest Made in the USA high fashion goods while also allowing its customers to experience the creative process leading up to the completion of any given collection or item of clothing."

Pho Da Nang

"We would like to open a 50-seat Pho House in Midtown, Detroit, to bring the first Vietnamese restaurant to the people. Eating at Da Nang is much more than a dining experience. We treat our customers to authentic Vietnamese cuisine, of course, but we are careful about the setting. We want to share the beauty of Vietnam and its people through our menu, our décor, our staff – basically every touch point."

Motor City Design

"Motor City Design Co. store is a custom denim specialty retail store featuring all made in Michigan products as well as products made directly in the store. People will be able to shop in the store and see seamstresses sewing and making garments behind large glass walls. The store will be the first of it's kind in Detroit -- or in the world, for that matter. "

Rock City Pies

"Rock City Pie products are NOT like your grandma's pies. They are as unique and pure and as unexpected as the people who make-up the Detroit urban "hipster" scene, with flavors and sensations unlike anything else. Bizarrely original, they are totally fresh with locally-sourced ingredients and are even a little bad ass…..and DAMN they are good."

The Collective Tap

"The Collective Tap is a community focused beer retailer promoting and cultivating a respect for beer in Detroit. We specialize in the education and selling of Midwestern craft beers, while also selling brews from the US, UK and Belgium. Our goal is to make high‐ quality beer approachable, from the first time craft beer drinker to the seasoned home brewer."