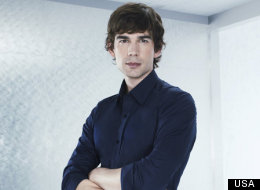 This week's "Covert Affairs" (Tuesday, Nov. 13 at 10 p.m. ET on USA) is momentous not just because it's the penultimate episode of Season 3, but because it commemorates Veterans Day and the courage of our military personnel in a way that few shows could manage so seamlessly.
The episode, titled "Quicksand," sees Auggie (Christopher Gorham) -- who was blinded while serving in the War in Iraq -- taking part in Operation Proper Exit, a real program from the Troops First Foundation that brings wounded warriors back to where they were injured in order to give them a greater sense of closure. According to the episode summary, "Auggie goes back to Iraq with the program as a "battle buddy" to a fellow wounded warrior, PFC Pete Downey, who has been suffering with post-traumatic stress. While trying to help Pete face his inner demons, Auggie revisits his own and together they find some solace and the peace of mind to continue on their roads of recovery."
In addition to making Operation Proper Exit an integral part of the episode's narrative, USA and Gorham have also filmed a PSA to highlight the important work of the Troops First Foundation and encourage viewers to support Operation Proper Exit and other efforts that help our military and their families. Above, HuffPost TV has an exclusive first look at Gorham's PSA ahead of its on-air debut, and fans can learn more and view additional content at CharactersUnite.com.
In HuffPost TV's recent interview with Gorham, he previewed the good work that the Troops First Foundation is doing through Operation Proper exit, as well as his involvement with the PSA:
"Rick Kell is one of the founders of Operation Proper Exit, and [he and] Command Sergeant Major Don Harbin and Corporal Craig Chavez actually came up to set for the two days where we were filming on that Operation Proper Exit stuff in Toronto and were there for the two days. Corporal Chavez lost his sight, much like Auggie, while serving, and he lost one eye and his vision has been restored only slightly in his right eye where he has some limited peripheral vision.
But he came up, and we just had a great time just talking and sharing stories, and they were so supportive of the collaboration that we were doing and the fact that doing this storyline would bring attention to their foundation ... It's a great program. They were running it while our troops were in Iraq, and now that we're out of Iraq, they just got approval to start doing this program in Afghanistan to take some of the wounded warriors back to Afghanistan. It's pretty extraordinary, and they're doing some great work, so we were really pleased that we were able to highlight it in the show."
"Covert Affairs" airs Tuesdays at 10 p.m. ET on USA.
She didn't have an easy start as a secretary at Sterling Cooper, but Peggy Olson (Elisabeth Moss) has certainly worked her way up on the '60s era drama. Peggy was consdiered one of the biggest creative geniuses behind the company (before she left last season), although she certainly lost a few nights of sleep in the process.

Once just a high school chemistry teacher, Walt (Bryan Cranston) has spent the past four years battling cancer, cooking meth and killing people. Oh, and he's now considered the drug king of New Mexico. It's kind of a tough job.

Deb (Jennifer Carpenter) is totally devoted to her job as a Lieutenant for the the Miami Metro Homicide Unit. In a mostly male-dominated field, she had to prove herself by outworking everyone else. She takes her job home with her, has no personal life to speak of, and has been rewarded for her dedication and police intuition with promotions to Detective and eventually Lieutenant for simultaneously busting asses and kicking them.

There were heartbreaking moments and tense developments galore in this crackling Showtime thriller, but anchoring it all was a wonderfully soulful performance by Mandy Patinkin as the hard-working Saul. He talked Carrie down from her more manic places, and when that failed, he comforted her at her lowest moments -- all in addition to holding down a demanding job as a crucial CIA employee. One of the most indelible images of Season 1 was a scene of Saul using a ruler to spread peanut butter on some crackers, a late-night snack that reinforced the idea that those who often work hard to keep America safe not only don't get credit -- they don't even get dinner.

You will not find a harder worker in the Parks and Recreation department of Pawnee. Heck, you probably won't find a more dedicated worker anywhere on TV. Leslie (Amy Poehler) spearheaded the Harvest Festival, saving Pawnee. She also tirelessly campaigned for a seat on the Pawnee City Council while continuing her work with the Parks Department. When she was suspended, she started her own citizen action league. You can take the Knope out of the office, but you can't take the work out of the Knope.

Tyrion (Peter Dinklage) wasn't exactly a hard-working guy when "Thrones" began, but over the course of two seasons, more and more responsibilities piled up on him, to the point where he hardly had time for bordellos and wine (the horror!). One of the most fascinating things about the HBO show is the way it's shown Tyrion -- who'd been underestimated and mostly dismissed by everyone (including himself) -- realize that he not only was good at wielding power, he actually liked it. But it certainly cuts into a guy's recreational time, as courtiers Varys and Littlefinger could have told him.

Is Alicia (Julianna Margulies) ever home? And when she's home, is her phone ever not within arm's reach? She always goes above and beyond for Lockhart/Gardner. This is her first job in years and Alicia has moved fast, climbing the corporate ladder with ease. Could it be Lockhart, Gardner & Florrick soon?

Cooper (Michael Cudlitz) is recovering from addiction problems, but he never lets his bad back stand in the way of doing his job as an LAPD officer. His troubled past (a criminal father, a failed marriage and his closeted sexuality) explains why he's so passionate about the job, and why he does it all with a sense of humor. "You're a cop because you don't know how not to be one. If you feel that way, you're a cop -- if you don't, you're not."

Detective Kate Beckett (Stana Katic) has a lot on her plate -- the unsolved murder of her mother that drew her to the job and Castle, the man who wants to help her solve the case ... but not at the expense of her own safety. Her personal issues sometimes drive her to make emotional decisions in the field, but it just proves how much she really cares.

Plenty of people take their work home with them, but few let their jobs consume them as thoroughly as hunky, demon-hunting brothers Sam (Jared Padalecki) and Dean Winchester (Jensen Ackles) have over seven seasons of "Supernatural." The family business of "saving people" and "hunting things" not only has them living in motels and out of Dean's trusty Impala, it's also seen them sent to Heaven, Hell and many dimensions in-between in the name of saving the world. If anyone deserves a vacation, it's these two hard-working heroes. Sadly for them, kicking ass and looking good is a full-time job.

Dr. Bailey (Chandra Wilson) could not be more dedicated to her job at Seattle Grace. When viewers first met her, she was the play-by-the rules resident of general surgery and referred to as "The Nazi" by her five surgical interns -- Meredith Grey (Ellen Pompeo), Cristina Yang (Sandra Oh), Izzie Stevens (Katherine Heigl), George O'Malley (T.R. Knight) and Alex Karev (Justin Chambers) -- because she ruled with an iron first. But Bailey has since proven to have a soft heart, too. Her devotion to her job arguably cost her her marriage, but Bailey could never turn her back on the co-workers and patients at Seattle Grace, no matter how much stress and pressure she's under.

The constantly-cheerful NBC page (and former Southern farm boy) is one of the most dutiful employees we've ever seen on TV. Sure, Kenneth (Jack McBrayer) is incredibly awkward and sometimes annoyingly optimistic, but he also could not be more devoted to "TGS," NBC and television at large. After all, how many times have we seen him out of his page uniform?

One of the titular heroines of CBS' raunchy comedy, Max Black (Kat Dennings) seems to have tried her hand at just about every low-paying job in New York. She's also an excellent multitasker, balancing her burgeoning cupcake business with waitressing, nannying, cleaning, working as a department store Christmas elf, dog-sitting and wrangling her flaky roommate Caroline, to name a few. Someone give this poor broke girl a break!

It's not easy being a working musician in New Orleans. Whether he's trying to wrangle together his own band or lugging his trombone all around town going from gig to gig, Antoine Batiste (Wendell Pierce) is always hustling. At his wife's urging, he picked up a side job as an assistant band leader at a local high school, which will give his family a steady stream of secondary income.