Gov. John Hickenlooper has made no secret about his opposition to marijuana legalization in Colorado. Before the election, Hickenlooper said many things about why the drug war on marijuana should continue as is, but the gist was this line: "Colorado is known for many great things –- marijuana should not be one of them."
Then, last Tuesday, the voters in Colorado spoke and passed Amendment 64, making marijuana legal for recreational use. To which many opponents spoke out including a half-serious Hickenlooper:
The voters have spoken and we have to respect their will. This will be a complicated process, but we intend to follow through. That said, federal law still says marijuana is an illegal drug so don't break out the Cheetos or gold fish too quickly.
The governor's statement was received with good humor by some, including marijuana attorney Robert Corry who hand-delivered Cheetos and Goldfish to the governor's office last week as a light-hearted reminder to follow through on the voters' will. But the statement also drew the ire of some marijuana reformers who didn't appreciate the governor's tongue-in-cheek approach to the voice of a majority of Colorado voters who passed this measure -- such a strong majority that Amendment 64 gathered more votes than President Obama did in the state.
Then last Thursday this photo was taken at a Wings Over the Rockies Air and Space museum fundraiser, depicting Hickenlooper, a bag of Cheetos, Goldfish and Ean Seeb, co-owner of one of Colorado's most promenant medical marijuana dispensaries Denver Relief: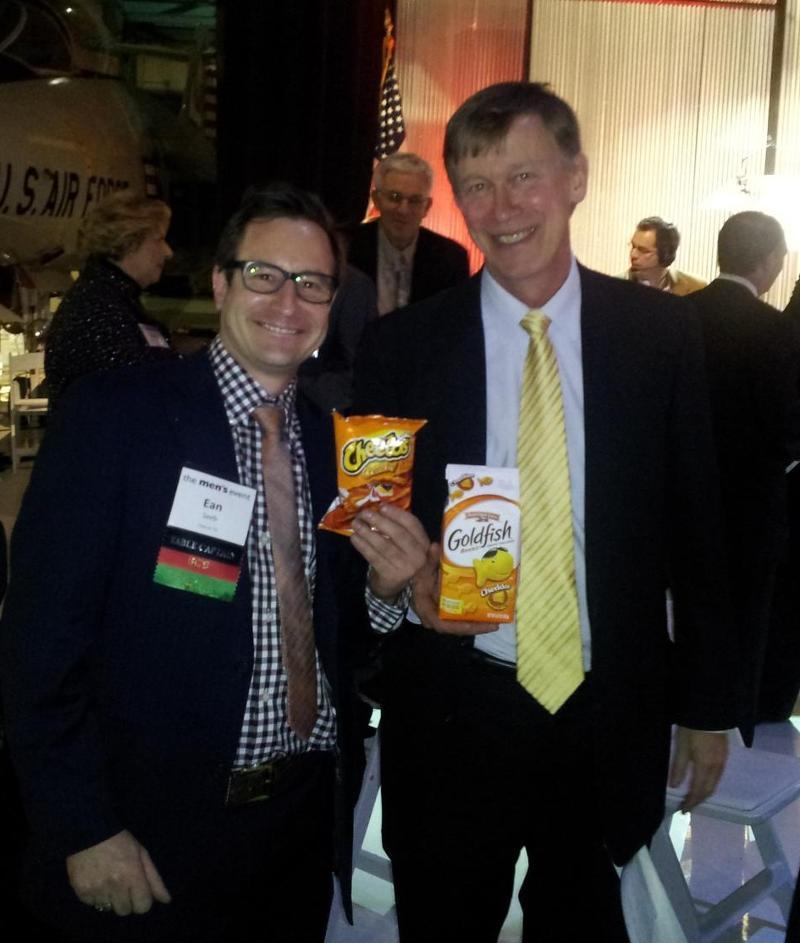 In a statement released with the photo, Seeb says that Denver Relief understands that some people are going to have a sense of humor about marijuana legalization, and that is okay, but only if public officials understand the seriousness of the messages were sent in Colorado and Washington last week: "Regulate marijuana and reverse prohibition," Seeb wrote in a statement. Seeb went on to say:
Clearly, Hickenlooper, a Democrat, was poking fun at cannabis users. At this point, we've all had our fun, but now it's time to get down to business together. With Gov. Hickenlooper's leadership, we can implement statutes and regulations that will immediately address the federal government's concerns, while respecting the will of 55 percent of Colorado voters. We made a clear choice on election night, and the governor has a unique opportunity to be on the right side of history and forge a sensible path forward.
Three of Colorado's Democratic U.S. House members are already working toward "getting down to business" by drafting legislation aimed at easing tension between the new state law and the federal prohibition of marijuana.
The Colorado Independent reported over the weekend that Colorado Reps Diana DeGette (CD1), Ed Perlmutter (CD7) and Jared Polis (CD2) are working independently and together on bills that would exempt states that pass marijuana legalization legislation from the federal Controlled Substances Act.
So, does Hickenlooper's light-hearted take on this issue show that he's softening on his opposition stance?
That remains unclear. Westword reports that when they asked if the governor's office had a statement about the photo, the only response they got was, "No."
Hickenlooper joked around in his initial statement about the passage of A64, but he also clearly said that he will respect the voters' will and did have a phone call with U.S. Attorney General Eric Holder on Friday to discuss Colorado's legalizing of marijuana and how the feds might respond, but the results of that call gave no clue as to whether or not the Department of Justice will sue to block the marijuana measures in Colorado and Washington, according to The Associated Press.
But Hickenlooper's opposition to the measure and wisecracking reaction to its passage has provoked some push back against one of the "most popular governors in the country." ColoradoPols put it best in their analysis of Hickenlooper's reaction:
There is a sense that Hickenlooper is almost hoping the feds will put the kibosh on Amendment 64, and is purposefully not doing enough to support the will of the voters here.

But for Gov. Hickenlooper to more or less insult an electoral majority, while meekly awaiting the edict of federal law enforcement on Amendment 64, makes him appear feckless and contemptuous of the same Colorado voters who elected him--even more of whom, we are obliged to point out, voted to legalize marijuana than voted for John Hickenlooper in 2010.
Related on HuffPost:
Loading Slideshow
$13.7 Billion Saved On Prohibition Enforcement Costs

The government would save an estimated $13.7 billion on prohibition enforcement costs and tax revenue by legalizing marijuana, <a href="http://www.huffingtonpost.com/2012/04/17/economists-marijuana-legalization_n_1431840.html" target="_hplink">according to a paper endorsed by 300 economists</a>.

Marijuana Inmates Cost Prisons $1 Billion A Year

Inmates incarcerated on marijuana-related charges cost U.S. prisons $1 billion annually, according to a 2007 study, <a href="http://www.alternet.org/rights/47815/" target="_hplink">AlterNet reports</a>.

Marijuana Prohibition Costs Taxpayers $41.8 Billion A Year

Including lost tax revenues, a 2007 study found that enforcing the marijuana prohibition costs tax payers $41.8 billion annually, <a href="http://www.forbes.com/2007/09/29/marijuana-laws-work-biz-cx_qh_1001pot.html" target="_hplink">Forbes</a> reports.

California Marijuana Crop Worth $14 Billion A Year

Marijuana growers account for <a href="http://www.time.com/time/nation/article/0,8599,1884956,00.html" target="_hplink">$14 billion a year in sales in California</a>, making it the state's most valuable cash crop, TIME reports.

Illegal Marijuana A $36 Billion A Year Industry

It's estimated that <a href="http://madamenoire.com/106691/capitalizing-on-the-billion-dollar-marijuana-industry/" target="_hplink">illegal marijuana is a $36 billion industry</a> in the U.S., MadameNoire reports.

One-Third Of Americans Think Legalization Would Boost The Economy

About one-third of Americans say they think <a href="http://www.huffingtonpost.com/2010/04/20/legalizing-pot-will-not-b_n_544526.html?" target="_hplink">legalizing marijuana would boost the economy</a>, according to a 2010 poll by Associated Press-CNBC.

Dispensary Ads Boost Newspapers' Revenue

The <em>Sacramento News and Review</em> saw a big boost in ad revenue when it offered advertising space for more than 60 medical marijuana dispensaries, enabling the publication to hire three additional employees, <a href="http://www.news10.net/news/local/article/144285/2/Marijuana-ads-mean-big-money-for-weekly-newspaper" target="_hplink">according to News 10</a>.

Mendocino Zip Tie Program Raised $600,000

Mendocino County, California's zip tie program aimed at regulating medical marijuana growing by charging permits for each plant raised <a href="http://www.huffingtonpost.com/2012/01/09/medical-marijuana-license-mendocino_n_1193198.html" target="_hplink">$600,000 in revenue in for the Sheriff's department</a> in 2011.

Oakland Raised More Than $1 Million In Marijuana Tax Revenue

The city of Oakland, California raised $1.3 million in tax revenue from medical marijuana dispensaries in 2011, 3 percent of the city's total business tax revenue, according to <a href="http://www.nytimes.com/2012/02/12/us/cities-turn-to-a-crop-for-cash-medical-marijuana.html?_r=1" target="_hplink"><em>The New York Times</em></a>.

Colorado Pulls In $5 Million From Pot Sales Tax

In 2011, Colorado pulled in $5 milllion in sales taxes from medical marijuana businesses, <a href="http://www.nytimes.com/2012/02/12/us/cities-turn-to-a-crop-for-cash-medical-marijuana.html?_r=1" target="_hplink"><em>The New York Times</em></a> reports.

Legal Marijuana Could Be $100 Billion Industry

Economist Stephen Easton estimated in 2010 that <a href="http://www.businessweek.com/debateroom/archives/2010/03/legalize_mariju.html" target="_hplink">legal marijuana could be a $45 to $100 billion industry</a>, <em>Bloomberg Businessweek</em> reports.

Each weGrow Center Creates 75 Jobs

When hydroponic marijuana growing supply chain weGrow opens a new store it <a href="http://aznow.biz/small-biz/wegrow-phoenix-opens-cultivates-opportunities-arizona)" target="_hplink">creates an estimated 75 jobs</a> indirectly, according to AZBusiness Magazine.

Majority Of States Support Taxing Marijuana

More than <a href="http://www.huffingtonpost.com/2010/04/20/legalizing-pot-will-not-b_n_544526.html?" target="_hplink">60 percent of states agree with taxing marijuana</a>, according to a poll by Associated Press-CNBC.

Marijuana Affects Workplace Motivation

A Norwegian study 25 years in the making came to the shocking conclusion that <a href="http://www.huffingtonpost.com/2012/02/24/marijuana-use-has-adverse-affect-workplace-motivation_n_1300278.html?" target="_hplink">frequent marijuana use lowers employees' motivation at work</a>.

More Than 1,000 Dispensaries In California

There could be more than 1,000 medical marijuana dispensaries operating in California, <a href="http://www.pasadenaweekly.com/cms/story/detail/how_does_your_pot_grow/8070/" target="_hplink"><em>Pasadena Weekly</em></a> reported in 2009.

Denver Counts More Dispensaries Than Starbucks

As of July 2011, the city of Denver <a href="http://www.huffingtonpost.com/2011/07/06/medical-marijuana-denver-starbucks_n_891796.html" target="_hplink">counted more medical marijuana dispensaries than Starbucks franchises</a>.