A total solar eclipse will occur on Tuesday afternoon, when the moon passes briefly between the Earth and the Sun, obscuring the solar rays and creating a 95-mile-wide shadow over parts of the Southern Hemisphere.
Only people who are lucky enough to be in northern Australia or somehow find themselves in the Indian or Pacific Oceans along the path of the eclipse -- where it will actually be early Wednesday morning -- will be able to see the celestial event.
But don't worry if you're not there in the flesh -- broadcasts of the eclipse will be available on several live streams and The Huffington Post is live blogging the event, bringing updates from astronomers and other experts, some of whom are on the ground in Australia.
SCROLL DOWN FOR LIVE UPDATES
If you're lucky enough to witness the eclipse in person, be sure to avoid looking at the sun without the proper eye protection, as you could damage your eyes and vision.
Space.com reports that there won't be another total solar eclipse until 2015, so be sure to watch the event live here and follow the updates below. The live blog will start at 2:30 p.m. EST.
11/13/2012 4:30 PM EST
The End
Thanks for following along with us! Hope you enjoyed the eclipse: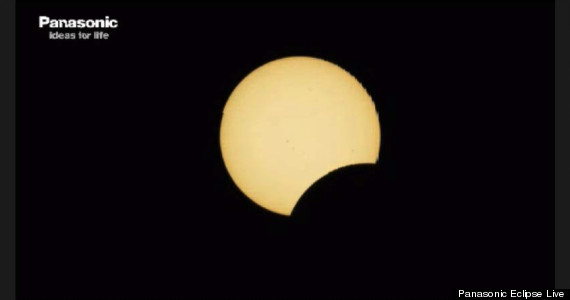 11/13/2012 4:08 PM EST
Slowly Waning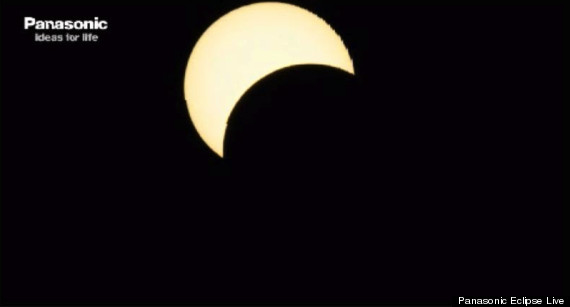 11/13/2012 4:01 PM EST
Magnificent To Behold
I just got down from the helicopter and we are downloading images now.
From 8000 feet, above the 7000-foot cloud deck, the corona plus the diamond rings were impressive. All too quick but magnificent to behold.
--Dr. Jay M. Pasachoff, director, Hopkins Observatory, Williams College
11/13/2012 3:56 PM EST
After The Totality
Often people leave a total eclipse directly after totality, but partial eclipses are also rare events
and should be enjoyed, even after totality has concluded. The temperature slowly comes back
to normal, the light comes back and shadows return to normal. Many people never notice that the small patches of light under trees are circular. During a partial eclipse, they become partial, as they are small images of the Sun coming through the openings between the leaves…they act as pinhole cameras actually. You can mimic the effect by crossing the fingers on each hand at right angles making a grid of tiny openings. There is lots to see and do even though totality is done.
—Dr. Kevin B. Marvel, executive officer of the American Astronomical Society
11/13/2012 3:55 PM EST
Engaged Couple
Here's the couple that got engaged during the eclipse, for those of you who didn't see: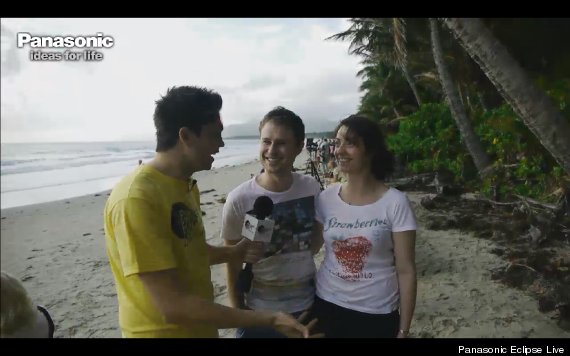 11/13/2012 3:53 PM EST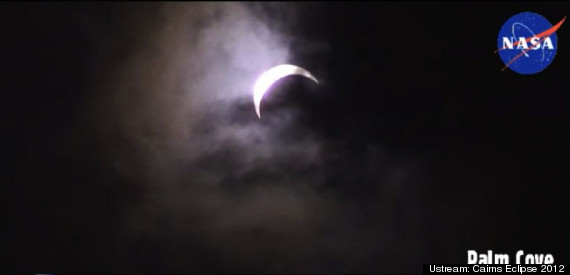 11/13/2012 3:52 PM EST
A Great Reminder
Eclipsing systems have been instrumental in allowing us to study the properties of planets orbiting stars other than the Sun. Today's solar eclipse is a great reminder of the power that these eclipses have to inform us about the structures of both our own solar system and those of other planetary systems.
--Dr. Heather A. Knutson, associate professor of planetary sciences, Caltech
11/13/2012 3:50 PM EST
Eclipse Couples
One couple on our livestream had their anniversary today, and another became engaged during totality! How was it to propose during the eclipse? The groom-to-be says "I was a little distracted."
11/13/2012 3:47 PM EST
Protecting The Eyes
During totality it is perfectly safe to view the eclipse directly…only when a piece of the Sun
becomes visible again as the moon moves does one have to use a safety filter.
—Dr. Kevin B. Marvel, executive officer of the American Astronomical Society
11/13/2012 3:43 PM EST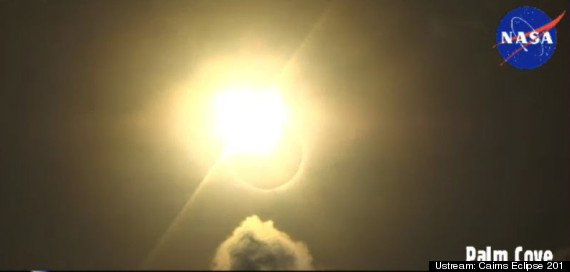 SUBSCRIBE AND FOLLOW
Get top stories and blog posts emailed to me each day. Newsletters may offer personalized content or advertisements.
Learn more