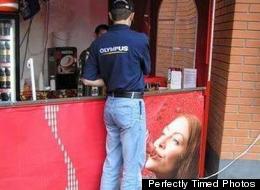 Warning: accidentally NSFW material ahead. Body parts may look like other, much funnier body parts. Bicycle seats and leather interiors may cause you to chuckle, loudly, like a 12-year-old boy.
Now that we have that out of the way, get a load of the unintentionally sexual (and ridiculous) optical illusions below. You guys liked it so much last time that we just had to round up a few more.
Prepare to be shocked at how dirty a few uncovered limbs and the right camera angle can really make a photo look!
Unintentionally Sexual Optical Illusions
Pay attention to the number of legs to understand this one.

You've GOT to be careful about how you hold your beer.

This probably happens every five minutes here.

And just think, this pair will never snag!

He's a swimmer, so.

This could have been prevented if she was wearing pants.

Maybe they should have gone with the black leather interior instead.

Another cute Facebook photo ruined.

Basically just never choose to sit in front for a picture.

So... yeah.

"...This party just got really crazy."

This is why Myspace pictures are so dangerous.

This had to be planned, right?

Regardless of the accident in this picture, why did this woman accept this pose?

Marilyn Monroe could have never seen this coming.

This slideshow is basically a PSA for pants.