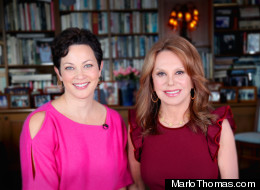 I was delighted to meet with Ellie Krieger nutritionist and host of The Cooking Channel's "Healthy Appetite" this week on Mondays With Marlo. Ellie came by just in time for Thanksgiving, so we had the chance to chat about holiday cooking, rationing your Thanksgiving intake and alternatives to turkey. We also discussed year-round nutrition issues, like making comfort foods healthier,eating with peanut allergies and how to eat healthy on the go.
For more nutritious and delicious eating advice, see Ellie's tips for healthier eating:

Ellie Krieger's Tips For Healthier Eating
Avoid a Thanksgiving cooking panic by making some dishes ahead of time and freezing them. Cornbreads and muffins can be made a week before, soups can be frozen for weeks and casseroles and pies can be prepared a day or two before the holiday.

You can enjoy your Thanksgiving without overindulging. Fill your plate mostly with vegetables that aren't covered in cream sauce. Don't eat too many hors d'oeuvres and do not have seconds. Taking a break from your meal will also help you make smarter decisions at the Thanksgiving table.

Instead of baking with sticks of butter, use fruit and vegetable purees like applesauce, pumpkin puree and carrot puree. These can serve as substitutes for up to half the fat typically used in baking.

Use half whole eggs and half egg whites, or half whole-grain and half all-purpose flour to get the same taste, but with better nutrition.

Mac and cheese can be both delicious and healthy. Combine real cheese, low-fat milk thickened with flour and pureed butternut squash or cauliflower for a rich taste that is lighter on calories.

Rather than frying fish or fowl, try lightly breading, tossing or spraying it with oil, and then baking it to achieve crispness.

Sometimes you need to use the real thing. A few tablespoons will cover a batch of cookies or pie dough, and one tablespoon will cover creamy mashed potatoes.

Use antioxidant-rich, extra-virgin olive oil or a neutral tasting canola oil for stir fries and baking.

Use whole-grain pasta, brown rice or whole-grain bread instead of their refined white counterparts. These choices boost fiber, antioxidants and minerals in a dish and keep you feeling fuller longer.

If you're always rushing in the morning, but you still want something healthy for breakfast, choose a smoothie. Keep frozen fruit on hand and add milk or yogurt and peanut butter for a quick, tasty breakfast on the go.

Don't be afraid to use real bacon or real dairy, like full-fat whipped cream. Use these "rarely" ingredients in minimal amounts for maximum impact.

Use unrefined sweeteners like honey, maple syrup and molasses. These sugar alternatives will give your blood sugar a gentler rise, but you should still use them sparingly.

For red meat, you should buy the leanest cut possible, trim off all of the visible fat and cook sensible portions.

Cheese is to be used strategically. Always use real cheese for flavor and easy melting, but just use less to cut fat, calories and sodium.

The best way to rein in sodium is to start with good flavor by focusing on fresh, high-quality ingredients. Add salty ingredients sparingly, and then just enough salt at the end.

Use low-fat milk thickened with flour or cornstarch along with evaporated milk for cream sauces, soups and puddings. Reduced fat sour cream also ups the cream factor with less fat and no artificial ingredients.

Measure out servings and keep an eye on portions. Most of us have grown accustomed to much bigger servings of food than we need.

Add extra beans and veggies to meals and cut back on high-cal starches and meats.

Steam or microwave vegetables to retain their nutrients. Broil or boil higher-fat meats to render and discard the fat.

You want to get most of your calories when you need them to be active for the day. Eat a plentiful breakfast and keep your dinner modest. Pick a cut-off time for eating at night, so you'll be hungry for breakfast when you wake up in the morning.
Add Marlo On Facebook:
Follow Marlo on Twitter:

Weekly Newsletter

Sign up to receive my email newsletter each week - It will keep you up-to-date on upcoming articles, Mondays with Marlo guests, videos, and more!

Sign up here