Twinkies eBay: Hostess Treats On Sale For $200,000 Amid Twinkie-pocalypse Fears
After Hostess Brands announced it's going out of business following a labor dispute, panicked consumers have rushed to stores to stock up on their favorite heart-clogging treats:
I sent my mom a text that says "Time to stock up on Hostess products. TIME TO TEST THE SHELF LIFE OF TWINKIES ONCE AND FOR ALL" #imweird

— Hannah Weber (@HannuhRose) November 16, 2012
While it will be possible to buy Hostess treats from stores for "a few more days" until already baked products run out, the inevitable -- and wildly inflated -- "black market" of Hostess products has already reared its costly head on the Interwebs in preparation for the impending Twinkie-pocalypse.
One eBay seller is auctioning off a full box of Twinkies at a starting (and staggering) price of $200,000 (shipping included):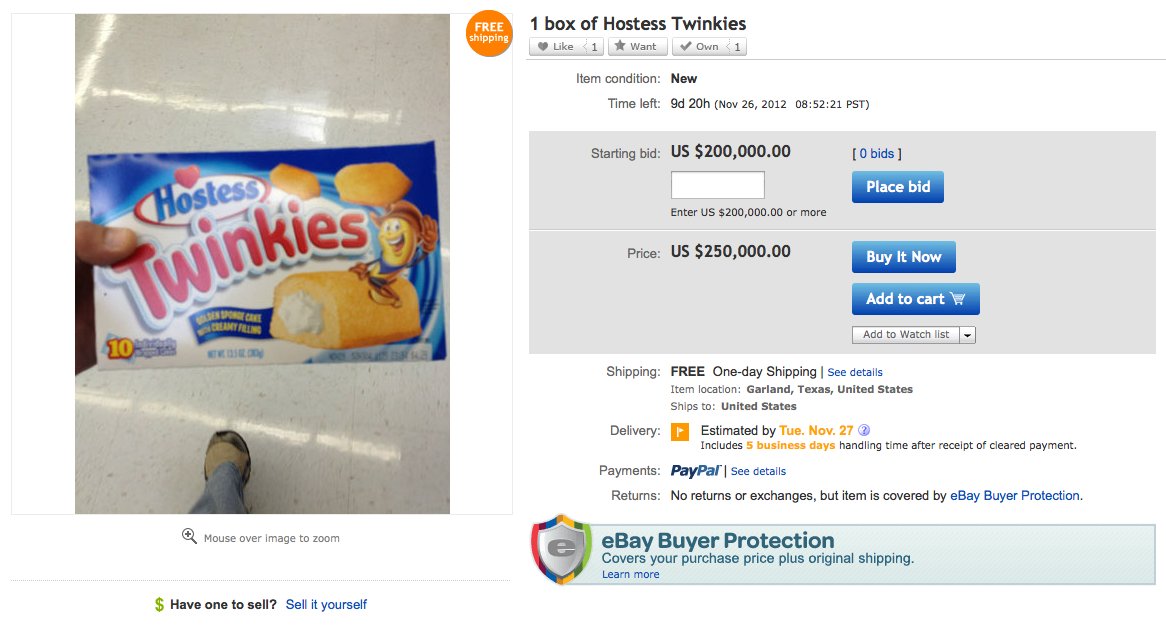 As Mashable notes, there's also an individual Twinkie that is up for sale for $5,000.
"This is your opportunity to own a piece of history, a delicious piece at that," wrote the seller, who apparently lives in Raleigh, N.C., in the auction description.
The eBay user added that the Twinkie will be "protectively packaged and shipped to the winning bidder."
Elsewhere on eBay, three boxes of Hostess Chocodiles are on sale for a more reasonable price of $89.95 and a box of Ding Dongs is being offered for $19.95.
But before you whip out your checkbook, remember that Twinkies and other Hostess treats may still have a chance at survival.
As The Huffington Post notes, Hostess CEO Gregory Rayburn has said that "he plans to try to seek a buyer for Hostess's brands, including Twinkies."
"I'm certainly hopeful that we can sell the brands and the brands will live on. They're iconic," he said on CNBC. Hostess Brands the company, however, is has met its final end.
"It's over. This is it," Rayburn said.
Check out some of the most expensive memorabilia we found on eBay:
Hostess Memorabilia Floods eBay
eBay user pingsing24 is trying to unload "single Twinkies" for $5,000. His product description is actually quite persuasive: "This is your opportunity to own a piece of history, a delicious piece at that."

$200,000 for a box of 10 Twinkies may seem like a rip-off, but the seller claims that it is "a great collectors item that can be passed down to family members and will only gain in value!"

A single box containing eight Hostess chocolate cupcakes with cream filling will set you back $100,000 with this auction. The bad news is that they expire November 27th.

Listed with a $5,000 "Buy It Now" price, this vintage store display sign features Twinkie the Kid and Captain Cupcake. The seller is "guessing" it's from the early 1970s.

A single sealed Golden Sponge and Chocolate Cupcake can be yours for $2,000.

Why have one Hostess snack when you can have several Hostess snacks? This seller is auctioning off three boxes of Strawberry Cupcakes, seven boxes of Chocolate Cupcakes, five boxes of Vanilla Twinkies and two boxes of Chocolate Twinkies.

Why should Twinkies get all the auction love? A seller claiming "direct access to the Hostess bakery" is offering three sealed boxes of Chocodiles for $89.95.

From 1975 to 1993, Hostess released several series of baseball cards with their products. One set is asking for $240 on eBay. A Pete Rose card from 1975 is listed at $522.49.

Who knew Hostess made chips? Twenty-four bags of Hostess Hickory Sticks are available for purchase for $179.76. In the sellers words: "the flavoring is good, and it's not so strong that you can't taste the potato as well."

Another Hostess variety pack is currently listed at $500 with a buying price of $2,000. The auction features a box of Twinkies, a box of Suzy Q's, a box of raspberry Zingers, a box of Ding Dongs and a box of Ho Hos.

Who needs Hostess to stay open when you can make your own Twinkies? Currently bidding at $61 after 32 bids, eBay seller "maxjet" describes the sealed set: This kit contains everything you need to bake your own Twinkies® whenever the mood strikes. Includes everything you need to to create up to 8 cakes per batch in your very own kitchen: non-stick baking pan, high-temperature spatula, icing injector, recipe booklet, and best of all--a Twinkie-the-Kid-shaped container. (Heck, this is worth owning for the Twinkie-the-Kid container alone!)

A mint condition "Twinkie The Kid" lunchbox fetched $690 on Friday, up from an opening bid of $14.99.