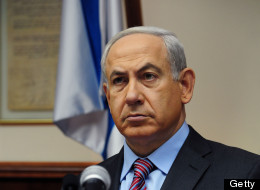 By Nidal al-Mughrabi and Jeffrey Heller
GAZA/JERUSALEM, Nov 18 (Reuters) - Israel bombed Palestinian militant targets in the Gaza Strip from air and sea for a fifth straight day on Sunday, preparing for a possible ground invasion while also spelling out its conditions for a truce.
Palestinian fire into Israel subsided during the night but resumed in the morning, with rockets targeting the country's commercial capital Tel Aviv for a fourth day. The two missiles were shot down by Israel's Iron Dome air shield.
Speaking shortly after the attack, Prime Minister Benjamin Netanyahu said Israel was ready to widen its offensive.
"We are exacting a heavy price from Hamas and the terrorist organisations and the Israel Defence Forces are prepared for a significant expansion of the operation," he said at a cabinet meeting, giving no further details.
Some 51 Palestinians, about half of them civilians, including 14 children, have been killed since the Israeli offensive began, Palestinian officials said, with hundreds wounded. More than 500 rockets fired from Gaza have hit Israel, killing three civilians and wounding dozens.
Israel unleashed intensive air strikes on Wednesday, killing the military commander of the Islamist Hamas movement that governs Gaza and spurns peace with the Jewish state.
Israel's declared goal is to deplete Gaza arsenals and press Hamas into stopping cross-border rocket fire that has bedevilled Israeli border towns for years and is now displaying greater range, putting Tel Aviv and Jerusalem in the crosshairs.
Air raids continued past midnight into Sunday, with warships shelling from the sea. Two Gaza City media buildings were hit, witnesses said, wounding six journalists and damaging facilities belonging to Hamas's Al-Aqsa TV as well as Britain's Sky News.
An employee of Beirut-based al Quds television station lost his leg in the attack, medics said.
An Israeli military spokeswoman said the strike had targeted a rooftop "transmission antenna used by Hamas to carry out terror activity". International media organisations demanded further clarification.
Three other attacks killed three children and wounded 14 other people, medical officials said, with heavy thuds regularly jolting the small, densely populated coastal enclave.
Egyptian President Mohamed Mursi said in Cairo, as his security deputies sought to broker a truce with Hamas leaders, that "there are some indications that there is a possibility of a ceasefire soon, but we do not yet have firm guarantees".
Egypt has mediated previous ceasefire deals between Israel and Hamas, the latest of which unravelled with recent violence.
A Palestinian official told Reuters the truce discussions would continue in Cairo on Sunday, saying "there is hope", but that it was too early to say whether the efforts would succeed.
At a Gaza news conference, Hamas military spokesman Abu Ubaida voiced defiance, saying: "This round of confrontation will not be the last against the Zionist enemy and it is only the beginning."
SYRIAN FRONT
Israel's military also saw action along the northern frontier, firing into Syria on Saturday in what it said was a response to shooting aimed at its troops in the occupied Golan Heights. Israel's chief military spokesman, citing Arab media, said it appeared Syrian soldiers were killed in the incident.
There were no reported casualties on the Israeli side from the shootings, the third case this month of violence that has been seen as a spillover of battles between Syrian President Bashar al-Assad's forces and rebels trying to overthrow him.
With tanks and artillery poised along the Gaza frontier for a possible ground operation, Israel's cabinet decided on Friday to double the current reserve troop quota set for the offensive to 75,000. Some 30,000 soldiers have already been called up.
"If there is quiet in the south and no rockets and missiles are fired at Israel's citizens, nor terrorist attacks engineered from the Gaza Strip, we will not attack," Israeli Vice Prime Minister Moshe Yaalon wrote on Twitter.
Israel's operation so far has drawn Western support for what U.S. and European leaders have called its right to self-defence, but there was also a growing number of appeals from them to seek an end to the hostilities.
Netanyahu, in his comments at Sunday's cabinet session, said he had emphasised in telephone conversations with world leaders "the effort Israel is making to avoid harming civilians, while Hamas and the terrorist organisations are making every effort to hit civilian targets in Israel".
Israel withdrew settlers from Gaza in 2005 and two years later Hamas took control of the slender, impoverished territory, which the Israelis have kept under blockade.
PRESSURE ON SIDES TO "DE-ESCALATE"
British Prime Minister David Cameron "expressed concern over the risk of the conflict escalating further and the danger of further civilian casualties on both sides", in a conversation with Netanyahu, a spokesperson for Cameron said.
Britain was "putting pressure on both sides to de-escalate," the spokesman said, adding that Cameron had urged Netanyahu "to do everything possible to bring the conflict to an end."
Ben Rhodes, a deputy national security adviser to President Barack Obama, said the United States would like to see the conflict resolved through "de-escalation" and diplomacy, but also believed Israel had the right to self-defence.
Diplomats at the United Nations said Secretary-General Ban Ki-moon was expected to visit Israel and Egypt in the coming week to push for an end to the fighting.
A possible move into the Gaza Strip and the risk of major casualties it brings would be a significant gamble for Netanyahu, favoured to win a January election.
The last Gaza war, a three-week Israeli blitz and invasion over the New Year of 2008-09, killed 1,400 Palestinians, mostly civilians. Thirteen Israelis died in the conflict.
The current flare-up around Gaza has fanned the fires of a Middle East ignited by a series of Arab uprisings and a civil war in Syria that threatens to spread beyond its borders.
One significant change has been the election of an Islamist government in Cairo that is allied with Hamas, which may narrow Israel's manoeuvring room in confronting the Palestinian group. Israel and Egypt made peace in 1979.
In attacks on Saturday, Israel destroyed the house of a Hamas commander near the Egyptian border.
Casualties there were averted however, because Israel had fired non-exploding missiles at the building beforehand from a drone, which the militant's family understood as a warning to flee, witnesses said.
Israeli aircraft also bombed Hamas government buildings in Gaza on Saturday, including the offices of Prime Minister Ismail Haniyeh and a police headquarters.
Israel's "Iron Dome" missile interceptor system has destroyed more than 200 incoming rockets from Gaza in mid-air since Wednesday, saving Israeli towns and cities from potentially significant damage.
However, one rocket salvo unleashed on Sunday evaded Iron Dome and wounded two people when it hit a house in the coastal city of Ashkelon, police said.
While the cease-fire agreement between Israel and Gaza on Wednesday brought an end to the rockets and airstrikes, the political fallout is just beginning. The Associated Press offers a breakdown of who won and who lost as a result of the truce agreement:
Loading Slideshow
Israel and Prime Minister Benjamin Netanyahu

Israel secured an agreement to stop the persistent rocket fire from the Gaza Strip into southern Israel without launching a ground invasion into Gaza or losing the support of its international allies. Netanyahu's bid for re-election in January could be vastly strengthened by the operation and by the killing of Hamas militant leader Ahmed Jabari on the first day of fighting. Netanyahu got the backing of President Barack Obama during the fighting, a significant achievement after their already shaky relationship grew colder when Netanyahu was perceived to favor Republican nominee Mitt Romney during the recent U.S. election. Israel also secured a commitment from the U.S. to help stop weapons smuggling into Gaza. Caption: <em>Israeli Prime Minister Benjamin Netanyahu speaks during a visit to the national police headquarters on November 22, 2012 in Jerusalem, Israel.</em> (Gali Tibbon-Pool/Getty Images)

Hamas

The Islamic militant group that rules Gaza gained significant international credibility, with Arab and Turkish diplomats pouring into the Palestinian territory to show support. Though it has been branded a terror group by Israel and the United States, it was treated as an equal partner with Israel during indirect cease-fire talks in Egypt. In those talks, it secured a commitment for the freer movement of people and goods into and out of Gaza. Hamas also proved its ability to fire rockets as far as Tel Aviv and Jerusalem despite being battered with airstrikes. As the Arab Spring brings Islamists to power across the region, Hamas' influence is on the rise. Caption: <em>A Hamas militant talks during a press conference in Gaza City, Thursday, Nov. 22, 2012.</em> (AP Photo/Hatem Moussa)

Palestinian President Mahmoud Abbas and Fatah

Abbas, who lost control of Gaza to Hamas five years ago, might be the biggest loser. He had no seat in the cease-fire negotiations and was largely sidelined during the crisis. Hamas' ability to stand up to Israel and survive could also diminish Palestinians' patience with their president's so far fruitless efforts to push for a negotiated solution to the conflict with Israel. Abbas' Western-backed government only rules in the West Bank, and his dreams of reconciling the rival Palestinian territories seems more elusive than ever. Caption: <em>Palestinian President Mahmoud Abbas speaks during a meeting of the Palestinian leadership at his compound in the West Bank city of Ramallah, Friday, Nov. 16, 2012. </em>(AP Photo/Majdi Mohammed)

Mohammed Morsi

Egyptian President Mohammed Morsi: The former Muslim Brotherhood leading figure emerged from his first major international crisis with enhanced prestige and proved his government can mediate between the two sworn enemies, something the United States cannot do because it considers Hamas a terrorist organization and doesn't allow contacts between its members and American officials. Egypt's sponsorship of the cease-fire ensures Morsi a central role in the future of the region. Caption: <em>In this Friday, July 13, 2012 photo, Egyptian President Mohammed Morsi speaks to reporters during a joint news conference with Tunisian President Moncef Marzouki, unseen, at the Presidential palace in Cairo, Egypt.</em> (AP Photo/Maya Alleruzzo)

The United States

While the Obama administration has sought to refocus its foreign policy on Asia, the Gaza fighting forced it to turn back to a conflict it has sought to move past. U.S. Secretary of State Hillary Clinton's last-minute shuttle diplomacy might have strengthened a U.S.-Egyptian partnership that has been strained in the 21 months since Egyptians toppled autocratic ruler Hosni Mubarak. After a first term characterized by repeated failures in forging Israeli-Palestinian peace, the U.S. role in supporting the cease-fire could signal renewed American engagement in the region. A U.S. commitment to help stop arms smuggling to Gaza may also help repair Obama's strained relationship with Netanyahu. Caption: <em>U.S. President Barack Obama and Secretary of State Hillary Rodham Clinton wave as they arrive at Yangon International Airport in Yangon, Myanmar, on Air Force One, Monday, Nov. 19, 2012.</em> (AP Photo/Carolyn Kaster)
Read the full story on HuffPost World.