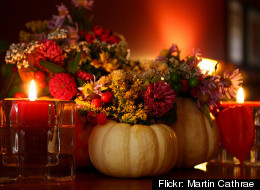 The best thing about holidays like Thanksgiving that center around many of the same traditions being upheld across multiple celebrations, are the places where we deviate from each other. For some families, the Thanksgiving meal isn't complete without a huge bowl of pasta resting next to it. For some of us, Thanksgiving is about drinking cheap booze with friends and laughing until it feels like our heads might fall off. Some of us are parade-watchers and some of us have sworn off turkey altogether.
We asked our colleagues and readers to tell us their most inviolable Thanksgiving traditions. We want to hear yours as well! You can add a slide to our slideshow below, let us know in the comments, on our Facebook page, or tweet at @HuffPostTaste with the hashtag #TasteTraditions.
Our Thanksgiving Traditions
"We stay in our jammies until the parade is over on all stations while we eat homemade cinnamon rolls." -- Facebook user Kat Kathy Dennis

"My husband and I have our comedy friends and neighbors over every year and our biggest tradition is trying to stuff as many people as possible into our one bedroom apartment. Two years ago we had 26 people, 3 dogs and 2 cats. In terms of food, I'm from Alabama, so cornbread dressing is a moral imperative. And since we have a small kitchen, we cook the turkey outside in a Big Green Egg." -- Carol Hartsell, Senior Editor, HuffPost Comedy

I'm married to an Australian and have lived much of my adult life overseas in places where turkeys don't live. Those facts drive one of our traditions: inviting waifs and strays to our Thanksgiving table. This year we'll seat 17 people. We only serve Australian and New Zealand wines at our Thanskgivings, in a humble nod to my wife's home. Then again, it's hard to beat a Margaret River Pinot Noir or a Barossa Shiraz with the noble bird or my amazing sage sausage, mushrooms and sautéed onion stuffing. We always explain — in very brief form — the basics of why Americans celebrate Thanksgiving since we have so many foreigners at our table. And we try and convey to them the warmth, joy and quiet pride in country that so many of us feel on that day." -- Colin Clark, Editor, AOL Defense

"In all the 20 yrs we've been married.... my husband's and my tradition is to always have homemade sausage biscuits and screwdrivers for breakfast on Thanksgiving. :) Starts the day off right." -- Facebook user Beatle Icious

"At breakfast we each get five symbolic kernels of corn like the rations from the second thanksgiving, and we each have to write down something we are thankful for on cards for each one... we also eat French Toast. : )" -- Facebook user Kelsi Marks

"Mine is a tradition probably like most of America's -- it centers around a) gluttony and b) avoiding uncomfortable interactions with the extended family. The kitchen is my haven. It's where I hide from my family spend a ridiculously long time preparing dinner until the late afternoon, when I break out of my cocoon with a glorious spread of food that everyone promptly shovels in their mouths in under 10 minutes. Then people fall asleep in front of the football game, and it's the most soul-crushing night of boredom on earth all fabulously exciting." -- Kristen Aiken, Senior Editor, HuffPost Taste

"In our family, Thanksgiving is pretty by the book. However, the one thing we cannot do without is the pasta course. It just isn't Thanksgiving without what every Italian-American is thankful for: carbohydrates -- in the form of a big steaming bowl of baked ziti, ravioli, or pasta with gravy and meatballs. There would probably also be a revolt if the homemade roasted red peppers or antipasti plate were left out. So, by the time the turkey comes, we aren't hungry anymore." -- Rebecca Dolan, Associate Editor, HuffPost Travel

"My husband goes to the Lions game while the rest of the family lounges in their PJs at home watching parades and the original 'Miracle on 34th Street'." -- Facebook user Sharon Toth Thurston

"My 4 sisters and I get together with our partners & kiddos for FakesGiving, the weekend after. Since we've grown up, it's the only time we are all together in one house, one state besides the obligatory weddings & funerals. Last year we had 11 kids, 5 sisters, 3 husbands, a dog & a cat. Traditions include the Belmont Shore Christmas parade, a big drunken dysfunctional family dinner, and the next day, I help my sister decorate for Christmas now that Thanksgiving is now done, over FakesGiving sandwiches. FakesGiving is my favorite holiday." -- Facebook user Julie Christian

"In our house, Thanksgiving is a holiday we spend with our friends, since our families live far away. We eat as much as we can possibly manage, then finish the night with a grown-up game of Apples to Apples. How grown up is it? Whoever's card is deemed the worst in each round takes a shot of Wild Turkey." -- Rebecca Orchant, Associate Editor, HuffPost Taste

"This is so weird but sister and I always picked at the raw stuffing before it went in the bird... we ended up eating so much of it that my mom started making a separate dish of raw stuffing for us everything thanksgiving and now it's become a full blown tradition and on the list of things to make. My sister and I wake up on Thanksgiving morning and eat raw stuffing at the kitchen table for breakfast. One year I was flying home thanksgiving morning and my mom picked me up from the airport with raw stuffing in a tupperware container so I didn't have to break tradition." -- Caroline Weller, Associate News Editor, The Huffington Post
Want to read more from HuffPost Taste? Follow us on Twitter, Facebook, Pinterest and Tumblr.