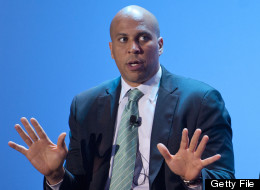 Not content to simply rescue neighbors from burning buildings and invite cold Hurricane Sandy victims into his home, Cory Booker has a new plan to connect with his constituency. He's going to live on food stamps.
On Saturday, the Newark mayor and Twitter legend engaged in a back-and-forth with @MWadeNC, a self-described Army veteran and Army wife "fighting against any and all forms of socialism/communism."
It began, as all good Twitter spats do, with an ancient Greek proverb.
@CoryBooker

Cory Booker
"An imbalance between rich and poor is the oldest and most fatal ailment of all republics" Plutarch ancient Greek historian (c. 46 – 120 CE)
Another Twitter user accused Booker of wanting to "redistribute wealth," and @MWadeNC chimed in, writing that nutrition is not a responsibility of the government and questioning why children would need food provided at school as they already have access to food stamps.
@CoryBooker

Cory Booker
We have a shared responsibility that kids go to school nutritionally ready 2 learn RT
@MWadeNC
nutrition is not responsibility of the gov't
Booker then proffered a challenge:
@CoryBooker

Cory Booker
Lets you and I try to live on food stamps in New Jersey (high cost of living) and feed a family for a week or month. U game?
@MWadeNC
@MWadeNC agreed --tweeting "sure, Mayor, I'm game" -- but as of now, the details have not been finalized. Other Twitter users suggested both parties must clear their cupboards of food before beginning.
On Tuesday, Booker tweeted that he hopes to get others involved, and plans to kick the challenge off post-Thanksgiving.