Yes, folks. There's a Soviet-themed soda called Leninade, and it's very real. To drive the point home, it's produced by a company called Real Sodas (really) and seems to have been floating around since 2002.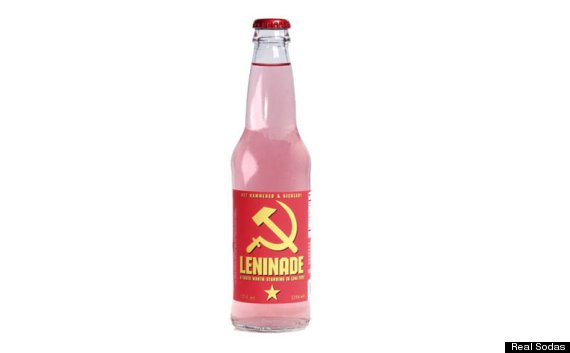 That said, we've found little evidence of it around the internet -- meaning, we don't have a good idea of what it tastes like. One exception is an account from the Houston Press' Katharine Shilcutt, who snagged a bottle a few years back and offered up her thoughts:
As expected with a name like Leninade and the shockingly pink color of the drink, it tastes like pink lemonade with just light carbonation. I really enjoyed it, especially with the Texas Turkey sandwich I picked up from Spec's deli section. It's a light, fun summer drink to be served with a wink and enjoyed with tongue firmly planted in cheek.
But flavor isn't really Leninade's selling point. It's the Soviet puns stamped to the bottle's label, which include "A party in every bottle," and "Drink, comrade, drink! It's this or the gulag!" Our favorite (and Shilcutt's) appears in place of a sell-by date: "Is he Putin us all on?"
Despite being around for all these years, its website still teases the offer to "BUY LENINADE (soon)." Soon? When is soon? We suppose it's not acceptable to ask questions in Soviet Russia.
UPDATE: 11/20 5:20 p.m. -- A helpful reader wrote in to note that Leninade is available for sale on a website called Soda4U. At just 88 cents a bottle, the price is appropriately communitarian, and the website seems nice and low-rent. But without testing it out ourselves, we can't guarantee anything.
In the meantime, you can help yourself to any of these crazy soda flavors, which we selflessly taste tested earlier this year. Buffalo wing soda, anyone?
Editors agreed overall that the peanut butter and jelly-flavored soda smelled a bit like jelly and had a slight peanut butter aftertaste, but it didn't exactly taste like a sandwich. Few were outright appalled by the taste, but no one loved it. "Tolerable in small doses," wrote one editor. "Not as bad as you might think."

The coffee flavor in this soda was definitely on the subtle side. Few of us were fans. One editor said it tasted "like bad coffee," and another noted some nutty undertones.

Nearly everyone agreed that the pumpkin pie soda smelled strongly of cloves, but the pumpkin flavor wasn't really there. "Would be good mixed with winter cocktails," wrote one editor. "I don't want to drink pumpkin pie -- not even at Starbucks," wrote another.

The general consensus across the board was that this was one of the weirdest soda of the bunch. It scored lowest in flavor at 2.3 out of 10 possible points. It didn't really taste like buffalo wings, either. "I would never guess what this is," one editor wrote. It did, however, have a discernable spiciness on the nose.

Bacon soda? More like bacon bits soda. At least that was our impression. Many editors made note of a strong burnt flavor in place of the smokiness we'd expected. One editor's pain says it all: "Winced. Really not a fan." It scored low on taste, with 2.5 points out of a possible 10.

We were all pleasantly surprised by the sweet corn soda, which got high marks on both drinkability and how closely it resembled canned corn in taste. One editor called the flavor "uncanny," (pun intended?) adding, "I think I could drink a bottle of this!" Another editor, however, couldn't get over the color, noting that it "looks violently yellow."