Chicago Fog Advisory: Dense Fog Leads To Flight Cancelations, Delays At O'Hare, Midway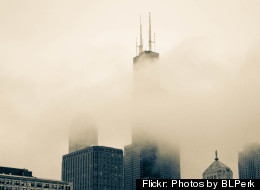 Thanksgiving travelers at Chicago's two airports are dealing with headaches Wednesday, the year's busiest travel day, as a dense fog advisory has led to hundreds of flight delays and cancelations.
Nearly 100 flights -- 65 at O'Hare International Airport and 25 at Midway Airport -- have been canceled as of 8 a.m. because of low visibility, the Chicago Tribune reports, while more than 400 flights are experiencing delays between the two airports.
The National Weather Service has issued a dense fog advisory for the Chicago area through 12 p.m. Wednesday, ABC Chicago reports, as visibility could drop to a quarter mile or less.
Chicagoans traveling on area roadways will also have to contend with low visibility and are being urged to allow extra travel time and take caution, according to NBC Chicago.
Earlier this month, Orbitz named O'Hare as the nation's busiest airport this Thanksgiving. Chicago was also named the fourth-most congested Thanksgiving traffic city in a separate ranking.