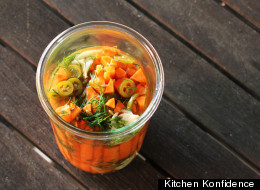 You guys know that we are serious proponents of celebrating one holiday at a time. We refuse to talk about Thanksgiving until after Halloween, and usually we refuse to talk about holiday gift season until at least the day after Thanksgiving. Today, we're going to make an exception because we thought of a very compelling reason why: you might need to make pickles as gifts. Or bitters. Or beer. These things all take time, and we want you to be ready.
Below, we've compiled a countdown -- how long each of our favorite handmade gifts will take to infuse, ferment, marinate, and also a few cheats you can order up, just in case things don't work out. And we want to hear your plans as well. What kinds of delicious handmade food gifts will you make this holiday season and when do you have to start? Let us know in the comments!
Want to read more from HuffPost Taste? Follow us on Twitter, Facebook, Pinterest and Tumblr.
Most home-brewed beers take between four and eight weeks to be ready to drink with your friends. You can get a beer-brewing kit from Brooklyn Homebrew. Photo via Flickr user Tim Patterson

Any bakers you need gifts for? Make them some homemade vanilla extract! Homemade extracts are cheap, easy and often taste way better than the store-bought stuff. Most homemade extracts will be ready in about four weeks. Check out a few of our favorite extract recipes here.

Homemade bitters need to soak for two to four weeks, depending on your recipe. Check out this tutorial on how to make your own. Photo via Flickr user Edsel L

We recently fell in love with a new way to make limoncello by diffusion (this method takes nine weeks, so it's already too late), but there are also much quicker infusion methods to make limoncello, chile-infused gin, cardamom-infused whiskey -- the possibilities are endless. Most liquor infusions will take around three weeks. Photo via Flickr user mccun934

Depending on the strength of your brine and what you're pickling, homemade pickles can take anywhere from a week to three weeks to get properly pickled. Check out some of our favorite fall pickle recipes here.

We love these cheese markers made from recycled, vintage silverware. You can personalize these with the cheeses of your choice, but don't forget it will take seven to ten days, not including shipping. So, leave yourself a few extra days!

Any olive lover will be psyched about this gift. Your olives will need to marinate for only a week, so you still have plenty of time. Here's one of our favorite marinated olive recipes. Photo via Flickr user jules:stonesoup

In case there is someone out there you love very much, you can send them three pounds of cheese curds from Wisconsin Cheese Mart. Someone did this for us once and we will never forget it. These are a great last-minute gift since WCM will ship to most places in the Continental U.S. within one to four days.

Have you procrastinated until a few days before the holidays, but still want to give out homemade gifts? Whip up a batch of homemade hot sauce for your friends in just a few hours. Get the homemade hot sauce recipe here.

Did your liquor not infuse? Did your cheese curds not arrive on time? When all else fails, BAKE. We love this homemade Cheez-Its recipe and so will your friends!