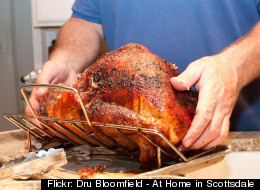 Despite all of our best attempts, no one we know has ever cooked an entire Thanksgiving dinner stress-free. We understand why. There are a lot of sides to juggle, oven times to consider, figuring out how long to cook a turkey per pound -- and oh, you might want to take a shower and eat lunch at some point?
Along with a meat thermometer, knowing the weight of your turkey will be your secret weapon. Once you know how much your turkey weighs, you'll know roughly how long to cook it -- whether you're roasting, grilling or deep-frying. We've taken into account the stuffing (if you choose to stuff your bird), and even given some consideration to those who forgot it was Thanksgiving and need to cook a frozen turkey (we know you're out there.)
Want to read more from HuffPost Taste? Follow us on Twitter, Facebook, Pinterest and Tumblr.
Turkey Termperature

Flickr: USDAgov

Don't Trust The Pop-Up

Wikimedia: Patrick Fitzgerald

How Long To Cook A Turkey -- Basic Roasting

USDA

How Long To Cook A Turkey -- Convection Oven

Flickr: eagleapex

How Long To Cook A Turkey -- On The Grill

Flickr: BrownGuacamole

How Long To Cook A Turkey: Deep Frying

GettyStock

Let Your Turkey Rest!

Flickr: Muffet