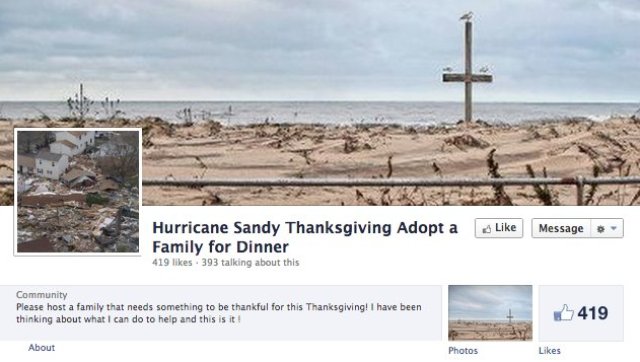 A Facebook page created in the aftermath of Hurricane Sandy wants to ensure every resident will get to enjoy a Thanksgiving meal.
"With the televised visions of the heartbreaking losses from Hurricane Sandy, that have affected so many in NJ and NY, I have decided that I would like to help by matching people in need with families willing to invite them into their homes for a home-made (or store bought ) Thanksgiving Dinner," said the post. "Let's offer these families something that they can be truly thankful for during this season of giving."
"Feel free to leave your invitations on this page for families in need," another post read. Additional posts pointed users in the direction of local organizations, such as churches, where free Thanksgiving dinners for affected families would be provided.
Over the course of a couple weeks, more and more visitors came to the page, sending the number of 'Likes' from zero to several hundred. The moderator, while trying to loop in mainstream aid organizations, noticed what anyone still struggling in the storm's wake could tell you -- that calls for help seemed to exceed the amount of relief available.
"Please know that I am taking every effort to make sure these are families who lost their homes in this devastating storm. God bless and looking forward to hearing from all of you."
Also on HuffPost:
Hurricane Sandy Random Acts of Kindness
SUBSCRIBE TO & FOLLOW THE MORNING EMAIL
Get top stories and blog posts emailed to me each day. Newsletters may offer personalized content or advertisements. Learn more