Rolling Stones 'Doom And Gloom' Video: Mick Jagger's 27 Best Faces (VIDEO)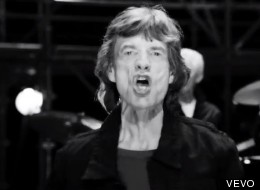 The Rolling Stones video for "Doom and Gloom" is an old school button-pusher. The clip features "Prometheus" star (and erstwhile girl with the dragon tattoo), Noomi Rapace in various stages of undress and adult situations. She's killing zombies, fighting off grabby businessmen, pan-handling and eating junk food until she pukes. (That part is disgusting, fyi.) She's also not necessarily the center of attention. That honor goes to Stones frontman Mick Jagger, who mugs and gyrates in ways that fans have come to expect. He's Mick Jagger, after all, and not even 69 years on this planet can make him stop acting like an agitated peacock.
To celebrate the release of "Doom and Gloom," which is part of the band's latest greatest hits compilation, HuffPost Entertainment has compiled 27 of Mick's best looks and moves in the new video. Watch the NSFW clip above and check out Mick in the gallery below. Happy Thanksgiving!