Looks like the secretary did it, not in the library with any blunt instrument, but outside the town house with a getaway van. Vilma Bautista, a former personal aide of the notoriously corrupt politician Imelda Marcos was indicted Tuesday for trying to sell four valuable paintings stolen decades years ago from the Manhattan outpost that Marcos and her husband Ferdinand, the former president of the Phillipines, used for parties.
Scroll down for images of the four stolen paintings.
According to the indictment, Bautista's nephews Chaiyot Jansen Navalaksana and Pongsak Navalaksana played a key role in masterminding the plot to sell the paintings. They were able to sell only one, Monet's "Le Bassin aux Nymphease." The painting, part of the Impressionist master's famous Water Lily series, went for $32 million to a hesitant London buyer who was won over with false documentation. In an e-mail quoted in the indictment, the nephews referred to the Monet as the "most precious one."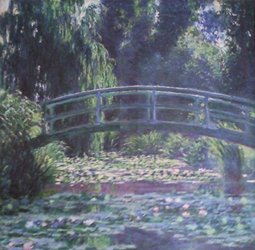 Claude Monet's "Le Bassin aux Nymphease" (also known as "Japanese Footbridge Over the Water-Lily Pond at Giverny"), 1899
The defendants face conspiracy charges as well as tax-fraud charges for not reporting the income made from the sale of the Monet. Bautista could serve up to 25 years in prison, and her nephews could serve four, the Times reports.
Bautista's attorney Fran Hoffinger called the case a "civil dispute" that "doesn't belong in criminal court."
Paintings Stolen During Marcos Regime Collapse
SUBSCRIBE AND FOLLOW
Get top stories and blog posts emailed to me each day. Newsletters may offer personalized content or advertisements.
Learn more