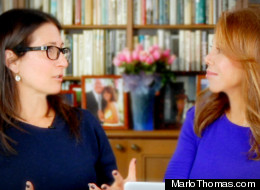 Makeup artist and founder of Bobbi Brown Cosmetics, Bobbi Brown spoke about the benefits of healthy skin foods like kale and salmon when she met with me on Mondays With Marlo. She also told me that she believes in eating healthy for 90% of her meal, which still allows room for pizza and other indulgences.
For more expert makeup advice, see Bobbi's beauty tips:

Bobbi Brown's Beauty Tips
Eyebrows form a frame for your face, which is why it's so important to keep them well-groomed. Start creating the perfect brow by aligning the start of the brow with the inner corner of the eye. The arch should be three-quarters of the way across the brow from there. See more.

Applying lip color can change your look instantly. The right shade of lip color will work with your skin tone and complement the natural color of your lips. When applying, begin at one corner of the mouth and apply an even layer of color over the whole lip area. Use a brush to accurately line your lips. Learn more.

Eye makeup is the best way to make your eyes stand out. To create the perfect look, you'll need to start with three shades of eye shadow: light, medium and dark. Begin by applying the lightest color, which should work as a base for your skin tone. The medium color should be applied from the lash line up to the crease. For additional depth, add a medium-dark shadow in the crease. Watch more here.

A touch of color can make you look instantly fresh and pretty. If you're pressed for time, sweep a healthy flush of color to your cheeks and dab lips with a pinky-brown lipstick. See more quick tips here.

Everyone looks better with a little flush of color, and since tanning is so unhealthy, bronzer is the perfect solution! Bronzer tints the skin and corrects any color issues you may have. If your skin is yellow-toned, you'll want to choose a brighter bronzer. Those with pale skin should use bronzer in a shade that matches the color they naturally tan. Watch more here.

Power brows are a must for a strong office look. Use eyeshadow to fill in and enhance brows rather than a pencil for more natural definition. A pop of well-placed color can also convey confidence. Purple is a universally-flattering color that will draw attention to the eyes. Learn more.

The right shade of brush will warm your entire complexion and give you a flush of natural-looking color. To apply powder blush, smile and apply to the apple of the cheeks. Blend toward the hairline, and then down to soften the edges. Blend thoroughly, while making sure most of the blush stays on the highest part of the cheekbones. Get more tips here.

Beat the winter blues by adding some color to your makeup routine. Wear bright bursts of color while still keeping your look sophisticated by going with a neutral face and adding a pretty pop of color on the lips. For a lighter look, blot the lipstick on a tissue and apply a coat of sheer lip gloss. For "notice-me-now" eyes, keep your other makeup subtle. Apply a nude lip and line eyes with black eyeliner. Finish by applying a bright-colored eyeshadow across the entire lid. Learn more here.

When it comes to foundation, choosing the right color is essential. It's really important to find a foundation that blends into the side of your face. When testing foundations, swipe the color on your cheek and look at yourself in natural light. You will know you've found the right foundation when it looks like your own skin, but better. See more.

There are four steps to create a well-rested look with makeup: prep, correct, conceal and set. Prep with hydrating eye crème, and then apply corrector starting at the inner eye. Apply concealer generously under the eyes to lighten. Then set the concealer in place with a sheer loose powder. Watch more here.
Add Marlo On Facebook:
Follow Marlo on Twitter:

Weekly Newsletter

Sign up to receive my email newsletter each week - It will keep you up-to-date on upcoming articles, Mondays with Marlo guests, videos, and more!

Sign up here