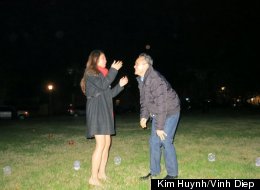 ALEXANDRIA, Va. -- The Old Town waterfront was even more sparkly than usual on a night just before Thanksgiving when a group of people held up big silver foam letters covered in LED lights that read "MARRY ME KIM."
"I had a little feeling that he was going to propose that night," says the Kim in question, 25-year-old Kim Huynh. "I expected the typical, down-on-one-knee proposal in the grass ... But when my family and friends came out of the bushes with the blinking signs, I was at a loss for words."
The person doing the asking would be 36-year-old Vinh Diep, who claims he is ordinarily "not super romantic."
"But if I was put in a position where I had to then my creativity comes out," he says. "It went [as] perfectly as I had hoped."
Story continues below...
Loading Slideshow
The couple had an engagement party not long after their waterfront proposal.

An illuminated heart accompanied the "MARRY ME KIM" sign.
Both bride and groom were born in Vietnam, grew up in the D.C. area and are living in Fairfax, Va. They plan to tie the knot next September in a traditional, 450- or 500-person ceremony in Falls Church, Va., that Huynh says "will most likely be fun!"
It will also be fashioned to honor the couple's families, and their Vietnamese culture and traditions.
And after that? "I know I'm one of the luckiest girls to have such a loving, romantic and caring man in my life," says Huynh. "And I know he will be the same man 40 years from now."
Know of any D.C.-area stories? Want to email and say hello? Get in touch at dc-tips@huffingtonpost.com.
Also on HuffPost:
Loading Slideshow
Jay-Z and Beyonce

Beyonce and Jay-Z didn't go to some far-off destination for their honeymoon. Instead, they opted for a domestic paradise and stayed at the <a href="http://abcnews.go.com/Travel/slideshow/photos-celebrities-posh-resorts-10192376">Sanctuary at Camelback Mountain in Arizona.</a> While the couple has kept details of their honeymoon characteristically under wraps, the resort's website states that they offer private homes by the night, with the most expensive home, <a href="http://www.sanctuaryoncamelback.com/accommodations/privatehomes/casamontana.html">Casa Montana, going for a cool $3,500 per night</a>.

Prince Charles and Princess Diana

Princess Diana and Prince Charles opted for a Mediterranean cruise for their honeymoon. The couple sailed to <a href="http://travel.usnews.com/features/Honeymoons_of_the_Rich_and_Famous/">places like Tunisia and Egypt</a> for 11 days aboard the Royal Yacht Brittania, where they enjoyed privacy and quietness -- they reportedly <a href="http://tlc.howstuffworks.com/weddings/royal-honeymoon2.htm">banned shouting aboard the yacht</a> and asked that all crew members use hand signals or notes to communicate instructions.

Nicole Kidman and Keith Urban

Nicole Kidman and Keith Urban's honeymoon landed them in Bora Bora, paying a reported <a href="http://blog.sfgate.com/dailydish/2006/06/27/kidman-and-urban-honeymoon-in-bora-bora/">$15,000 per night</a> at the St. Regis resort. The couple flew in via private jet, where customs officers checked their passports while the couple waited on the plane. The U.S. Royal Estate -- where Kidman and Urban stayed -- includes a 24-hour butler service, in-room Jacuzzi and a private pool.

Tom Cruise and Katie Holmes

The recently divorced Tom Cruise and Katie Holmes spent part of their honeymoon on a yacht, cruising around the Maldives in the Indian Ocean. The pair flew in on a private jet and they were rumored to have <a href="http://www.foxnews.com/story/0,2933,231043,00.html">dined at an underwater restaurant</a> during their stay. Cruise and Holmes brought daughter Suri along -- with <a href="http://www.people.com/people/article/0,,1073518_1561769,00.html">"40 pieces of luggage and lots of toys"</a>.

Prince William and Kate Middleton

Nothing says royalty like spending a 10-day honeymoon on a privately-owned island. The Duke and Duchess of Cambridge shelled out a reported <a href="http://www.telegraph.co.uk/news/uknews/royal-wedding/8505248/Royal-wedding-William-and-Kates-Seychelles-honeymoon-hideaway.html">$5,000 a night</a> to stay on a <a href="http://www.mirror.co.uk/news/uk-news/royal-wedding-prince-william-and-kate-128775">private island in the Seychelles in the Indian Ocean</a>. <em>The Telegraph</em> reported that the couple had a personal chef and a butler for the duration of their stay. The royal couple thought they had found the ultimate private island, after <a href="http://www.usmagazine.com/celebrity-style/news/william-and-kates-720000-honeymoon-new-details-2011185">renting out 11 villas for an estimated $720,000</a> -- until <a href="http://www.celebuzz.com/2012-07-10/prince-william-and-kate-middletons-honeymoon-photos-released-palace-outraged/">honeymoon photos of the pair</a> emerged a year after their getaway.

Tiger Woods and Elin Nordegren

The now-divorced Tiger Woods and Elin Nordegren went straight from their wedding at the Sandy Lane Resort in Barbados into their honeymoon aboard <em>The Privacy</em>, the yacht Woods gave Nordegren as a wedding gift. Woods reportedly dropped $57 million on the honeymoon.

Carrie Underwood and Mike Fisher

Carrie Underwood and Mike Fisher jetted from Georgia to Tahiti for their romantic honeymoon at the Le Taha'a Resort. They stayed in a over-water suite, which go for <a href="http://www.eonline.com/news/190395/carrie-underwood-s-honeymoon-heat">$2,000 per night</a>, and enjoyed <a href="http://www.people.com/people/article/0,,20402877,00.html">snorkeling</a>, as well as a helicopter tour of the island.