Ladies and gentleman, we present to you the trendiest baby name of all time... literally. It appears as though a mom has named her baby girl Hashtag -- and announced her arrival on Facebook.
We can't be sure whether the screenshot below is an official birth announcement, a joke or a very unfortunate typo. But considering the most bizarre baby names we've heard before -- including Facebook, Will.i.am and Moon Unit -- Hashtag showing up on a birth certificate is not outside the realm of possibility.
Awkwardmessages.com posted this photo of baby Hashtag (with mom's name hidden):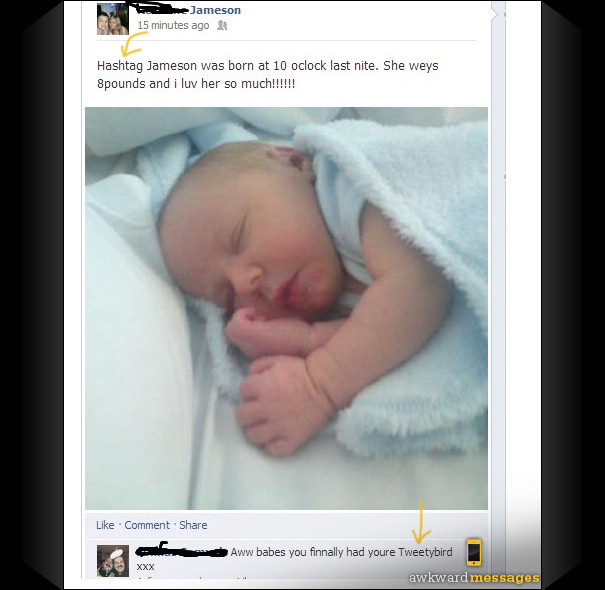 Putting spelling errors aside, we have just a few questions for mama Jameson:
1. Will the baby's nickname be Hash or Tag? Or just #?

2. When you ask a question, will you require your child to reply to you "@mom"?

3. Do you expect your child to finish all of your sentences?

4. Will she only be able to speak in 140-character phrases?

5. Will you insist that Hashtag becomes the trendiest kid in school?

6. If you love Twitter so much, why did you post this announcement on Facebook?
That's all for now. Please tweet @HuffPostParents with your answers. #Hashtag #confusing.

Loading Slideshow
Corleone

This gives a whole new meaning to Family Names. Corleone, the name of six babies last year, joins future troublemakers named Capone, Gotti, Bates, and Juvenal. Potential sister names include Sicily and Sicilia.

Cougar

We've been predicting the rise of fierce names, and this year's roster includes a pack of them: six boys named <a href="http://nameberry.com/babyname/Cougar" target="_hplink">Cougar</a> along with 86 named Fox, 85 called Bear, 29 Hawks, 14 named Wolf, seven Broncos, and five girls named Tiger. To the six girls named Bunny out there: Watch out.

Draper

The other Don, as in "Mad Men's" <a href="http://nameberry.com/babyname/Draper" target="_hplink">Draper</a>, inspired six namesakes this year. Draper is also one of the new occupational names, ala Mason which shot to the national Number 2. Among the other strange occupational names on the list: Strummer, Governor, and Pilot.

Eh

Canada's favorite interjection -- or perhaps the international expression of apathy -- was given to 14 girls last year. Were their parents excited? Eh....

Graceland

<a href="http://nameberry.com/babyname/Elvis" target="_hplink">Elvis</a> is back in the building, returning after a one year hiatus to the Top 1000, and now the name of his home, Graceland, is in the baby name lexicon too, given to seven girls. Grace and Gracelyn are popular for girls, along with Grayson and Greyson for boys, and Presley and Memphis for both sexes.

Kingsolomon

The name of the Biblical royal, spelled as one word, was given to five boys last year. Brother conjoined names include Princewilliam, Princemichael, Sircharles, and Marcjacob.

Moo

We have to believe that somewhere, beyond the bounds of Googleable English, Moo is a valid name and that five parents last year did not decide to name their daughters after the sound a cow makes. But, we want to believe in Santa Claus and instant weight loss too....

Notorious

If it was good enough for Biggie... Along with children named Marvelous, Brilliant, Famous, Beautiful, and Cyncere, there were five bad boys named Notorious. Destined to tangle with the five named Tupac.

Penisimani

Could you pronounce that for us? While Penisimani seems to be an established if rare name in the South Sea Islands, the six boys who received it in the U.S. are sure to encounter problems with pronunciation and, oh, everything. As are the children named Asser, Peniel, Dearria and Virginia.

Swayze

Big "Dirty Dancing" fan? You can be sure the five boys who received this name last year, along with their parents, will be fielding that question for a lifetime. Swayze is one of the newest of the modern hero names on the rise, which include such popular choices as Jeter and <a href="http://nameberry.com/babyname/palin" target="_hplink">Palin</a>.

Tank

These times demand toughness, and the boys named Tank, Trek, and Courage come pre-armed for the battle. Other badass baby names include Breaker and Ryker, especially hot in Utah where they presumably have never heard of the prison.

Tequila

Brandi is so yesterday. Today's most intoxicating alcohol name is Tequila. Newborn girls were also named Chardonnay, Henessy, and Syrah, while a handful of boys were named Abeer.

Tomorrow

Day names, from Friday to Christmas to August, are traditional in many cultures, but today's parents are expanding the lexicon. On the 2011 list were girls named Tomorrow, Evening, and Future.

Wrigley

No, not like the snake, like the baseball field. Fourteen girls and 25 boys were named after the classic Chicago stadium. There were also about 150 children of each sex named Shea along with five boys named Fenway. None, however, named Yankee.