What's the value of a tweet?
Apparently, one of your 140-character Twitter posts is worth the equivalent of one condom -- or at least that's what Durex is saying with its wacky (and admittedly innovative) new Twitter campaign.
LOOK: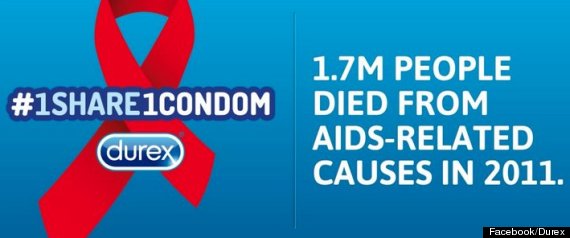 This is certainly the oddest social media campaign we've seen in a while, but it appears to be working.
"We've supported the fight against HIV over the years, mainly through local projects," Marketing Director Kevin Harshaw at Reckitt Benckiser (parent company of Durex) stated in a press release. "This year, we have decided to use our global market presence to create an initiative that will get the world talking and sharing."
World AIDS Day is celebrating its 25th year and will take place on Dec. 1, coinciding with the conclusion of Durex's social media campaign. To check out the latest donation statistics, head over to the "1Share1Condom" website (here).
Related on HuffPost:
15 Things We Never Want To See On Twitter Again
SUBSCRIBE AND FOLLOW
Get top stories and blog posts emailed to me each day. Newsletters may offer personalized content or advertisements.
Learn more