While finance executives urge Congress and the President to rein in spending, finance companies are raking in profits.
Corporate profits reached a record high in the third quarter, according to a Commerce Department report out Thursday. And the financial sector is doing particularly well. Financial companies accounted for all of the net growth in domestic corporate profits during the third quarter, according to analysis by Haver Analytics cited by The New York Times. Catherine Rampell writes:
Domestic profits of financial corporations rose $71.3 billion in the third quarter, after falling $39.7 billion in the second. Domestic profits of nonfinancial corporations, on the other hand, decreased $1 billion in the third quarter, after rising $27.8 billion in the second quarter.
Meanwhile, workers are struggling. Average hourly pay, when adjusted for inflation, has fallen 0.7 percent over the past year, according to the Labor Department. And the unemployment rate in October was 7.9 percent -- it was at a low of 4.4 percent in May 2007 before the recession.
It's a "zero-sum game," Moody's Analytics economist Aaron Smith told The Huffington Post in February. Companies are earning record profits largely because they are squeezing more productivity out of their workers without paying them more. Workers are afraid to slack off because it's become so hard to find another job.
Investors, on the other hand, are reaping money. Indeed, this month many companies issued special year-end dividends ahead of expected tax hikes in 2013. If you had a few million dollars lying around in early 2009, you could have made a fortune by investing in the stock market. The S&P 500 has more than doubled since its lowest point of the recession, in March 2009.
Check out how much corporate profits have boomed since 2009: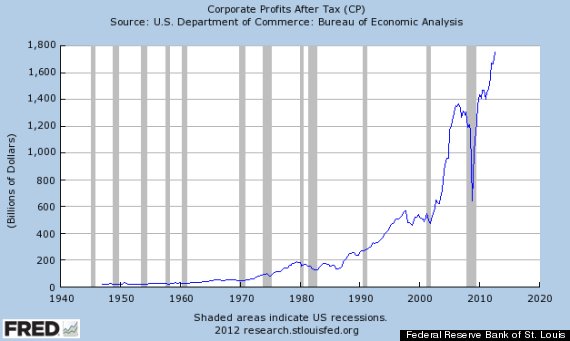 Earlier on HuffPost:
Loading Slideshow
Dr. Evil and Lloyd Blankfein

Dr. Evil from <em>Austin Powers</em>, played by Mike Meyers, and Goldman Sachs CEO Lloyd Blankfein.

Alistair Hennessey and Vikram Pandit

Alistair Hennessey from <em>The Life Aquatic with Steve Zissou</em>, played by Jeff Goldblum, and former Citigroup CEO Vikram Pandit.

Emperor Palpatine and Rupert Murdoch

Emperor Palpatine from <em>Star Wars</em>, played by Ian McDiarmid, and News Corp. CEO Rupert Murdoch.

Nurse Ratched and Meg Whitman

Nurse Ratched from <em>One Flew Over The Cuckoo's Nest</em>, played by Louise Fletcher, and Hewlett Packard CEO Meg Whitman.

Ashley Schaeffer and Richard Branson

Ashley Schaeffer from HBO's <em>Eastbound and Down</em>, played by Will Ferrell, and Virgin CEO Richard Branson.

Lex Luther and Jeff Bezos

Lex Luthor from <em>Superman Returns</em>, played by Kevin Spacey, and Amazon CEO Jeff Bezos.

Regina George and Marissa Mayer

Regina George from <em>Mean Girls</em>, played by Rachel McAdams, and Yahoo CEO Marissa Mayer.

White Witch and Abigail Johnson

The White Witch from <em>The Chronicles of Narnia</em>, played by Tilda Swinton, and Fidelity Investments CEO Abigail Johnson.

Ty Moncrief and Mike Jeffries

Ty Moncrief from <em>Drop Zone</em>, played by Gary Busey, and Abercrombie and Fitch CEO Mike Jeffries.

Emperor Commodus and Larry Page

Emperor Commodus from <em>Gladiator</em>, played by Joaquin Phoenix, and Google CEO Larry Page.

Goldfinger and Jeff Immelt

James Bond villain Goldfinger from <em>Goldfinger</em>, played by Gert Fröbe, and General Electric CEO Jeffrey Immelt.

Daniel Plainview and Reed Hastings

Daniel Plainview from <em>There Will Be Blood</em>, played by Daniel Day-Lewis, and Netflix CEO Reed Hastings.

Boris Badenov and Carlos Slim

Boris Badenov from <em>Rocky and Bulwinkle</em>, voiced by Paul Frees for much of the show's run, and Telmex CEO Carlos Slim.

Stuntman Mike and Brian Moynihan

Stuntman Mike from <em>Deathproof</em>, played by Kurt Russell, and Bank of America CEO Brian Moynihan.

Count Rugen and Larry Ellison

Count Rugen from <em>The Princess Bride</em>, played by Christopher Guest, and Oracle CEO Larry Ellison.

The Boss and Kenneth Chennault

The Boss from <em>Lucky Number Slevin</em>, played by Morgan Freeman, and American Express CEO Kenneth Chennault

Henry Evans and Mark Zuckerberg

Henry Evans from <em>The Good Son</em>, played by Macaulay Culkin, and Facebook CEO Mark Zuckerberg.

The Donald and Donald Trump

Chairman of the Trump Organization Donald Trump and Donald Trump from <em>The Apprentice</em>.