Gingerbread Dessert Recipes For The Best Holiday Baking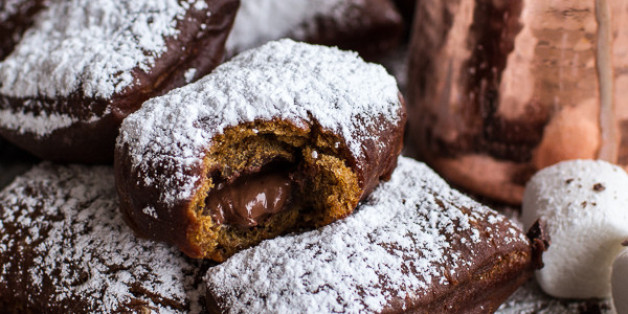 Half Baked Harvest
If you're one of those people who feels gingerbread is a regretful recurrence every holiday season, you couldn't be more wrong. We can understand that sentiment when it comes to fruitcake because it's about as dense as a brick (and as tasty too), but gingerbread should not be lumped into that category -- it has too much potential.
Dried-out versions of gingerbread houses and gingerbread men have given the flavor combination of ginger, cinnamon and molasses a bad name; but we're confident the gingerbread recipes below will change your mind. From beignets to cupcakes to pancakes, gingerbread is spicing up this holiday season.
Sally's Baking Addiction

2

Overnight Gingerbread French Toast Breakfast Bake

Averie Cooks

3

Gingerbread Whoopie Pies

Damn Delicious

4

Gingerbread Surprise Beignets

Half Baked Harvest

5

Chocolate Gingerbread Bars

Buns in my Oven

6

Soft And Chewy Molasses Gingerdoodles

Averie Cooks

7

Gingerbread Boy Granola

Half Baked Harvest

Completely Delicious

9

Gingerbread Cookie Dough Peanut Butter

Averie Cooks

10

Chocolate Gingerbread Cookies

Handle The Heat

11

Gingerbread Molasses Chocolate Chip Bars

Averie Cooks

12

Gingerbread Coffee Baked Donuts

Wanna Be A Country Cleaver

13

Gingerbread Maple Muffins

How Sweet It Is

14

Gingerbread Pancakes With Ginger Molasses Maple Syrup

Averie Cooks

15

Egg Nog Gingerbread Tarts

Duhlicious

16

Molasses Triple Chocolate Cookies

Averie Cooks

Evan's Kitchen Ramblings

18

Double Chocolate Gingerbread Cupcakes

Sweetapolita

19

Molasses-Gingerbread Cake With Mascarpone Cream

Con Poulos/Food&Wine

20

Cookie Butter Spread Ginger Molasses Cookies

Averie Cooks

21

Whole Wheat Gingerbread Pancakes

A Little Zaftig

Just Putzing Around The Kitchen

Simply Recipes

24

Pumpkin-Gingerbread Trifle

Brown Eyed Baker
Want to read more from HuffPost Taste? Follow us on Twitter, Facebook, Pinterest and Tumblr.