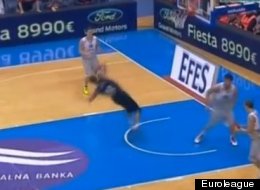 By Jose Martinez, Complex Sports

David Stern is trying to put an end to flopping in the NBA. The problem is, we thoroughly enjoy watching players attempt to give Oscar-worthy performances after receiving a slight elbow to the face or a push with the forearm. So, don't blame us when we have to satiate our needs by checking out how the ballers overseas are (over)doing it.
Thank you, Drew Gordon.
RELATED: The 50 Worst Flops and Dives in Sports History (Video)
[via Cosby Sweaters]