At long last, the winner of the Turner Prize will be revealed tonight at 7:50 pm (GMT) by none other than "pretty boy" Jude Law, who was recently profiled in the New York Times Magazine. The hugely influential and oft-mocked art prize is awarded to a British artist under the age of 50 who is deemed responsible for having the best exhibition in the past year.
The winner will be announced on live TV at the Tate tonight, and will be awarded a prize of £25,000 ($40,000). Notable past nominees include Damien Hirst for his shark in formaldehyde, Tracy Emin for her disheveled bed and Jake and Dinos Chapman for their "subversive wit and black humour" in a show featuring mannequin sex and faux-ethnographic wooden sculptures.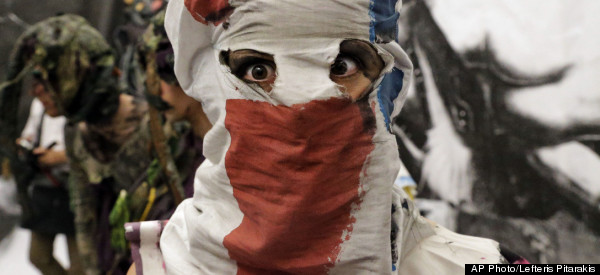 Performers take part in Spartacus Chetwynd's performance entitled "Odd Man Out 2011."
This year's nominees are Lali "Spartacus" Chetwynd, Luke Fowler, Paul Noble and Elizabeth Price. According to the BBC, Chetwynd, who is a giant Star Wars fan, changed her name to Spartacus on her 33rd birthday "to remind people they have a choice in life."
We've always enjoyed Chetwynd, whose interactive performance installations appear as a refreshing change from the interior focus of past winners. Last we heard, however, Noble is projected to win the title, and Elizabeth Price is the second favorite, the BBC reports.
UPDATE: Elizabeth Price has won the Turner Prize! See how it went down here.
In honor of the controversial award, check out 11 of the wildest moments in Turner history, from Banksy joining forces with a porn star in 2002 to Tracey Emin getting wild in the late '90s.
11 Things You Didn't Know About The Turner Prize
"Is it all a fix?" Judge Lynn Barber raised her concerns about the fairness of the judging system in 2006 and many were insulted by suggestions that the public vote was not being properly taken into account. Stuckist protestors soon took up the chant, much to Barber's annoyance. IMAGE: Wikimedia

In 1997 a drunk Tracey Emin walked out of a live Channel 4 discussion programme about the award. She claims to have no memory of the event and later described her shock at reading about her behaviour in next day's paper. IMAGE: Wikimedia

When Fiona Banner's wall-sized description of a porn film, Arsewoman in Wonderland, was nominated in 2002 it sparked comment from some unlikely quarters. Renowned porn star Ben Dover and Prince Charles joined in the chorus and graffiti artist Banksy stencilled "mind the crap" on the steps of the Tate. IMAGE: Johnny Green/PA

It seems the Tate's steps love a bit of the limelight. When artist Chris Ofili used balls of elephant dung as part of his mixed-media prize-winning piece, one angry protester made his views clear by heaping dung on the gallery steps. IMAGE: Matthew Fearn/PA

Despite attracting a lot of attention, Tracey Emin's rumpled bed, complete with used condoms and stained underwear, failed to win the 1999 prize. However, it did inspire two young artists to stage a performance piece, Two Naked Men Jump Into Tracey's Bed. Pretty self-explanatory. IMAGE: PA

The early nineties may have seen Damien Hirst catapulted into the public eye, but it wasn't due to Turner Prize success. Although he remains the standout nominee of the 1992 prize - with his famous The Physical Impossibility of Death in the Mind of Someone Living (a shark in formaldehyde) - he didn't actually with the prize till 1995. IMAGE: Matt Crossick/EMPICS Entertainment/ PA

In 1986 Gilbert and George became the first artists to win with pieces that were not paintings. Their photomontage Drunk with God bagged them the prize. IMAGE: Fiona Hanson/PA

2007 was the first year in Turner Prize history that it was held outside London, with Tate Liverpool hosting the prize. That year, Mark Wallinger won with Sleeper, a film of him walking round a museum dressed in a bear costume. IMAGE: Peter Byrne/PA

In 2001 guest of honour Madonna got in trouble when she swore live on air while awarding the prize to Martin Creed. It was before the 9pm watershed and Channel 4 was given an official rebuke by the Independent Television Commission. IMAGE: PA

In 1993 the maverick K Foundation attracted media attention when they announced the award of the Anti-Turner Prize, £40,000 to be given to Britain's worst artist, chosen from the actual Turner Prize short-list. They awarded it to Rachel Whiteread. Expensive whim? Not compared with next year's antics - a film of them burning a million quid. IMAGE: Wikimedia

Last year's show became the most visited Turner Prize exhibition ever. The prize left London for the second time, being held in Gateshead at the Baltic Centre for Contemporary Art. Though one fan, looking pretty in pink, got a little too excited... IMAGE: Scott Heppell/ PA
See Chetwynd's work below and tune in tonight to see who wins the coveted title. Who are you rooting for, readers?
Performers take part at Turner Prize nominee Spartacus Chetwynd's performance entitled 'Odd Man Out 2011' at Tate Britain in London, Monday, Oct. 1, 2012. The 25,000 pounds, US$40,000, Turner Prize is presented to an artist aged under 50, living, working or born in Britain for an outstanding exhibition in the previous 12 months. The winner will be announced on Monday Dec. 3, 2012. (AP Photo/Lefteris Pitarakis)

Performers take part at Turner Prize nominee Spartacus Chetwynd's performance entitled 'Odd Man Out 2011' at Tate Britain in London, Monday, Oct. 1, 2012. The 25,000 pounds, US$40,000, Turner Prize is presented to an artist aged under 50, living, working or born in Britain for an outstanding exhibition in the previous 12 months. The winner will be announced on Monday Dec. 3, 2012. (AP Photo/Lefteris Pitarakis)

Performers take part at Turner Prize nominee Spartacus Chetwynd's performance entitled 'Odd Man Out 2011' at Tate Britain in London, Monday, Oct. 1, 2012. The 25,000 pounds, US$40,000, Turner Prize is presented to an artist aged under 50, living, working or born in Britain for an outstanding exhibition in the previous 12 months. The winner will be announced on Monday Dec. 3, 2012. (AP Photo/Lefteris Pitarakis)

Performers take part at Turner Prize nominee Spartacus Chetwynd's performance entitled 'Odd Man Out 2011' at Tate Britain in London, Monday, Oct. 1, 2012. The 25,000 pounds, US$40,000, Turner Prize is presented to an artist aged under 50, living, working or born in Britain for an outstanding exhibition in the previous 12 months. The winner will be announced on Monday Dec. 3, 2012. (AP Photo/Lefteris Pitarakis)

A gallery worker poses for the photographers as she sits on an inflatable slide placed sideways in Tate Britain gallery forming part of Turner Prize nominee Spartacus Chetwynd 's performance entitled 'Odd Man Out 2011' in London, Monday, Oct. 1, 2012. The 25,000 pounds, US$40,000, Turner Prize is presented to an artist aged under 50, living, working or born in Britain for an outstanding exhibition in the previous 12 months. The winner will be announced on Monday Dec. 3, 2012. (AP Photo/Lefteris Pitarakis)

Performers take part at Turner Prize nominee Spartacus Chetwynd's performance entitled 'Odd Man Out 2011' at Tate Britain in London, Monday, Oct. 1, 2012. The 25,000 pounds, US$40,000,Turner Prize is presented to an artist aged under 50, living, working or born in Britain for an outstanding exhibition in the previous 12 months. The winner will be announced on Monday Dec. 3, 2012. (AP Photo/Lefteris Pitarakis)