Jay-Z Documentary: 'Where I'm From' Shows Rise Of Barclays Center (VIDEO)
Life+Times, Jay-Z's culture website, posted a 24-minute documentary about the rise of the Barclays Center. The video takes viewers behind the scenes of his run at the new Brooklyn venue. It's replete with admiring angles of Jay, his DJ and engineer Young Guru and the rest of the Roc Boys rehearsing for the big shows, but otherwise doesn't reveal much in the way of new information.
Highlights include Guru rapping Jay's "Run This Town" verse as the latter walks the arena in advance of the first show (around 13:50), Beyonce's appearance at the 15-minute mark (she's spotted walking just behind Jay as he makes his way to the stage) and Jay taking the subway just like a normal person and starting a near-riot (shouts to the lady who asked him if he's famous). Notably absent? Beyonce performing, as she did on night eight of the run.
Jay turned 43 on Tuesday, making it a fitting day to release the documentary. Mr. Carter isn't the only one getting a close-up: His wife Beyonce is the subject of a self-directed documentary that will debut in February on HBO. (Jay executive produced his documentary.)
Here are some stills: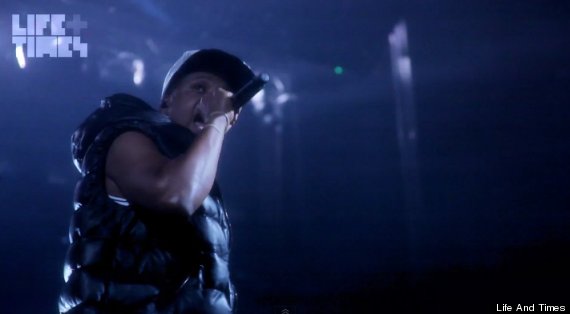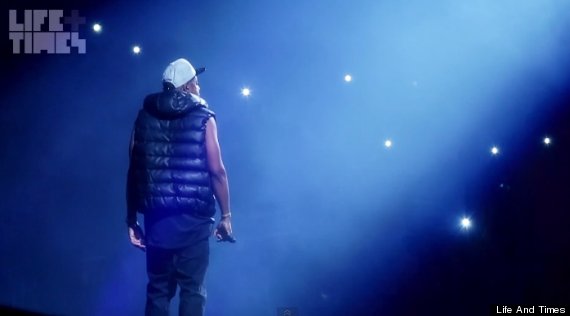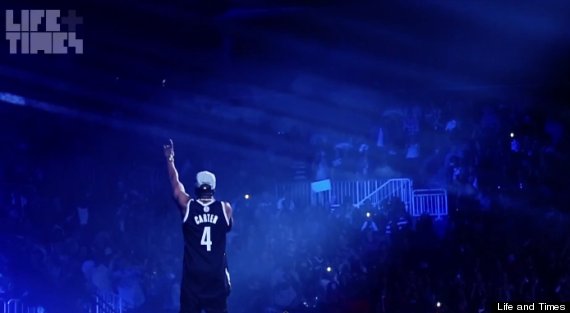 Beyonce!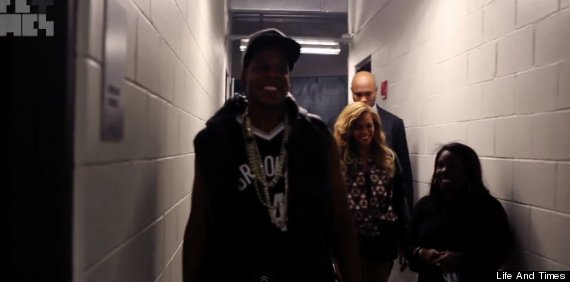 And our favorite...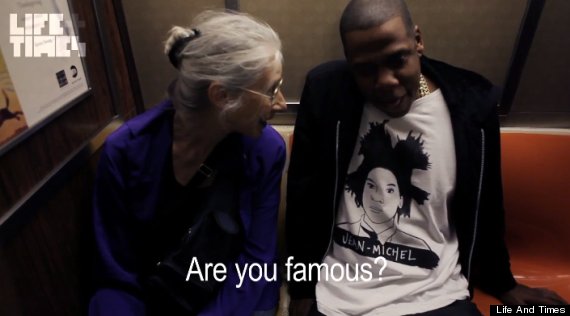 NEW YORK, NY - NOVEMBER 26: Jay-Z looks on before the Brooklyn Nets play against the New York Knicks at Barclays Center on November 26, 2012 in the Brooklyn borough of New York City.The Nets defeated the Knicks 96-89 in overtime.

Singers Bruce Springsteen (R) and Jay Z join US President Barack Obama (C) on stage to greet supporters during a campaign rally in Columbus, Ohio, on November 5, 2012. After a grueling 18-month battle, the final US campaign day arrived Monday for Obama and Republican rival Mitt Romney, two men on a collision course for the world's top job. The candidates have attended hundreds of rallies, fundraisers and town halls, spent literally billions on attack ads, ground games, and get out the vote efforts, and squared off in three intense debates.

COLUMBUS, OH - NOVMBER 5: Musician Jay-Z performs at a Barack Obama campaign event at Schottenstein Center on on the eve of the 2012 election November 5, 2012 in Columbus, Ohio.

Beyonce shared these personal family photographs around Thanksgiving.

NEW YORK, NY - NOVEMBER 03: Jay-Z and Beyonce Knowles attend Toronto Raptors vs Brooklyn Nets game at Barclays Center on November 3, 2012 in Brooklyn, New York.

"PHOTO: A couple supporters in a New York state of mind last night," the President tweeted on Sep. 19.

Much to the delight of his fans, the rapper rode the subway to his final show at Barclays Center on Oct. 7.

NEW YORK, NY - SEPTEMBER 28: Jay-Z performs at Barclays Center of Brooklyn on September 28, 2012 in New York City

PHILADELPHIA, PA - SEPTEMBER 02: (Exclusive Coverage) Director Ron Howard poses with Beyonce Knowles-Carter and Jay-Z backstage during Budweiser Made In America Festival Benefiting The United Way - Day 2 at Benjamin Franklin Parkway on September 2, 2012 in Philadelphia, Pennsylvania.

Blue Ivy's noise-canceling headphones only come in size stylish.

LOS ANGELES, CA - JULY 01: Recording artist Jay-Z celebrates with wife Beyonce in the audience upon winning the award for Video of the Year during the 2012 BET Awards at The Shrine Auditorium on July 1, 2012 in Los Angeles, California.

LOS ANGELES, CA - JULY 01: (L-R) Singer Beyonce, rappers Jay-Z and Kanye West and television personality Kim Kardashian attend the 2012 BET Awards at The Shrine Auditorium on July 1, 2012 in Los Angeles, California.

PARIS, FRANCE - JUNE 04: Beyonce, Jay Z and their baby Blue Ivy Carter leave the 'MEURICE' hotel on June 4, 2012 in Paris, France.

ANTWERP, BELGIUM - JUNE 3: Rappers Jay-Z (R) and Kanye West performing during the Watch The Throne Tour at the Sportpaleis on June 3, 2012 in Antwerp, Belgium.

NEW YORK, NY - FEBRUARY 20: Beyonce (L) and Jay-Z attend the New Jersey Nets vs New York Knicks game at Madison Square Garden on February 20, 2012 in New York City. (Photo by James Devaney/FilmMagic)

The first public photographs of Blue Ivy Carter were published on Jay-Z's lifestyle website, Life + Times.

A view of Lenox Hill Hospital on the Upper East Side of Manhattan where singers Beyoncé, 30, and Jay-Z, 42, whose real name is Shawn Carter, had their baby girl Blue Ivy Carter on Jan. 7, 2012.