Thank God for Kate Middleton. That's what British newspapers must have been saying to themselves as they raced to trumpet the news that the Duchess of Cambridge is pregnant with the heir to the throne.
With austerity continuing its grim slog, and the Leveson Report casting its own cloud, the press must have been jumping for a chance to cover something diverting.
The British papers went to town. "We're Expecting," The Times thundered. "Kate Expectations" was The Sun's punny offer. Tabloids printed stories on everything from when the Queen learned the news to one mother's "morning sickness hell." The aforementioned Sun even consulted "graphics experts" to come up with illustrations of what the baby would look like. (The results were frankly ugly.)
How the UK media covered the news:
PHOTO GALLERY
BEFORE YOU GO
Tabloids On Kate Middleton
PHOTO GALLERY
Tabloids On Kate Middleton
The Daily Mail put all its competitors to shame, though. Nick Sutton, the editor of BBC radio news show "The World At One," tweeted a picture containing 11 of the eye-popping 14 pages the Mail devoted to the pregnancy on Tuesday: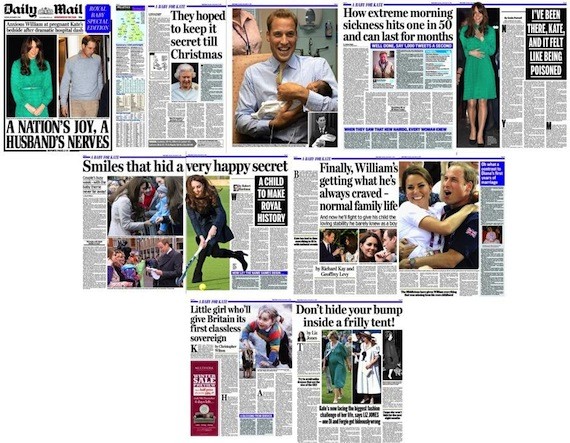 On Tuesday, a blizzard of cameras set up watch outside the King Edward VII hospital where Middleton is staying: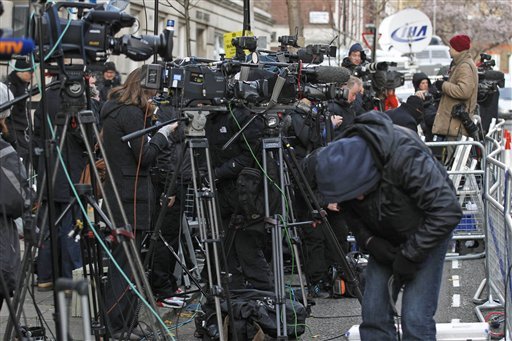 The American morning shows -- which love a good royal story -- also kicked into high gear. "Today" promptly sent Natalie Morales off to London for a live shot in front of the hospital. Other reporters could be seen in Morales' shot, a sign of the media frenzy surrounding the pregnancy. The Guardian reported that ABC had sent a crew of 11 to camp out, with "GMA" anchor Lara Spencer leading the way.
http://www.huffingtonpost.com/2012/11/30/leveson-report-legislation-media-reaction_n_2217331.html?icid=hp_media_top_art
ALSO ON HUFFPOST:
PHOTO GALLERY
BEFORE YOU GO
The Best Photos Of Kate Middleton
PHOTO GALLERY
The Best Photos Of Kate Middleton