POW! Could the future of journalism lie in its looking and reading more like a comic book?
If you're Joyce Rice and Erin Polgreen, the Chicago-based co-creators of Symbolia, a graphic novel-style interactive iPad app magazine that launched Monday, you probably hope so.
The magazine's double-length, 81-page-long premiere -- available this week only as both a free download on the App Store and, for the iPad-less, as a free PDF file -- features stories covering a wide range of topics, including a rundown on the rock scene in Zambia, secret species living in the Condo and rollerblading in northern Iraq. The theme? "How We Survive."
The magazine -- which has a stated goal of providing "immersive, insightful stories for a new generation of newshound" -- is slated to be published six times a year and will cost $2.99 per issue. Subscriptions run $11.99.
To get the skinny on the exciting new publication, HuffPost interviewed Rice earlier this week. Still have lingering questions? Symbolia will be doing an IAMA on Reddit at 1 p.m. EST Wednesday.
The Huffington Post: First of all, "graphic novel-style investigative journalism" is not a phrase heard every day by any means -- at least, not until I received your launch announcement. What inspired you to create Symbolia?
Joyce Rice: Illustrated communication has been falling by the wayside for decades now, yet long-format work like graphic novels has been rising in popularity. Comics journalism is part of this trend.
Illustrated storytelling is something that deeply resonates with many people. We wanted to create another venue that highlights the powerful, emotive, and thought-provoking stories that can be told through comics journalism.
HP: What is the sort of mix of stories you wish to tell through each issue of Symbolia?
JR: We'd like to tell all kinds of stories! We have plans to cover a broad range of topics, from science to human interest, field reporting to technology, and beyond! I can't think of a single story that couldn't be told through illustrated journalism, so all are welcome. Erin likes to tell contributors to think globally, but to tie the story to a specific place, feeling, or person so that the reader can be involved. We want content that is timely, but not time-sensitive. Symbolia is all about reading as an immersive, relaxing experience.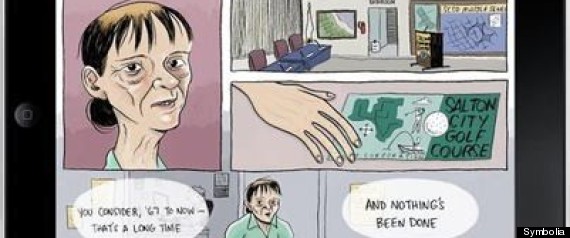 Susie Cagle's "Sea Change" is featured in Symbolia's first issue.
HP: What specifically do you think the graphic novel style can bring to the -- by almost all accounts -- struggling world of the journalism industry?
JR: Like all media, journalism is facing rapid changes, both through technology and changing readership. As I said before, the illustration industry has been feeling it for decades, and have changed our approach to become more accessible. I believe that's part of the reason comics journalism has changed so much in the last few years, to become more relatable and even personal, in some cases.
Comics journalism is a new way for readers to interact with investigative journalism, and it gives the people an opportunity to experience media in a new way. It allows the reader to really access the time, the place, and the people in the story by merging the written and visual aspects. In a time when there is so, so much worthwhile reading material available to people from all over the globe, it's important for to prioritize visual communication as a partner to written communication. It's simply more democratic -- comics and illustration can bring more people in.
HP: What has been the biggest struggle you've faced in bringing this project to fruition?
JR: Some days it seems like it has all been a mixture of struggle and excitement. We were very fortunate to receive grants from J-Lab and the McCormick Foundation and the International Women's Media Foundation to get us started, which has kept us from worrying about money to pay our contributors or keep the lights on.
Right now, the biggest challenge is to part of the sea of information on the net and get the magazine onto actual devices. We're on the hunt for subscribers!
HP: More broadly, what do you think will make Symbolia a success?
JR: Symbolia is full of top-notch journalists and illustrators. We're dedicated to telling compelling stories through the well-loved lens of comics. This approach to investigative journalism is exciting and will resonate with new and different audiences. I hope Symbolia will help comics journalism travel to other arenas of non-fiction storytelling.