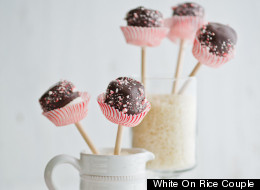 We love food bloggers. We turn to them everyday for their creative ways to bake with eggnog, their DIY cheeseplate instructions and ideas for tonight's dinner -- every night. It's not easy to run a good food blog; you have to be a chef, stylists, photographer and writer in one, and many bloggers do it just for fun. They're our heros.
We're grateful for their work, and as a sign of gratitude we're honoring the top 10 food bloggers that have caught our eye this month. (Check out our favorite food bloggers of October and November too.)
Want to read more from HuffPost Taste? Follow us on Twitter, Facebook, Pinterest and Tumblr.
Best Bloggers Of December
howsweeteats.com Jessica runs the blog How Sweet It Is. Her blog includes everything, healthy recipes to over the top desserts.

simplyrecipes.com You can find any recipe you want to make on Elise's blog, Simply Recipes. And you can always trust that they'll come out delicious.

whiteonricecouple.com/ Todd and Diane of White On Rice Couple not only clearly love food but photography too. Their blog is not only inspiring, but it's beautiful too.

sassyradish.com Olga of Sassy Radish weaves intimate stories with great recipes in her well-designed blog.

raspberricupcakes.com Steph of Raspberri Cupcakes never disappoints with sugary treats. This time of year, her blog is going to be a great resource for holiday baking.

BakedBree.com You'll always be happy you took a minute to visit Bree's blog. She shares with us amazing recipes we'd never think of making -- like these baked chili fries with bacon and ranch.

closetcooking.com Kevin of Closet Cooking chronicles his cooking adventures from a kitchen the size of a closet. You'd never guess that his kitchen was space challenged from the amount of amazing recipes he churns out.

acouplecooks.com Alex and Sonja live by a make everything from scratch mantra, so you're sure to find great tips for making pie crusts to growing herbs on their blog, A Couple Cooks. They're also committed to giving back. They just released a benefit cookbook for a cooking program in Cambodia for at-risk young women.

happyolks.com If healthy eating is what you're looking for, Happyolks has got you covered. Between breathtaking photography and witty words, Kelsey and Shaun have got us hooked.

souvlakiforthesoul.com Peter's blog, Souvlaki For The Soul, offers a great many savory recipes we can't wait to try. You'll be able to find a recipe you want to make for dinner in no time.