Favorite moment from the first (unofficial) day of Basel? Will Ferrell in a Howler trucker hat wandering around the vernissage. Fingers crossed he's researching the art world for a slapstick comedy about pretentiousness.
Then there were a sprinkling of Owen Wilson and Jeremy Piven sightings and weirdly, Martha Stewart seemed to pop up all over town, sparking clone paranioa.
And now that the rich and famous have had their very-important-person-preview of Basel, the main art fair is open to the public. First click through our inside look at the fair and decide if you wouldn't be better off just heading out to the more vibrant Pulse in the amazing Ice Palace Studios.
As for the rest of Thursday, do happy hour inside a Cuban percussion instrument then score free dinner at the OHWOW soup kitchen before spending the night with your choice of Alison Mosshart, Metric, Thurston Moore, or Space Invader. Choices, choices.
Check out our guide from Wednesday for any ongoing events you may have missed.

Click below for the best Art Basel Miami Beach events for Thursday:

Loading Slideshow
Art Basel Miami Beach

Through December 9 Miami Beach Convention Center Admission: $24 to $90 Court Eva and Adele (pictured left) and other curiosities of the contemporary art world at the eponymous event,<a href="http://miamibeach.artbasel.com/"> Art Basel Miami Beach</a>, which opens to the public on Thursday. It all started here when the Switzerland-based art fair decided to open a sister winter fair in Miami in 2002. Now there are two dozen spin-off satellite fairs and a very long lis of pop-ups and parties. See photos from yesterday's <a href="http://www.huffingtonpost.com/2012/12/05/art-basel-miami-beach-2012-pictures-photos_n_2248080.html?utm_hp_ref=miami">VIP preview here</a>.

Design Miami

Through December 9 Miami Beach Convention Center Parking Lot Admission: $15 to $55 While you've hiked across the Causeway for ABMB, stop in at the adjacent <a href="http://www.designmiami.com/">Design Miami</a> -- you'll see Snarkitecture's entry pavilion, "Drift," comprised of inflated vinyl tubes bound together. Inside peruse the best and brightest of applied design.

Pulse Art Fair

Through December 9 Ice Palace Studios Admission: $20

Free Store

9 p.m. SLS Hotel Invite-Only Multi-media artist Jonathan Horowitz invites guests to bring objects to trade and exchange at his "Free Store." Play your cards right and you could swap your old belongings with hand-me-downs from Maurizio Cattelan, Marilyn Minter, Richard Phillips or David Byrne.

OHWOW'S It Ain't Fair

Through December 9 OHWOW, the Miami art outfit that has since recamped to Los Angeles, will hold its fifth and final mini satellite fair for Art Basel Miami Beach. This year, <a href="http://oh-wow.com/itaintfair-2012/">It Ain't Fair</a> moves across the causeway to Miami Beach where it will show 30 artists including Harmony Korine, James Franco and local art stars who have since moved elsewhere: Bert Rodriguez, Luis Gispert, and Daniel Arsham among others. OHWOW will also broadcast Know Wave Radio with sets by special guests including Miami resident Cat Power. The fair will also host a soup kitchen – "a social project" that provides free dinner to anyone, daily from 5 to 7 PM.

"KURT"

Olympia Theatre at Gusman Center for the Performing Arts 8 p.m. Tickets: $25 <a href="http://pitchfork.com/news/48633-thurston-moore-to-headline-multi-discipline-kurt-cobain-exhibit-in-miami/">From Pitchfork</a>: "Act one will comprise a short film also called KURT (doubly fitting), 'an abstract portrayal of the personality and many masks of the myth,' directed by contemporary artist Adarsha Benjamin, who has also worked on some weird James Franco shit not to be confused with his band Daddy or recent foray into music videos via R.E.M. We're imagining a conceptual mashup of Last Days and I'm Not There. Act two sounds kind of amazing: a 15-minute live version of the 'Smells Like Teen Spirit' music video directed by Los Angeles choreographer Ryan Heffington, who's coordinated dance for everyone from Beirut to Muse, and in 2010 staged Heavy Metal Parking Lot: The Musical in an exclusive collaboration with L.A.'s Museum of Contemporary Art. The Entrance Band's Guy Blakeslee will provide an original score. The exact nature of Moore's contribution has yet to be announced, but dude could do worse than to play from last year's Demolished Thoughts."

Los Carpinteros' Güiro

Through December 9 Oceanfront 5 p.m. The conceptual Cuban art duo <a href="http://www.huffingtonpost.com/artinfo/three-questions-for-los-c_b_2232571.html?utm_hp_ref=miami&ir=Miami">Los Carpinteros</a> have created a pop-up bar inspired by the Cuban percussion instrument created from a dried hard-shell, tropical fruit. <a href="http://miamibeach.artbasel.com/global/show_document.asp?id=aaaaaaaaaaazuoe">Read the line-up of performances here</a>.

Luna Park

Through December 9 Collins Park Free For Luna Park, French art duo Kolkoz recreates the lunar landing site of Apollo 11 on the sandy beach. The artists will crate the sand with muscle oil, Benjamin Moreau of Kolkoz tells HuffPost Miami. Some of the 300 craters will be as big as 40 feet wide. But their work will be fleeting, as Luna Park will be destroyed each day by galleriests, critics, and artists using it as a soccer field.

"Art4Space" Wolrd Premiere

Colony Theater 6 p.m. Invite-Only Parisian artist <a href="http://www.huffingtonpost.com/2012/10/08/space-invader-artist-mosaic-space4art_n_1948417.html?utm_hp_ref=art-basel-miami-beach">Invader, famous for his 8-bit tiled creatures he sprinkles throughout cities,</a> will have the world premiere of "Art4Space," a 45-minute documentary about how he sent his Space Invader into space using a high-tech weather balloon. The normally anonymous artist will be present for a Q&A.

Electric Room with DJs Alison Mosshart of The Kills and Bob Gruen.

Dream South Beach Nightlifer Nur Khan brings his Electric Dream club to South Beach with DJ sets by Alison Mosshart of The Kills and Bob Gruen. While you'll there, check out a photo exhibit by Julian Lennon at the pop-up Morrison Hotel Gallery.

Art Meow-sel

O Cinema Through December 9 Free Purge yourself of that highbrow elitist Basel vibe with a free lowbrow (ahem, low-whisker) fest at Wynwood's O Cinema. Catch feline-inspired art and movie as well as a "I must-have that sh*t" pop cultural tchotchkes sale. The organizers tout Art Meow-sel's "hearty serving of WTF art, music, movement and dime store philosophy." Read about the <a href="http://www.o-cinema.org/event/art-meow-sel/">insanely infectious line-up here</a>.

Silencio

Through December 8 Delano Hotel Members-Only It popped up at Cannes Film Festival and now it's reared its exclusive head here in Miami. David Lynch's "Mulholland-Drive"-inspired Parisian club is moving into the Delano Hotel for Art Basel. The cabaret salon atmosphere will feature a string of events and performances -- last night, the Kills played if you can trust the tweets from those inside.

Metric

7 p.m. Scope Invite-Only Metric returns for Art Basle Miami Beach, this time playing the invite-only official party of SCOP Miami.
Share +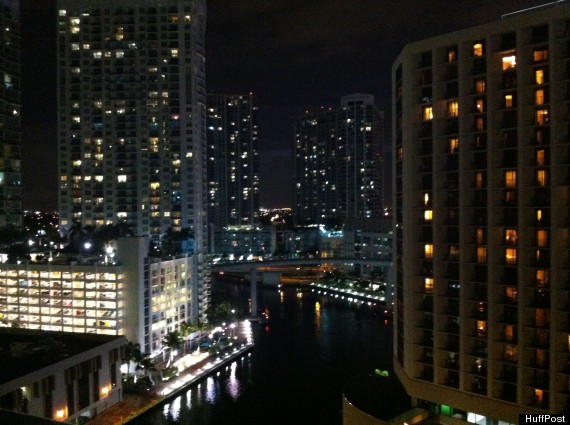 Perched on the 16th floor of the Epic Hotel with a view of the Miami River, Area 31 is the kind of aerie we love -- the kind that offers stunning views and delectable, locally-inspired fare in equal measure.
Fortunately for downtown diners, after grabbing a few months' beauty rest, the restaurant reopened last month with an updated interior and a new executive chef at the helm. Wolfgang Birk, who previously served as the opening executive chef at Casa Casuarina and Cooper Avenue, now heads up a team that includes charming lead bartender Dean Feddaoui and master sommelier Emily Wines.
On Birk's new menu: chilled melon and cucumber soup ($11), greens from Homestead's famed Paradise Farms ($11), fluke topped with caviar ($14), crab cakes ($16), and bone-on ribeye with crisp yucca potato and bone marrow bordelaise ($42). The lobster wonton ravioli ($28) is a winner, as is roasted lamb ($32), but nowhere was Area 31's new direction toward local, farm fresh raw materials more evident than in a perfectly dressed baby beet and fried goat cheese salad with blood orange and marcona almond shavings ($12). It's a stunning combination.
Inside, Area 31 is chic yet comfortable, dressed in neutrals to show off floor-to-ceiling windows and a massive wine installation. On the terrace, the dramatic view's the thing. Just beyond the table is a twinkling expanse that makes Area 31 feel like the sort of place in which secret lovers in films (and we mean that in a good way). Surrounding towers sprouting across the river in Brickell give the open air terrace a cozy feel, but views up the Miami River and out to Biscayne Bay don't let diners forget there's no other place like this in the city.
When to go: in addition to dinner (6 p.m. - 10 p.m., until 11 p.m. on Fridays and Saturdays), Area 31 is open for lunch from 11:30 a.m. - 3 p.m. with time-friendly fare including a brisket blend burger ($15) and crispy mahi fish taco ($14). The Terrace Lounge features a DJ on Thursday and Friday nights.
Loading Slideshow
Baby Beet and Goat Cheese

Chilled Sweet Pea Soup

Cobia Burger

Crudo Tasting

Fluke Crudo

Lobster Wonton Ravioli

Lobster Wonton Ravioli

Octopus

Panna Cotta

Seared Diver Scallop

Seared Diver Scallop

Seared Local Grass Fed Beef

Seasonal Tomato Flatbread

Executive Chef Birk

Chef Birk

Area 31