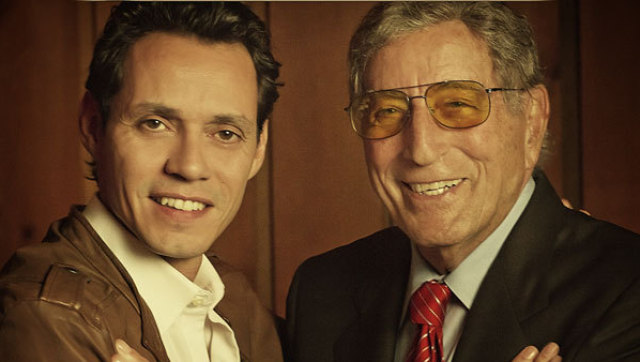 Tony Bennett, el legendario cantante, se une a varios artistas hispanos para realizar un especial que será transmitido por la cadena Univision bajo el título de "Feliz Navidad con los nuestros… Tony Bennett y sus amigos", conducido por Giselle Blondet.
El especial será de una hora y en él se verán escenas exclusivas detrás del escenario de la grabación de disco que se hizo en vivo y en estudio "Viva Duets", incluyendo presentaciones y segmentos con Marc Anthony, Romeo Santos, Gloria Estefan, Vicente Fernández, Thalía, Juan Luis Guerra, Chayanne y otras de las más destacadas celebridades de la música latina.
En este especial que será transmitido este domingo 9 a las 9/ 8 PM Centro, no faltarán temas como "I Wanna Be Around" y "I Left My Heart in San Francisco", y los dúos con las estrellas latinas Shaila Dúrcal y Armando Manzanero. Bennett se unirá a Manzanero en una interpretación especial de "Yesterday I Heard The Rain", del afamado compositor, y colaborará con Dúrcal para presentar "Steppin' Out (With My Baby)" y una conmovedora interpretación de "Noche de Paz" ("Silent Night") para dar inicio a la temporada de fiestas.
"Ha sido una experiencia conmovedora conocer a todos los artistas del entorno de la música latina y grabar con ellos, y me han acogido con su espíritu generoso y musicalidad. Realmente es un honor haber sido recibido por esta comunidad de artistas", compartió Tony Bennett.
"Viva Duets" se estrenó recientemente en el lugar número cinco entre los mejores álbumes de Billboard Top 200, pasando así a ser el tercer álbum consecutivo de Bennett que figura entre los cinco más populares.
MIRA LAS FOTOS DEL ESPECIAL DE TONY BENNETT:
PHOTO GALLERY
BEFORE YOU GO
Tony Bennett
PHOTO GALLERY
Tony Bennett