Art Basel Miami Beach Event Guide Friday: Chromatics, Daniel Johnston, Animal Collective To Pharrell Williams
Who's the big winner at this year Art Basel Miami Beach? Instagram. Among the most notable shots from last night's pic feeds was a live tiger, sleeping in a steel cage at the Le Pompon pop-club at Hotel Victor.
As one commenter wrote, "maybe the big cat is just a lover of horrendous art, cocaine, and self-important people who love to party."
The party continues Friday with a design talk by Pharrell Williams, smaller and rawer fairs Seven and Fountain, and a slew of nightlife events: Chromatics play starry-skied Gusman, curious crooner Daniel Johnston at Grand Central, and a Hurricane Sandy Relief concert with Animal Collective.
Check out our guide from Thursday for any ongoing events you may have missed.
Click below for the best Art Basel Miami Beach events for Friday:
Design Miami 3 p.m. The N.E.R.D. frontman and self-made design guru Pharrell Williams will talk his new book "Pharrell: The Places and Spaces I've Been" at Design Miami. From the book blurb: "In his own unique graphic language, he details his extensive creative pursuits, including clothing lines, jewelry, and accessories designs for Louis Vuitton, furniture and other product design, limited-edition toys, graphic designs, skate graphics, and collaborations with Moncler, Marc Jacobs, the artist KAWS, and with architects Zaha Hadid and Masamichi Katayama/Wonderwall."

Through December 9 Free Seven Miami is the collaboration of seven galleries: London's Hales Gallery and New York's BravinLee programs, Postmasters, Ronald Feldman Fine Arts, P•P•O•W, Pierogi Gallery, and Winkleman. These are art dealers who felt stymied by the larger art fairs' ten-page contracts full of guidelines and restrictions about how they could exhibit their art.

Through December 9 Admission: $15 In ArtInfo's rundown of Basel fairs as high school stereotypes, Fountain Miami was deemed The Hipster. "Born of Williamsburg, this small-scale warehouse fair is all attitude. This year, it's teaming up with street art nonprofit Living Walls to mount a 175-foot-long installation on the warehouse's 5,000-square-foot lawn, where you might just catch an exhibitor sneaking a cigarette. On Saturday night, you can even pretend you're in Brooklyn at Fountain's dance party, which features musical stylings from New York's own Tiki Disco."

The Standard 7 p.m. Invite-Only "TERRYWOOD" is glossy photographer Terry Richardson's "vision of everything that Hollywood represents," according to the press release. James Franco, Sasha Grey, and Frank Ocean were spied at the LA opening party, so we're expecting a good-looking crowd.

7 p.m. Olympia Theater at Gusman Center For Performing Arts Tickets: $20

Grand Central 9 p.m. Tickets: $20 Singer Daniel Johnston entered the periphery of the mainstream after the music documentary "The Devil and Daniel Johnston," which uncovered his bipolar disorder, schizophrenia, and heartfelt lyrics.

Bardot 10 p.m. Tickets: $22 Solange Knowles will be joined by Neon Indian, Corin Roddick of Purity Ring, Jacques Renault, Justin Miller and DJ/Producer Chris Taylor of Grizzly Bear.

Delano 9 p.m. Tickets: $100 to 1,000 MoMA PS1 and Volkswagen are hosting a Hurricane Sandy relief concert at the Delano Beach Club. Proceeds from the benefit go to Rockaway Waterfront Alliance. There will be DJ sets by Avey Tare & Deakin from Animal Collective and Dave1 from Chromeo. (pictured left: Animal Collective)
Share +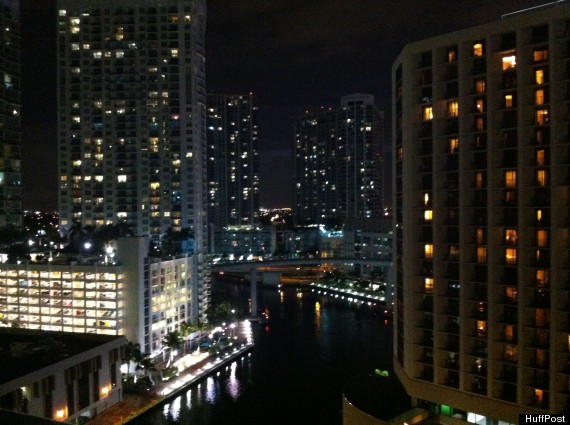 Perched on the 16th floor of the Epic Hotel with a view of the Miami River, Area 31 is the kind of aerie we love -- the kind that offers stunning views and delectable, locally-inspired fare in equal measure.
Fortunately for downtown diners, after grabbing a few months' beauty rest, the restaurant reopened last month with an updated interior and a new executive chef at the helm. Wolfgang Birk, who previously served as the opening executive chef at Casa Casuarina and Cooper Avenue, now heads up a team that includes charming lead bartender Dean Feddaoui and master sommelier Emily Wines.
On Birk's new menu: chilled melon and cucumber soup (), greens from Homestead's famed Paradise Farms (), fluke topped with caviar (), crab cakes (), and bone-on ribeye with crisp yucca potato and bone marrow bordelaise (). The lobster wonton ravioli () is a winner, as is roasted lamb (), but nowhere was Area 31's new direction toward local, farm fresh raw materials more evident than in a perfectly dressed baby beet and fried goat cheese salad with blood orange and marcona almond shavings (). It's a stunning combination.
Inside, Area 31 is chic yet comfortable, dressed in neutrals to show off floor-to-ceiling windows and a massive wine installation. On the terrace, the dramatic view's the thing. Just beyond the table is a twinkling expanse that makes Area 31 feel like the sort of place in which secret lovers in films (and we mean that in a good way). Surrounding towers sprouting across the river in Brickell give the open air terrace a cozy feel, but views up the Miami River and out to Biscayne Bay don't let diners forget there's no other place like this in the city.
When to go: in addition to dinner (6 p.m. - 10 p.m., until 11 p.m. on Fridays and Saturdays), Area 31 is open for lunch from 11:30 a.m. - 3 p.m. with time-friendly fare including a brisket blend burger () and crispy mahi fish taco (). The Terrace Lounge features a DJ on Thursday and Friday nights.
Loading Slideshow
Baby Beet and Goat Cheese

Chilled Sweet Pea Soup

Cobia Burger

Crudo Tasting

Fluke Crudo

Lobster Wonton Ravioli

Lobster Wonton Ravioli

Octopus

Panna Cotta

Seared Diver Scallop

Seared Diver Scallop

Seared Local Grass Fed Beef

Seasonal Tomato Flatbread

Executive Chef Birk

Chef Birk

Area 31