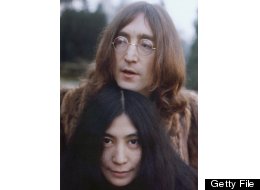 In 1969, when The Beatles were parting ways, John Lennon told the band: "I'm breaking the group up. It feels good. It feels like a divorce."
But that's not the only public split Lennon, Paul McCartney, George Harrison, Ringo Starr and honorary fifth Beatle, George Martin, endured; all of the bandmates have been through divorces in their personal lives, too. In honor of the 32nd anniversary of Lennon's tragic death on Dec. 8, 1980, we take a look back at the band's divorces. Click through the slides below for more on their splits.
In 1966, lead guitarist George Harrison tied the knot with model Pattie Boyd, whom he met while filming "A Hard Day's Night." By 1977, the pair had divorced, and Boyd later married -- and subsequently divorced -- Harrison's good friend Eric Clapton.

When Beatles singer, songwriter and guitarist John Lennon married college sweetheart Cynthia Lennon (née Powell) in 1962, she was already pregnant with the couple's first child. Six years later, Cynthia filed for divorce after learning that Lennon was having an affair with Japanese artist Yoko Ono. Lennon was married to Ono until he was fatally shot outside of his New York City home in 1980.

Beatles singer, songwriter and bassist Paul McCartney separated from his second wife, Heather Mills, in 2006 after four years of marriage. Although the couple labeled their parting "amicable," it soon proved to be anything but. The acrimony came to a boiling point in March 2008 when Mills reportedly poured water on the head of McCartney's divorce attorney. The Beatle's estranged wife asked for $250 million in the settlement, but ended up with $48.6 million -- less than a fifth of the amount she requested. In 2011, McCartney got remarried to American trucking heiress Nancy Shevell.

Drummer Ringo Starr met his future wife, Maureen Cox, in 1962 when she asked him for his autograph after a performance at Liverpool's Cavern Club. The pair tied the knot in 1965 and were married for 10 years before divorcing in 1975. Starr later married actress Barbara Bach in 1981, whom he met on the set of the movie "Caveman."

The Beatles' music producer, George Martin, wasn't officially a member of the band, but he has often been referred to as "the fifth Beatle" because of his tremendous influence on both their success and sound. In fact, he was the one to sign the band in 1962, after they had been turned down by the other major record labels. Martin tied the knot with his first wife, Sheena Chisholm, in 1948, but the pair split five years after their second child was born. By 1966, he was onto his second marriage with a woman named Judy Lockhart Smith.