'The Startup Chef' Cookbook's Recipes By Tech Luminaries Tell How To Make Chocolate iPhones And More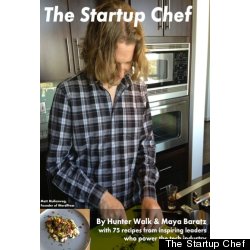 On Christmas morning this year, you can prepare a few eggs sous vide with applewood bacon and cave-aged gruyere, just like WordPress founder Matt Mullenweg makes them. For Christmas dinner, a couple of double-marinated tenderloins, prepared according to the recipe from the Swede behind Spotify, Daniel Ek, could be on the menu. And for dessert, why not finish with eggnog cinnamon scones from the kitchen of Randi Zuckerberg, sister of Facebook co-founder Mark Zuckerberg?
These and several dozen other recipes can be found in a new cookbook, The Startup Chef, available exclusively as an ebook. The project -- which was the brainchild of Hunter Walker and Maya Baratz, product executives at Google and ABC News, respectively -- aggregates recipes from approximately 70 entrepreneurs, investors and technology journalists as a way to raise money for, appropriately enough for a cookbook, the hungry.
Is it ridiculous? Yes. Pretentious? Slightly. But big-hearted of these Silicon Valleyites? Definitely.
The one recipe that inevitably caught our eye was the "Chocolate iPhone" by Brit Morin, founder of lifestyle brand Brit + Co. Check out how to make it below. For the rest of the recipes, order the ebook for a minimum donation of $10 here.
How To Make A Chocolate iPhone By Brit Morin
Ingredients • Black and white chocolate melts • Silicone iPhone case • Airheads (variety pack) • Aluminum foil • Vegetable oil or Crisco

Preparation 1. To prep your iPhone case, wash it thoroughly and create an aluminum foil shell around the outside.

2. To melt our chocolate, we employed our trusty double boil method. Fill a medium size pot with a few inches of water. Place a smaller pot inside of it with about 2 tsp of vegetable oil. Melt the chocolate in the small pot. This ensures the chocolate doesn't burn or get too hot too quickly.

3. Now, pour your mold!

5. Peel the silicone off gently and your new chocolate iPhone should pop right out. Since you're using a mold that represents the back of your iPhone, you'll have to do a little trimming after you've popped it out. We cut off the camera hole and power button.

6. Now, time to make some apps! Airheads happen to double as the homemaking hacker's fondant, and the variety pack has a solid array of colors.

7. Use a knife or scissors to cut your Airheads into little apps. Play with details as time permits.

8. Since we can't live without our text messages, calendar, weather, Twitter, Facebook, phone, music, and Path, we made those ones! And there you are!