Every Fudge Recipe You'll Ever Need (PHOTOS)
Fudge usually means good things. Fudge-y brownies, chocolate fudge cake, fudge the chocolate confection -- you really can't go wrong. And fudge (the candy) is great for holiday gifts, which is why this time of year we all need easy fudge recipes.
But don't just limit yourself to chocolate fudge -- we put together 29 of our favorites, which range from s'mores fudge, to popcorn fudge, to red velvet fudge. Check out three of our favorites below, but make sure to scroll to the bottom for the full slideshow. It's time to get baking!
Ibarra Chile Fudge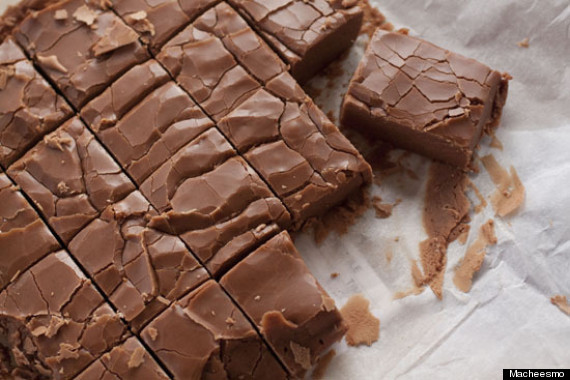 Get the Ibarra Chile Fudge Recipe by Macheesmo
This classic chocolate fudge is kicked up a notch by the chile undertones.
Strawberry Swirl Fudge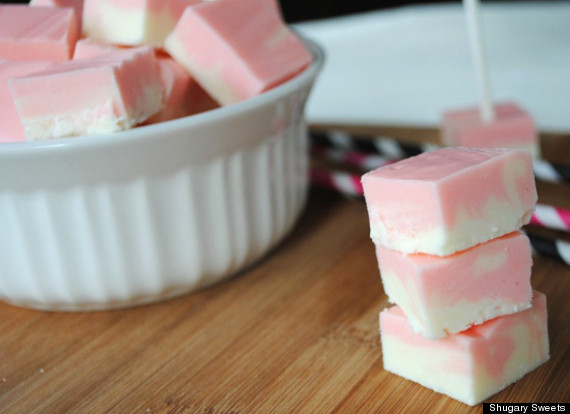 Get the Strawberry Swirl Fudge recipe by Shugary Sweets
Not all fudge has to be chocolate-y -- this one combines one of our favorite fruit with one of our favorite sweets.
Irish Cream And Pistachio Fudge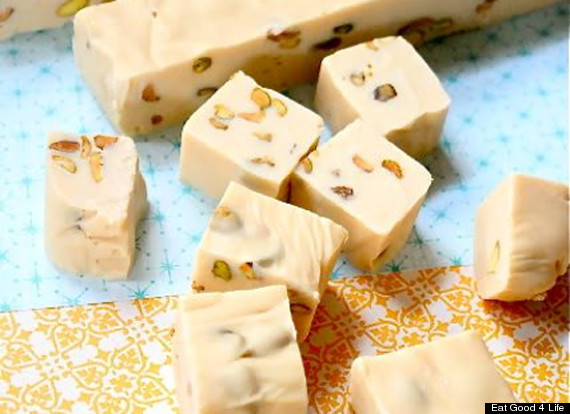 Get the Irish Cream And Pistachio Fudge recipe by Eat Good 4 Life
Pistachio nuts add a crunch to this fudge. And we love it.
Can't get enough fudge? Check out all 29 recipes in the slideshow.

Want to read more from HuffPost Taste? Follow us on Twitter, Facebook, Pinterest and Tumblr.
Get the S'mores Fudge recipe by The Novice Chef

Get the Funfetti Cake Batter Fudge Recipe by Lemon Sugar

Get the Mocha Coconut Fudge recipe by How Sweet It Is

Get the Red Velvet Fudge Recipe by I Am Baker

Get the Irish Cream And Pistachio Fudge recipe by Eat Good 4 Life

Get the Double Decker Oreo Fudge recipe by Bakers Royale

Get the Maple Walnut Fudge recipe by Intimate Weddings

Get the Chocolate Chip Cookie Dough Fudge Recipe by Buns In My Oven

Get the Peppermint Fudge recipe by A Spicy Perspective

Get the Chocolate Peanut Butter Fudge recipe by Shugary Sweets

Get the Raw Double Layer Chocolate Fudge with Cacao Nibs recipe by Gourmande in the Kitchen

Get the Thai Tea Fudge recipe by She Simmers

Get the Popcorn Fudge recipe by Raspberri Cupcakes

Get the Cookie Crumb Caramel Microwave Fudge recipe by Cook Republic

Get the Chocolate Peanut Butter Fudge recipe by Brown Eyed Baker

Get the Vanilla Bean Tablet Recipe by Delicieux

Get the Lime Fudge With Macadamia Nuts recipe by Technicolor Kitchen

Get the Marbled Mint Chocolate Fudge recipe by Sugar For The Brains

Get the Salted Caramel Fudge recipe by Eclectic Recipes

Get the Eggnog Fudge recipe by Sweet Annas

Get the Peanut Butter & Caramel Pretzel Crunch Fudge recipe by Bakers Royale

Get the Nutella Fudge recipe by Not Your Momma's Cookie

Get the Sweet Potato Pecan Fudge Recipe by Cookin' Canuck

Get the Quick and Easy Rocky Road Fudge Recipe by Pass the Sushi

Get the Pumpkin Pie Fudge Recipe by Pass the Sushi

Get the Peanut Butter Fudge Recipe by Annie's Eats

Get the Bread and Buttermilk Fudge Recipe by HCR/Food52

Get the Ibarra Chile Fudge Recipe by Macheesmo

Get the Strawberry Swirl Fudge recipe by Shugary Sweets