From National Geographic's Dan Stone:
(Click here for original story.)
Pop quiz. If I asked you to name some of the country's most innovative cities, where would you rank Fresno, California? It's a small community 200 miles north of Los Angeles, mostly known for its agriculture.
Yet among cities with more than 100,000 people, Fresno is among the nation's leaders in recycling. While many cities recycle 30 to 50 percent of their waste, Fresno diverts a whopping 73 percent of its trash from the landfill. That translates to more reusable material, more compost and, ultimately, a healthier city.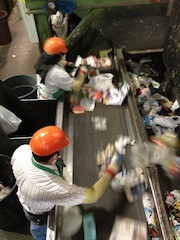 Fresno's Sunset Waste Systems works in high gear around the clock to keep up with the supply of recyclables. Photo: Dan Stone
Patrick Wiemiller, Fresno's public utilities director, showed me how the city does it. By partnering with a few innovative recycling companies, the city can have its trucks collect more and more waste. They run it through large sorting machines on their way to be repurposed into tomorrow's paper, soda cans, or gasoline.
Fresno's Sunset Waste Systems works in high gear around the clock to keep up with the supply of recyclables.
"We do a lot of education and outreach," Wiemiller told me as we drove across town. "To really get people to recycle you have to change a family's behavior. We find the most effective way is through children in the schools."
The city's Public Utilities department focuses on lots of time with students, convincing them to persuade their parents to participate. City officials talk up the 73 percent number, but their goal is even higher. Wiemiller says 90 percent is an attainable goal. And one day, the city's government has ambitions for 100 percent zero-waste.
With such large volume, recycling is an issue of proportion. John Mohoff of Sunset Waste Systems took me through his processing facility, a sprawling warehouse of conveyor belts that sort plastics, metals, and papers and prepares them to be crushed into giant cubes. "When we started, it was just paper, aluminum, tin, and glass," Mohoff said. "Now we can do all kinds of plastics. And film too." In total, that translates to nearly 7,000 tons of things that Fresnans throw out each month that ends up being repurposed.
Why does a community like Fresno care so deeply about recycling?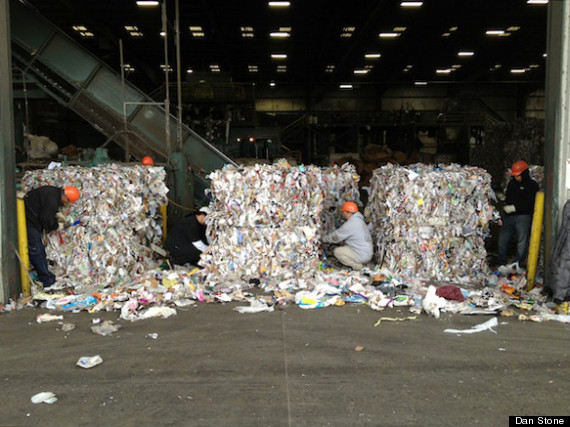 Over at West Coast Waste, the city's processor of so-called green waste like yard clippings and organic leftovers, owner Dennis Balakian explained that aside from being good stewards of the planet, it's all about agriculture. A landfill produces little value for farmland. But putting nutritious material back into soils improves crops and livestock—and ultimately, the strawberries, pistachios, or garlic that the rest of the country gets from this region.
Change Reaction is written by Dan Stone, a National Geographic Magazine reporter constantly on the hunt for new ideas, big thinkers, and innovation that will power the planet's future. Join his travels on Twitter at @NatGeoDan.
Also on HuffPost:
Loading Slideshow
2000 Flushes And X-14 Toilet Bowl Cleaners

<a href="http://www.ewg.org/" target="_hplink">List and captions courtesy of EWG</a>. <em>Fatal If Swallowed</em> These chlorine-laden discs don't harm plumbing or septic systems, but according to the label they "may be fatal if swallowed." The boxes warn customers to wear rubber gloves when handling, hold the disc away from the face and avoid inhaling the fumes. A pet could confuse a disc with a plastic chew toy.

Lysol Disinfectant Power Toilet Bowl Cleaner With Lime & Rust Remover

<em>Fatal If Swallowed</em> This corrosive acid concoction kills bacteria but is also labeled "harmful or fatal if swallowed." The cleaner's child-proof cap is an important safety feature. The label warns not to squeeze the container when opening and to wear safety goggles. A bit of this acid in the eye can cause "irreversible damage."

Glade, Air Wick, Spot Shot

<em>Fatal If Inhaled</em> <strong>Glade</strong> air freshener sprays warn that "intentional misuse by deliberately concentrating and inhaling the contents can be harmful or fatal." <strong>Air Wick</strong> automatic air fresheners and old English furniture polish carry the same warning. <strong>Spot Shot</strong> carpet stain remover warns that "inhalation abuse of aerosol products may be harmful or fatal.

Ajax, Dynamo And Fab Ultra Liquid Laundry Detergents (Phoenix Brands)

<em>High-Hazard Ingredients</em> These contain formaldehyde, also known as formalin, classified as a known human carcinogen by the U.S. government and World Health Organization. Formaldehyde can cause asthma and allergies. The company divulges the presence of formaldehyde in the product only on technical disclosures for workers.

Tarn-X Tarnish Remover

<em>High-Hazard Ingredients</em> This "Wipe & Rinse" product contains up to 7 percent thiourea, a chemical classified as a carcinogen by the state of California. The company's technical information for workers says "prolonged or repeated exposure may cause reproductive and fetal effects."

Hagerty Liquid Jewel Clean

<em>High-Hazard Ingredients</em> It contains perchloroethylene, a toxic solvent classified as "probably carcinogenic to humans" by the International Agency for Research on Cancer.

Spic And Span Multi-Surface And Floor Cleaner

<em>Banned Abroad</em> This product contains nonylphenol ethoxylate, which the state of California has banned in cleaning products manufactured after 2012. Products containing this chemical cannot be sold in the European Union. It breaks down to nonylphenol, which can disrupt the hormone system, is toxic to aquatic life and persists in the environment.

Scrubbing Bubbles - Antibacterial Bathroom Cleaner & Extend-A-Clean Mega Shower Foamer

<em>Banned Abroad</em> These products contain up to 10 percent DEGBE, also called butoxydiglycol, a solvent banned in the European Union at concentrations above 3 percent in aerosol cleaners. It can irritate and inflame the lungs.

Mop & Glo Multi-Surface Floor Cleaner

<em>Banned Abroad</em> It contains DEGME, also called methoxydiglycol, at up to 15 times the concentration allowed in cleaners sold in the European Union. The United Nations Economic Commission for Europe says DEGME is "suspected of damaging the unborn child."

DampRid mildew Stain Remover Plus Blocker

<em>Banned Abroad</em> It may contain up to 10 percent of a hazardous solvent called 2-butoxyethanol. Canada caps this chemical's use in non-aerosol cleaners at 6 percent. It also contains nonylphenol ethoxylate, prohibited in cleaners sold in the E.U.

EASY-Off Fume Free Oven Cleaner

<em>Banned Abroad</em> This spray contains 5 to 10 percent DEGBE. The E.U. bars concentrations of DEGBE greater than 3 percent because it can harm the lungs.