Hebru Brantley's Art Basel experience ended on a bang when the 31-year old Chicago artist sold a painting for $20,000. Did we mention he sold it to Jay-Z, one of the biggest stars to grace the event?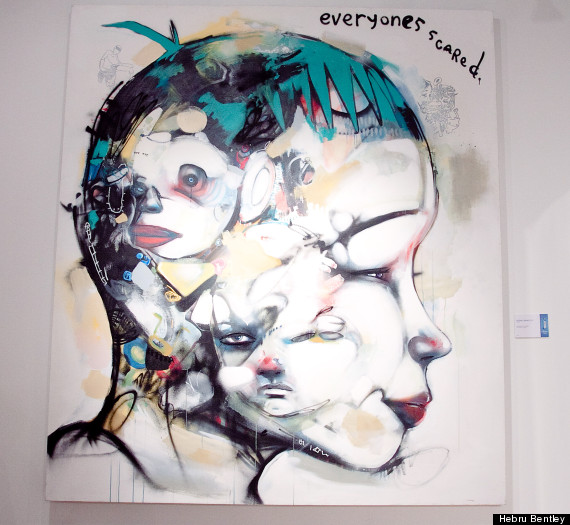 Maverick Carter, aka LeBron James' manager, eyed Brantley's piece, entitled, "Everyone's Scared" at the fair on Sunday, and thought the work would be just up Young Hova's alley. Jay-Z eventually bought the work and had Brantley personally deliver it directly to his hotel room that night. Can you say Instagram opportunity?!
Jay wasn't the only hip-hop star to do some spending at Basel last week. Rick Ross went home with a Richard Mosse photograph, Diddy took back an Ivan Navarro sculpture and Usher bought a Louis Vuitton waffle maker.
See our full slideshow below to learn a thing or two on how to do Art Basel right:
Ross purchased a 20120 Richard Mosse photograph titled "Love is the Drug" from the Jack Shainman Gallery booth at the main fair. Ross later performed next door to the fair with Meek Mill and Wale on the evening of the Vernissage.

Diddy was all over Miami this weekend, from VIP day at the main fair to surprising fans at a Rick Ross show. Diddy Instagrammed a shot of himself contemplating a Basquiat and purchased an Ivan Navarro sculpture from Paul Kasmin Gallery. He also purchased two gold-drenched flag paintings by Andrew Schoultz from the booth of San Francisco's Marx & Zavattero. Good taste, Diddy!

Kim Kardashian and Kanye West attended the Dom Perignon Luminous Rose at Wall at W Hotel, as well as the opening of OHWOW exhibition 'It Ain't Fair.' Kanye also stopped by TERRYWOOD and supported Pharrell's art talk at Design Miami.

Pharrell had a busy week in Miami hitting up the VIP opening of the main fair, Chanel + Art.sy's party, TERRYWOOD and Moncler's 60th anniversary party. He also participated in a talk with Craig Robbins at Design Miami and held a book signing for his new book "Pharrell: Places And Spaces I've Been."

Jay-Z and Beyoncé made an appearance Friday night at the release of 'JR & José Parlá: The Wrinkles of the City, Havana, Cuba', at The Standard. Twitter approved of Bey's floral romper.

Usher probably wins for most ridiculous celebrity purchase of the week, grabbing Andrew Lewicki's "Louis Vuitton Waffle Maker" (2012). Yes, you heard that right, and it really makes waffles.

A$AP Rocky performed at Playboy + The Hole's opening party at the Delano hotel.

Kelly Rowland and Beyonce checked out the Contemporary Art Fair on Sunday and Instagrammed their art perusing for all to see.

Azealia Banks showed her support for Hollywood photographer Terry Richardson by performing at his Terrywood fête at the Standard Hotel.

Rapper Danny Brown performed with none other than Shepard Fairey at a VIBE & BlackBook party. The freaky Detroit musician teamed up with the HOPE poster artist and amateur DJ for a performance that only ABMB could bring.

BONUS: Controversial singer and self-destructive tweeter Chris Brown wasn't concerned about seeing other artists... He had his own! Brown displayed a painting of his own creation alongside artists like Ron English at Basel Castle. He said of the work: "Graffiti exemplifies the many types and colors of art, music and fashion that I love and how I express myself."