Artist James Cochran has painted a graffiti mural you need 3D glasses to fully appreciate. Can you dig it?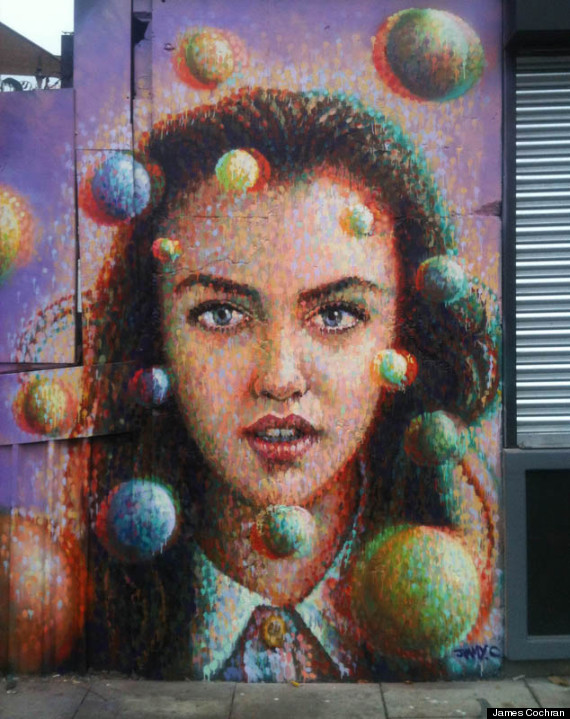 The Australian painter challenged himself to bring 3D movie magic to the streets. He created a futuristic babe surrounded by colored orbs, all of which pops out at the viewer when seen through red and blue tinted shades. Cochran painted the piece outside a friend's restaurant in London, and left a supply of glasses inside for passersby to use. The Huffington Post asked Cochran how many curious viewers he expected. "I had originally ordered 10 pairs of 3D glasses for the cafe," he wrote in an email. "But I think I need to order some more!"
What do you think, readers? Is 3D art the next frontier, or just a headache waiting to happen? Let us know!
Check out some 3D chalk art below:

Loading Slideshow
Commuters step around a 3D art exhibit entitled "Escape the Rat Race" painted on the concourse of Victoria railway station in London to promote a pest control company, Wednesday, Jan. 18, 2012. (AP Photo/Sang Tan)

Known for his impressive 3D pavement art, Edgar Mueller created this gigantic chasm for the West India Quay Festival in London. Mueller derives some of his <a href="http://www.nowpublic.com/culture/edgar-mueller-ice-age-3d-pavement-art-guiness-world-record" target="_hplink">inspiration from the "Ice Age" films</a>. (<a href="http://www.flickr.com/photos/stumayhew/3660737236/" target="_hplink">Image via Flickr</a>)

At first glance, street artist <a href="http://www.huffingtonpost.com/2012/07/12/street-artist-julian-beev_n_1668616.html" target="_hplink">Julian Beever's</a> sidewalk creations look like unfinished chalk drawings of oddly morphed animals or landscapes. But if you happen upon the one perfect angle, the image magically snaps into shape, showing you a giant charging snail or an aerial view of Times Square. The process is called anamorphosis, which involves drawing a distorted image which gives the impression of a three-dimensional scene from a certain vantage point. According to <em>NPR</em>, the talented artist sets up a camera or a viewfinder in the specific spot he intends his viewers to stand and draws his killer whales and beachy snapshots from that perspective. So if a passerby views the work from that same perspective, the drawings jump to life in their three-dimensional glory. But if they stand from any other position, the chalk creation appears to be elongated fragments of an incomplete design. Image courtesy Julian Beever

Street artist Julian Beever also creates other mind-bending illustrations like this chalk reflection. Check out <a href="http://www.huffingtonpost.com/2012/07/12/street-artist-julian-beev_n_1668616.html" target="_hplink">more of his illusions</a>. Image courtesy of Julian Beever

French street art duo <a href="http://tsfportfolio.blogspot.com/p/illusions.html" target="_hplink">TSF Crew create logic-defying works of art</a> in the run-down areas of industrial France. Combining the cheeky thrills of a well-executed optical illusion with tst makes the perfect combination. Image courtesy of TSF Crew

A man takes a picture of a huge three-dimensional painting made on the floor of a shopping mall by German artist Edgar Muller in Shanghai on August 6, 2009. Muller created the 300-square-meter painting to promote Shanghai's 2010 World Expo. (Photo credit should read PHILIPPE LOPEZ/AFP/Getty Images)

Commuter Katherine Ware relaxes on street artist Kurt Wenner's 3D work of art as he adds the finishing touches in Waterloo Station on October 17, 2007 in London, England. Wenner is famous for combining traditional street painting with classical training, illusion and performance to invent an art form of his own know as anamorphic, illusionistic or 3D painting. (Photo by Chris Jackson/Getty Images)

<a href="http://www.huffingtonpost.com/2012/07/16/artist-brings-3d-pavement_n_1677928.html#slide=1249536" target="_hplink">Kurt Wenner</a>, 3D chalk master, recently created a less perilous way to climb on the Grand Canyon with his massive optical illusion. Located at the South Rim of the park, the installation looks 3D from certain points of view thanks to 150 hours of hard work on Wenner's part. While it may not measure up to the real Grand Canyon experience, the photo ops may come out victorious.

British artists 3D Joe & Max created this stunning optical illusion in conjunction with Reebok CrossFit as part of the seventh annual <a href="http://www.guinnessworldrecords.com/gwrday.html" target="_hplink">Guinness World Records Day</a>. The 1,160.4-square-meter painting, seen in London, broke the <a href="http://www.huffingtonpost.com/2011/11/18/3d-street-mural-breaks-th_n_1101883.html" target="_hplink">world record for the largest 3D street art</a>. (Gary Prior/Reebok CrossFit via AP Images)

<a href="http://www.huffingtonpost.co.uk/2012/05/15/3d-street-artist-leon-keer_n_1518231.html" target="_hplink">Dutch artist Leon Keer</a> is known for his impressive street art displays that play with perspective, but he also knows how to attract onlookers -- by choosing a recognizable theme. One of his most recent works seen in the Netherlands <a href="http://www.huffingtonpost.com/2012/06/22/3d-pac-man-street-art-leon-keer_n_1618306.html" target="_hplink">paid homage to Pac-Man</a>, the 1980s arcade game. Image courtesy of Leon Keer

Artist Qi Xinghua created this work of art entitled "<a href="http://www.huffingtonpost.co.uk/2011/12/19/record-breaking-3d-street_n_1157294.html" target="_hplink">Macao's One Impression</a>" outside a local shopping center in Macao. Hidden within the 120 meter-long optical illusion are all of the city's historical and architectural landmarks.

A Flickr user photographed this <a href="http://www.illusion-optical.com/Optical-Illusions/ImpossibleRect.php" target="_hplink">impossible object</a> on a building facade. The rectangle uses overlap and various perspective angles to create the illusion of the twisted shaped. (<a href="http://www.flickr.com/photos/drbrain/126206715/" target="_hplink">Image via Flickr</a>)

Denver-based artist Chris Carlson and photographer Mike Larremore paired up to create this time lapse video of Carlson creating a Super Mario-inspired work of art.
Also on HuffPost: