Senate Minority Leader Mitch McConnell (R-Ky.) looks like he gave off a bit of a shrug during a weekly press availability on Tuesday: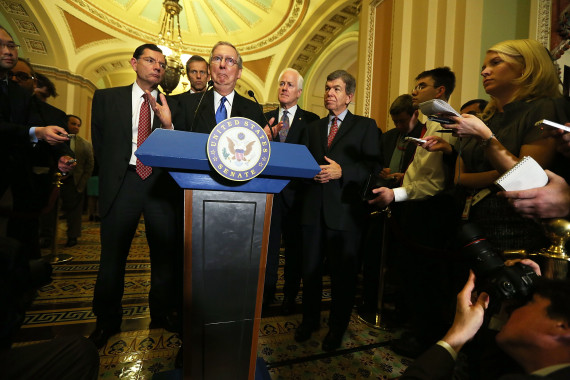 (Photo credit: Alex Wong/Getty Images)
Send us your best caption for this photo, either by tweeting one using the #McConnellPhotoCaptions hashtag or by leaving an idea in the comments section. Here are some of our favorites:
Captions: McConnell Shrugs
#McConnellPhotoCaptions at least now Obama won't get a third term?

http://t.co/uN1gAGIv #McConnellPhotoCaptions "Don't ask me; I just work here . . . . .

@HuffPostPol White Men in Dark Suits come join me 4a "Mad Men Martini Lunch" as we reminisce about the good old days.#McConnellPhotoCaptions

http://t.co/1T2xNeVo #McConnellCaptions auhhhhhhh, who's this Ashley Judd fellow? I live in a bubble ya know.

#McConnellPhotoCaptions "What do you mean the spacemen aren't coming to rescue us next week?"

http://t.co/XPZ3vCwo #McConnellPhotoCaptions FEAR AND LOATHING IN DC!

#McConnellPhotoCaptions / what happened to Obama being a one term president?!